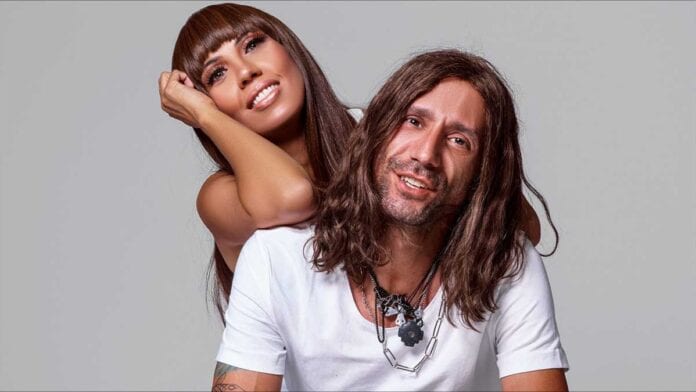 The Chicago singer and songwriter gives us a new single by giving back. 'Um Amor Assim'.
10 Questions With Cecy Santana reveals the power of creative positivity. Even during the challenge of a pandemic lockdown.
---
by Scott Adams
Midway between Laguna Beach to the west and Miami Beach to the east is Chicago's Oak Street Beach. This summery third-coast strip of sun, surf, and sand is where you'll most likely find Cecy Santana on any given day.
Or not. Because Cecy Santana stays busy.
Somehow, this 'on the rise' singer from São Paulo who's made the Windy City her home manages to squeeze more life into every day than most Chicagoans. And that's saying a lot for the city that never sleeps.
We caught up with Cecy Santana to talk about her new single (video below), how her personal positivity shapes her creativity, and what it was like to sing in a Karaoke Bar with Tantric's Hugo Ferriera. Our conversation was edited for content and clarity.
---
10 Questions With Cecy Santana
Um Amor Assim (A Love Like This)
Let's start with your new single 'Um Amore Assim' with Tantric's lead singer, Hugo Ferreira. He was born in Angola, but his Portuguese accent is different than yours and the contrast in your voices really makes the duet. How did the two of you meet, and what's the story behind the song?
I met Hugo about two years ago through a mutual friend. He was touring in Illinois and after one of his shows, he and his crew went to a Karaoke bar. Well, the friend we have in common invited me to go too.
Once I got there, Hugo and I clicked immediately. It felt like I've known him my whole life. We got to sing 'The Girl from Ipanema' together and that's how the idea of working on an original song came about.
A year went by and then Covid happened. The whole world shut down. Hugo's shows got canceled, and mine did too. Then I got a call from Hugo saying, "Cecy, if we are going to work on music, the time is now!"
I completely agreed and we met up in New England. We spent three months together doing nothing but writing music. 'Um Amor Assim' just came to us on a random day, and the lyrics are basically about Hugo and me. We just made the story a bit more colorful, but it is inspired by the time we had together during quarantine.
We spent every second of the day together and impressively we didn't get sick of each other.
Cool that 'Um Amor Assim' has three different mixes. How did they come about, and which one was the original version?
'Um Amor Assim' has three versions because Hugo and I decided to donate the song to an organization that uses music to raise funds for kids in need, to help with their education. So, suddenly we had so many people involved, and each one had a different vision for the song.
My vision was always the simplest one, with just guitar and vocals. Hugo had a vision with a trumpet and reggae undertones, and the organization wanted a dance song to match the other songs they selected to go on their album.
So, to make sure everyone was happy, we decided to do three versions.
The first version we recorded was Hugo's version, with the soft reggae undertones featuring Victor Garcia's trumpet. I guess you can call that version the original version.
Creative + Career
You're involved with a variety of pop music styles, and it's reflected with your Brazilian roots, too. Does your creative process change from style to style?
My creative process never changes no matter what style the song is. I always write from a place of sincerity, all songs I write are inspired by true stories, real life. I put my heart into it and the inspiration just comes to me.
The first rule of show business is "Network, network, network"! How did you come by your business sense?
I was taught by another singer that networking is essential, right when I first started to do secular music five or six years ago. I'm blessed that God sends me little angels on this earth to guide me along this path I chose to follow. Very blessed and thankful!
Marrying music with fashion is a smart move and seems to fit comfortably with your lifestyle, day-to-day and in the recording studio. Is this working well for you and the brands you partner with?
It's working so well! I've always been into fashion and as an artist, I wanted to find a unique style to make me stand out. My style matches my personality, because no matter what, you gotta be you. And when I found Bella Roka, my main designer and stylist, it was a match from Heaven. We've been working together for two years now and I can't imagine life without her! ❤️
Do you like taking risks?
Yes, I do like taking risks. Life is all about that! And to be able to do that, one must understand that sometimes it works, and sometimes it doesn't. But you won't know until you try. I'm all about giving new opportunities a chance to see where it goes.
What do you do for fun? Any hobbies, outside interests?
Lately, since the beginning of this year, I've been working out a lot. It's becoming my new passion and almost a personal addiction. Hey, it's keeping me healthy and out of trouble, so I guess it is a good thing!
What would you be doing with your life if you were not an entertainer?
I'm not sure… perhaps a social worker. Anything that would involve helping people. I love people too much!
Personal Positivity
Anyone who follows your socials knows that your personal positivity is always a tap away, and it's been especially appreciated during the pandemic. Where does your philosophy of life come from?
Well, I'd say it comes from the hardships and disappointments I've lived through so far. There will always be grey days, but it's up to each of us to take the lesson learned from every challenging situation. My advice? Keep moving forward. Keep your positive perspective, and always making the best of it. I always try to be better and to do better.
Cecy Santana's Music
Who are the greatest musical influencers in your life?
My musical influences include Sergio Mendes, Astrud Gilberto, Gal Costa, Take 6, Point of Grace, Sade, Christina Aguilera, Gloria Estefan, and Lady Gaga.
Of the Brazilian songs you like best, is there one you wish you had written?
I really wish I had written Jorge Ben Jor's 'Mas Que Nada'! His song has become my anthem over the years, and no matter what gig I'm doing, rather it's Latin, pop, or dance, I always try to fit it in the set!
I know that you are getting close to the release of your debut album. Can you give us a hint about what to expect?
Yes, I'm getting close to releasing it. I'm working on so many different projects with all kinds of styles, so all I can say is, expect something extremely musical and traditional.
What's next from your Brazilian side?
For my Brazilian side, I'm working on an EP called São Paulo (my original hometown!) which will contain three original songs co-written with Chicago's Steven Kikoen. He's the bandleader of Lotus Kings, a Santana All-Star tribute band and I'm the lead singer.
And here's a secret: Steven and I created an original arrangement of a Bossa Nova evergreen that I think you're gonna love! That should come out by the end of this year as well.
It looks like virtual performances are here to stay. Will we see more of these from sometime this summer?
Yes, I'll most likely be doing a few virtual performances this summer as well as some very cool festivals. Stay tuned!
10 Questions With Cecy Santana
Stories like '10 Questions With Cecy Santana' are what we do. Why don't you join us?
Sign up for our emails on music, travel, friends and fun. Listen to our 'always live' streaming station and our 12 streaming music channels, always free. Browse our Lifestyle Directory. Click here to like our Facebook page and here for Brazilian events coast to coast.