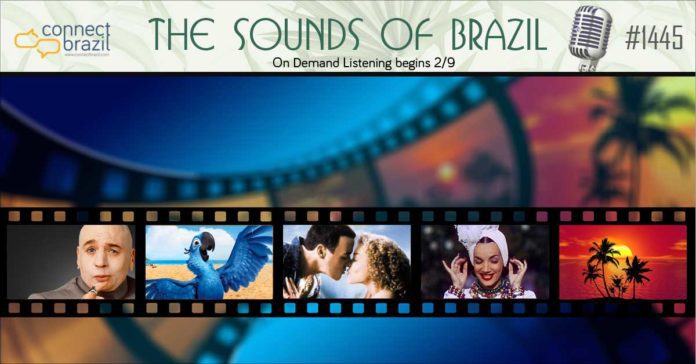 Cinema Sambas
Live365.com is the official streaming radio partner for The Sounds of Brazil!
This two-hour program airs daily on our streaming Station from 02-05-20 through 02-11-20. Listen Monday-Friday at 7 am, 3 pm, 6 pm and midnight Central Time (US). Weekends, too.
On The Radio: Listen to The Sounds of Brazil every Sunday, 2-4 pm on Chicago's 90.9 FM WDCB and streaming live at wdcb.org.
On Demand: This program is available for repeat listening from February 9th to February 23rd, 2020. Click here to Listen.


Did you see a shadow? Spring is moving closer.
The Grammys are center-stage, we're days away from Oscar's Big Night, we're counting down the days to 2020's Carnaval season kick-off on February 10th and either way I look at it, the fact that Groundhog Day is now in the rearview mirror has to be considered a 'win'.
But our attention keeps trying to swing back to wintery weather.
Happily, these coast-to-coast chills are only temporary: Spring is less than six weeks and change away.
So you can mark a daily 'X' on your calendar while spending some time exploring Connectbrazil.com with these timely tips:
Happy Listening,
Scott Adams
Read: Get to know Pedro Bromfman, top Braziliian film scorer. Learn More.
~ ~ ~
Sunday – Appointment Listening Made Easy: There's always a place at the table for you, so join me for The Sunday Brazilian Brunch every Sunday beginning at 5 am Central, and then again at 9 am, 2 pm and 8 pm.
Three full hours No app needed when you click the 'play' arrow at the top of this page, or on our homepage at Connectbrazil.com.
~ ~ ~
Our Streaming Station's popular Brazil Back2Back segment has growen to a third play every Monday, Wednesday and Friday. Listen at 11 am, 2 pm and 5 pm Central.
Always two of a kind, and always two in a row! Have an idea for an upcomiong Brazil Back2Back? Click here to make a request.

CINEMA SAMBAS
HOUR 1:
SET 1: THE SOUNDS OF BRAZIL OPENING THEME
Amor de Muito<>Chico Science/Brasil2 Mil
Border Line<>Deodato/The Crossing
Soul Bossa Nova<>Quincy Jones/Big Band Bossa Nova
Welcome to The Brazilian Club Lounge
Samba da Benção<>Bebel Gilberto/Tanto Tempo
Special Announcement
Manha De Carnaval<>TootsThielmans & Luis Bonfa/Brazil Project
SET 2:
Fly Love<>Jamie Foxx/Rio Movie Soundtrack
Return To Rio<>Oscar Castro-Neves/Brazilian Scandals
Introduce Next Set
Old City New City<>Larry Coryell/Live From Bahia
Corcovado<>Sarah Vaughan/Heartbreakers OMPS
Take Two<>Nando Lauria/Points Of View
Set 3: Introduce This Week's Spotlight Song
South American Way<>Carmen Miranda/Down Argentine Way
Me Transforo Em Luar<>Fabio Souza/Amor Pra Sempre
Just Between Us<>Randy Brecker/Into The Sun
FOUR UNIQUE CHANNELS FROM CONNECTBRAZIL.COM: CLICK HERE!
CINEMA SAMBAS
HOUR TWO:
SET 1:
Suddenly/Had To be You<>Djavan & Carol Rogers/Bossa Nova
Conmigo<>Daniela Mercury & Deodato/We All Ennio
Welcome To Our Second Hour
Girl From Ipanema<>Stan Getz/Bossa Nova OMPS
James Bond Theme<>Dori Caymmi/Cinema: Romantic Vision
Bob<>Otto with Bebel Gilberto/Gilles Goes To Brazil
Special Announcment
I Wanna Be Where You Are<>Bob Baldwin/Brazil Chill
SET 2: BRAZIL BACK2BACK: FROM THE MOVIE 'WOMAN ON TOP'
Voce<>Dick Farney & Norma Bengal/Bossa Nova Sua Historia
A Flor e O Espinho<>Paulo Moska/Woman On Top
Introduce Next Song
'S Wonderful<>Joao Gilberto/Amoroso
My Only Passion<>Marcos Ariel/My Only Passion
Silencio<>Adriana Maciel/Girl From Rio OMPS
SET 3:
Fly Me To The Moon<>Astrud Gilberto/Silver Collection
Dawn In Rio<>Jeff Kite/Rio Breaks OMPS
Light My Fire<>Eliane Elias/Light My Fire
~ ~ ~
Next Week:
Fall in love with The Sounds of Brazil all over again with a special show, 'Rhythm and Romance: A Brazilian Valentine'. Be sure to listen and you're invited to make a request or drop a note in the Chat Box on our Lounge page, too!
I hope you'll enjoy the show and please – tell a few friends about us on 90.9 FM WDCB in Chicago and wdcb.org, 2 pm CT every Sunday.
Whether it's your radio, your computer at work or your tablet or smart phone, thanks for tuning in! It's always great to share the music.
CINEMA SAMBAS