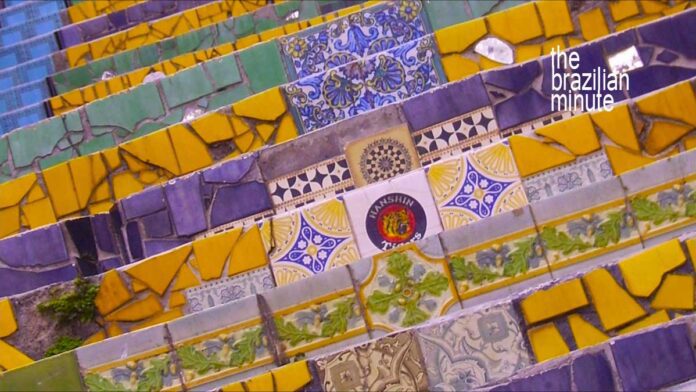 An immigrant Shows Appreciation one Step at a time.
Explaining Rio's Selaron Steps is easy. Think of each tile as a magnificent expression of our shared humanity.
This series was presented by the Consulate-General of Brazil in Chicago and the Brazilian Foreign Ministry's Cultural Department.
In celebration of Brazil's Bicentennial year, 1822 – 2022
This week's Brazilian Minute: Explaining Rio's Selaron Steps
(Audio not available)
Script from Audio:
One of Rio de Janeiro's most popular attractions is the colorful 'Selaron Steps', the work of Chilean-born artist Jorge Selarón as a tribute to the people of Brazil.
These 215 steps, covered in colorful tiles, ceramics, and mirrors are the work of a lifetime for Selarón who began to renovate the dilapidated steps in front of his house in 1990.
More than 2,000 tiles cover the 'Selaron Steps', including about 300 hand-painted tiles by Selarón himself, plus hundreds more donated by visitors from their homelands. More than 60 countries are represented in what Selarón described as an ever-evolving piece of art.
The Selaron Steps stretch from Santa Teresa to the foot of the iconic Arcos da Lapa, Rio's organic arts & entertainment districts.
Read and listen to new weekly episodes of The Brazilian Minute. It's brought to you by the Consulate General of Brazil, in Chicago and the Brazilian Foreign Ministry's Cultural Department.
More on: Explaining Rio's Selaron Steps
Overview:
Here's a Brazilian melting pot story that reflects personal inspiration, grace, and appreciation.
A native of Chile, Jorge Selarón was born in 1947. He left home at a young age to travel the world as an artist. He's created paintings and sculptures in more than 50 countries worldwide.
Brazil was on his agenda for 1983 and Rio de Janeiro became his home. He put down roots in hilly Santa Teresa, on a narrow street named Rua Manuel Caneiro. Uniquely, the entire street is covered with stairsteps. Its 400-foot length begins at Rua Joaquim Silva at the bottom to Ladeira de Santa Teresa at the top.
Back then, Rua Manuel Caneiro's sole purpose was to connect a pair of neighborhoods. Lapa (at the bottom of the steps) is known as an Arts, Music, and Nightlife mecca. Higher in the surrounding hills is Santa Teresa, the home of Rio's world-famous Aqueduct.
Explaining Rio's Selaron Steps, One At A Time
Heavily trafficked over decades of daily use, Rua Manuel Caneiro fell into disrepair. So, Jorge Selarón began to decorate the steps in front of his house in 1990. It was slow and deliberate work, creating each tile by hand or scavenging construction sites for interesting pieces. He began by crafting tiles of green, yellow, and blue to honor the Brazilian flag.
Selarón lived on an artist's earnings, so he accepted donations of appreciation. Soon, his tile-decorated steps became a local phenomenon, and interest in his paintings grew. A
Amazingly, more than 25,000 of these portraits are now in the homes of Selarón's admirers, worldwide.
But it didn't stop there. People from all over the world began to send tiles to Selarón. Today you'll see gifted tiles from more than 60 countries included.
Explaining Rio's Selarón Steps: Cultural Impact
The Selaron Steps (Escadaria Selarón) are a worldwide tourist, media, and cultural sensation. Impressively, this is the work of Jorge Selaron's selflessness and creativity. A simple man who lived a simple life. In many ways, the Selarón Steps represent the best of humanity.
You'll find these 2,000+ tiles on display in movies and music videos. They are seen in commercials and magazines and in the photo-gallery memories of tourists worldwide.
The Selaron Steps caught the international spotlight in 2009 when they were featured in Rio de Janeiro's video presentation for the 2016 Summer Olympics.
They've been featured in advertising campaigns for breakfast cereals to soda drinks. These 215 steps have been featured in Time magazine, Playboy, and on the National Geographic channel.
Fairly, the Selaron Steps should be considered one of the 10 Creative Wonders of The World. Someone should do that, don't you think?
Happily, Jorge Selarón's lifework has not gone unnoticed. In 2005, the City of Rio de Janeiro formally made him an honorary resident for his dedication to the community and the nation he called home.
Music, Travel, Friends, and Fun! 2022 marks Connect Brazil's 25th year.
Explaining Rio's Selaron Steps
Did you enjoy 'Explaining Rio's Selaron Steps'? If you did, why not join us at Connect Brazil?
Sign up for our emails on Brazilian music, travel, friends, and fun. Listen to our 'always live' streaming station and streaming music channels, always free. Visit us on Facebook, and Twitter, and browse our Lifestyle Directory for Brazilian events coast to coast.