Exploring the cultural and culinary history of Brazil's national dish.
Feijoada offers a taste of Brazilian history. It was first mentioned in a journal entry from the northeastern city of Recife, reflecting Brazil's African roots.
---
This series was presented by the Consulate-General of Brazil in Chicago and the Brazilian Foreign Ministry's Cultural Department.
In celebration of Brazil's Bicentennial year, 1822 – 2022
This week's Brazilian Minute: Feijoada Offers A Taste of Brazilian History
Script from Audio:
Rice and beans. It's the nutritional staple for many Latin American countries. But when you mix rice and beans and Brazil, you get something truly special.
It's called Feijoada. A spicy combination of black beans, pork, and a variety of smoked meats, slowly cooked and then served with various side dishes. 
Feijoada's beginnings came from the Big Houses of the sugar cane and coffee plantations as part of the ritual tribute to the Afro Brazilian God of metal named Ogum.
Feijoada is a weekend tradition in Brazil even for tourists enjoying surf and sun until their appetite overtakes them.
Feijoada is a feast for the senses. Head for a friend's house for the real thing. You won't believe how delicious it all is.
And what do you follow this filling culinary experience with? Usually… an equally enjoyable nap!
Feijoada, a meal that takes hours to cook, and even longer to enjoy, and Brazil's national dish.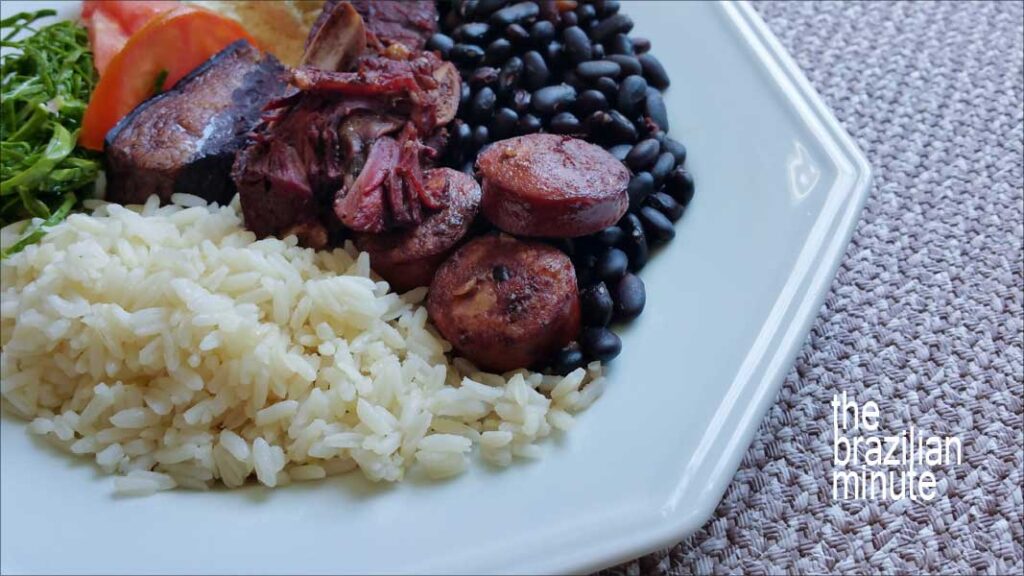 Read and listen to new weekly episodes of The Brazilian Minute.
More on Feijoada Offers A Taste of Brazilian History
Telling Feijoada's Story
Telling Feijoada's story means stirring the pot with several theories about its origins. But Brazil has its own spin on a worldwide weekend tradition. What is it? Gathering up leftovers, throwing them in a pot, and serving them with rice and beans.
But the story begins long before Brazil became a nation 200 years ago.
Read about Feijoada's storied past.
Try our Homemade Recipe
Want a heart-warming 'quick and easy' recipe for Brazil's national dish, feijoada? Brazilian jazz vocalist Alexandra Jackson went to her kitchen to do just that. She gives you a starting point for Brazil's answer to that age-old question "What's in the fridge?"
You can do this!
Music, Travel, Friends and Fun! 2022 marks Connect Brazil's 25th year.
Did you enjoy 'Feijoada Offers A Taste of Brazilian History'? If you did, why not join us at Connect Brazil?
Sign up for our emails on music, travel, friends, and fun. Listen to our 'always live' streaming station and our 15 streaming music channels, always free. Browse our Lifestyle Directory. Click here to like our Facebook page and here for Brazilian events coast to coast.