Helio Castroneves Summer Sounds
| Air Date: 06-06-21 through 06-12-21
| On Demand: 06-06-21 through 06-20-21
Live365.com is the official streaming radio partner for The Sounds of Brazil!
This two-hour program airs 4X daily on our streaming Station. Listen Monday to Friday at 7 am, 3 pm, 6 pm and midnight Central Time (US). Weekend times, too:
Daily Listening Schedule | Time Zone Converter | Make A Request | Upcoming Events | Send a message to Scott
On The Radio: Listen to The Sounds of Brazil every Sunday, 2-4 pm on Chicago's 90.9 FM WDCB and streaming live at wdcb.org.
On-Demand: Click here to listen to this program anytime: June 6-20th, 2021.
Sign up for our emails on music, travel, friends & fun. Click here to like us on Facebook.
Welcome!
Until last Sunday, only three drivers had won the Indy 500 four times: A.J. Foyt, Al Unser and Rick Mears. Mario Andretti won the Indy 500 once, falling into victory lane with a backup car.
Winning Indy three times is rare air, but Helio was stuck on that number for 12 long years. Bad luck. Poor strategy, accidents.
Helio Castroneves is the only active driver with a shot at more than three wins. And when he was released from Penske Racing last year, the general thinking was that Helio's time had passed him by: "If he couldn't win with Penske…"
So this year, Castroneves took an offer for a handful of races (including the Indy 500) with a bootstrap team, Meyer Shank Racing. He started well, stayed out of trouble, and took the lead on the last lap to win.
"The other drivers were playing checkers while Helio was playing chess," observed two-time winner Paul Tracy, who had his own Indy 500 history with Helio Castroneves.
Helio Castroneves joins The Sounds of Brazil as co-host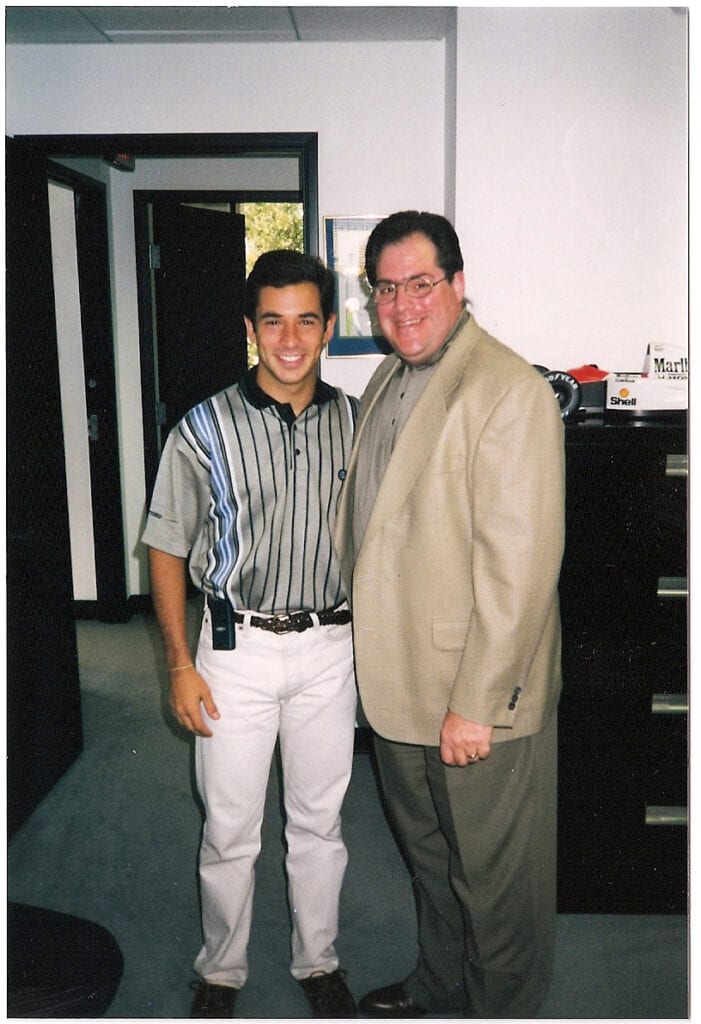 I've known Helio for quite a long time, and three weeks after his first Indy 500 win in 2000, I invited Helio to co-host my weekly radio show. He even brought along his own music.
This week, I'll replay that program – just as it aired originally – in honor of Helio Castroneves's historic fourth Indy 500 win. Scroll down for listening times.
Listen Live this Friday
Be sure to join me for Brazil Back2Back, when Helio Castroneves brings a pair of his favorite Brazilian musicians to our streaming station this Friday (6/11). Top of the hour, at 11 am, 2 pm, and 5 pm CT for two in a row.
Special Rebroadcast: This show was first air
Happy Listening, Scott Adams
Friday's Brazil Back2Back taps a pair of tunes from Djavn – including his new single penned by Torcuato Mariano – when you listen at the top of the hour at 11 am, 2 pm, and 5 pm CT, exclusively on our streaming station. Visit the Listening Lounge.
~ ~ ~
Sunday's Brazilian Brunch features 'Sao Paulo Sirens' from the ranks of Brazil's superstars! Only on Sundays at 9 am, 2 pm and 8 pm Central time and only on The Sounds of Brazil's streaming station.
~ ~ ~
This week's show:

Helio Castroneves Summer Sounds
Hour 1:
Set 1: The Sounds of Brazil Opening Theme
Brazasia<>Yutaka/Brazasia
Children's Games<>Lee Ritenour/Portrait
Dinorah Dinorah<>George Benson
Special Announcement:
August Day Song<>Bebel Gilberto/Tanto Tempo

Set 2:
Introduce Next Set with co-host Helio Castroneves
Danca de Shiva<>Gilberto Gil/Quanta
Introduce Next Song
One Note Samba<>Stan Getz/The Bossa Nova Story
O Barquinho<>Roberto Menescal/Bossacuca Nova
Caju<>Vinicius Cantuaria/Vinicius
Set 3: Introduce This Week's Spotlight Song with co-host Helio Castroneves
Souzinha<>Joanna/Best Of Joanna
A Primera Vista<>Daniela Mercury/ Feijão com Arroz
Cabo Frio<>Pete Escovedo/Flying South
________________________________________________________
________________________________________________________

Helio Castroneves Summer Sounds
Hour 2:
Set 1: Welcome To Our Second Hour
Gran Circo<>UZ22/Renasciemnto
Sonho do Brasil<>Slowdown/Retrospectives
Interview with co-host Helio Castroneves
Girl From Ipanema<>Stan Getz/Bossa Nova OMPS
Antigua<>Leo Gandelman/Brazilian Soul
Amor I Love You<>Marisa Monte/Chronicles
Special Announcement
Set 2:
Introduce Next Set:
Doce Viver<>Emilio Santiago/Bossa Nova
September Samba<>Indigo City/Samba Electrique
Introduce Next Song
No Rio<>Gerry Mulligan & Jane Duboc/Paraiso
Meu Pais (My Country)<>Luiz Avelar/Homenagem a Ivan Lins
Guaratiba<>Azymuth/Carioca
Set 3:
I Am Singing<>Roberto Perera/Seduction
Afterglow<>Mark Sganga/Sganga Nova
~ ~ ~
Next Week: June's 'Art of Brazilian Jazz' theme continues with 'The Best of guitarist Sandro Albert'. I hope you'll enjoy the show and please – tell a few friends about us! It's always great to share the music.
Whether it's your radio, your computer at work or your tablet or smart phone, thanks for tuning in! I really appreciate it, and please tell a friend or two about us.
And don't forget about our weekly broadcasts in Chicago: Sundays at 2:00 pm Central on 90.9 FM WDCB and wbcb.org.
View our complete daily broadcast schedule here.



Helio Castroneves Summer Sounds