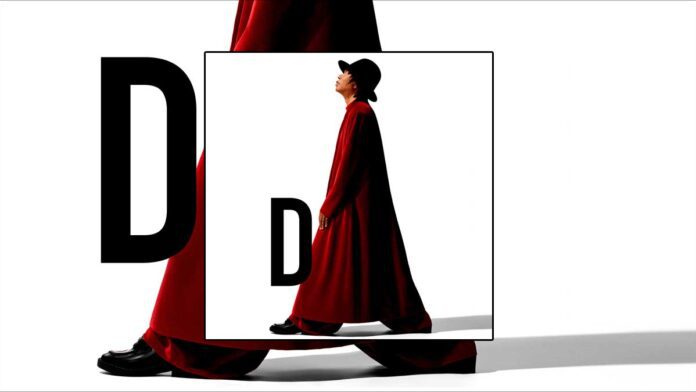 "We Need To Beleive In Happiness Again."
Djavan's D is jazzy and optimistic, a fresh take on the style that we love best.
---
by Scott Adams
Slowly but surely, our lives are returning to normal. Gone (for the most part) are the outrageous, repressive restrictions of COVID-19, along with the worries and harm they caused.
People everywhere are reclaiming their freedoms and once again, we're realizing their importance.
That's true here, and in Brazil where Djavan has decided to gift us with a buoyant album that pivots on positivity, happiness, and our hard-fought freedoms.
His reasoning? "We need to believe in happiness. The pandemic brought a lot of sadness, and a lot of negativity. I want to come with a message of optimism. I want people to believe in the future," he said.
D is Djavan at his jazzy, optimistic best. He returns to his swinging, jazzy roots throughout these 12 tunes, of which 11 are newly penned for this release.
And he got the band back together, too. Well, parts of his best bands from past albums, including guitarist Torcuato Mariano. D marks the return of the signature sound that a generation of fans here in the US fell in love with during the 80s and 90s.
A Creative Getaway
By Djavan's own standards, the entire project was well, rapid. Instead of the usual two to three-year project period, D was completed in about 10 months. This was after time spent on the coast in northern Alagoas, where many of these songs were composed.
"I went on vacation to Maceió, to São Miguel dos Milagres, actually, to write lyrics because I like to write lyrics only when everything else is settled, said Djavan in a recent interview. "I went with the hope of returning to Rio with three song lyrics completed, but I made eight, I was happy."
Djavan's D is Jazzy and Delightful Deja Vu
Standout songs on D include the album's first single, 'Num Mundo de Paz' (In A World of Peace). Connect Brazil's streaming channel debuted the song right after its preview release in Brazil and listeners have responded to it with their ratings on AccuRadio's New Music: Brazil channel, too.
The album opens with Primeira Estrada (First Road), setting the album's theme with conflict for resolution within its lyrics. 'Nada Mais Sou' (I Am Nothing Else) is a jazzy 6/8 waltz that floats the artist's voice above the smooth complexity of its rhythms.
For many, the highlight of Djavan's D will be his lovely duet with Milton Nascimento on 'Beleza Destruida' (Beauty Destroyed). The song, which carries a message of hope for nature, is historic on its own merit. Amazingly, 'Beleza Destruida' marks the first time these two titans of MPB have recorded together. The result is delightful.
At 73 and 79 respectively, their indulgence is our reward.
And the horn-driven 'Sevilhando' carries Djavan's uncanny ability to create a memorable, scatty hook. It'll have you thumbing through your CD collection or digital drives in order to find its genetic twin (no hints here!).
Reflecting On The Early Days
Notably, some of Brazil's critics seem to lament the Deju-Vu nature of this album's style. Apparently, they think a tinge of nostalgia somehow detracts from the artist's creativity.
For D, nothing could be further from the truth.
Djavan says that early on, his music and his style were misunderstood. He didn't quite conform to MPB's standards. "They didn't understand what I was doing and wanted to put me on the sidelines because of it," he said.
'The one thing I brought since I was little is to have a lot of perseverance, and a lot of certainty. My mom taught me to 'Aim for what you believe in and go for it without hesitation', Djavan recalls. "She taught me that since I was little, I've always been and still am."
Music, Travel, Friends, and Fun! 2022 marks Connect Brazil's 25th year.
Djavan's D Is Jazzy and Optimistic
Did you enjoy 'Djavan's D Is Jazzy and Optimistic'? If you did, why not join us at Connect Brazil?
Sign up for our emails on Brazilian music, travel, friends, and fun. Listen to our 'always live' streaming station and streaming music channels, always free. Visit us on Facebook, and Twitter, and browse our Lifestyle Directory for Brazilian events coast to coast.
Djavan – D
Tracklist
Primeira Estrada
Num Mundo De Paz
Nada Mais Sou
Cabeça Vazia
Aos Menos Um Porto
Beleza Destruída (featuring Milton Nascimento)
Sevilhando
Você Pode Ser Atriz
Quase Fantasia
Ridículo
Ëh! Ëh!
Iluminado (featuring Flavia Viana, Inacio Viana, João Viana, Lui VIana, Max Viana, Sofia Viana, Thomas Boljover)