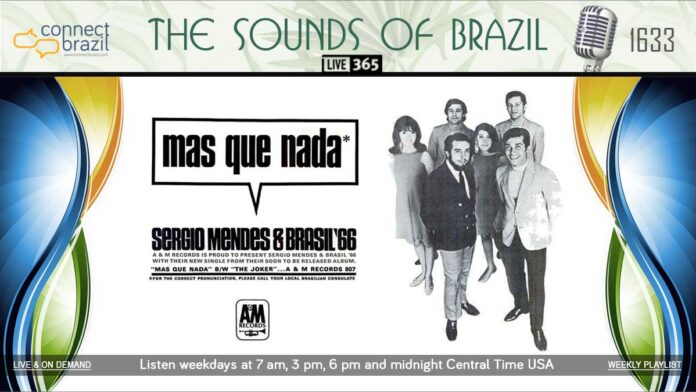 Mas Que Nada
| Air Date: 09-17-23 through 09-24-23
| On-Demand: 09-17-23 through 10-01-23
Live365.com is the official streaming radio partner for The Sounds of Brazil!
This two-hour program airs 4X daily on our streaming Station. You are invited to listen, Monday to Friday at 7 am, 3 pm, 6 pm, and midnight Central Time (US). Weekend times, too:
On The Radio: Listen to The Sounds of Brazil every Sunday, 2-4 pm on Chicago's 90.9 FM WDCB and streaming live at wdcb.org.
On-Demand: Click here to listen to this program anytime: through October 1, 2023.
Sign up for our emails on music, travel, friends & fun. Click here to like us on Facebook.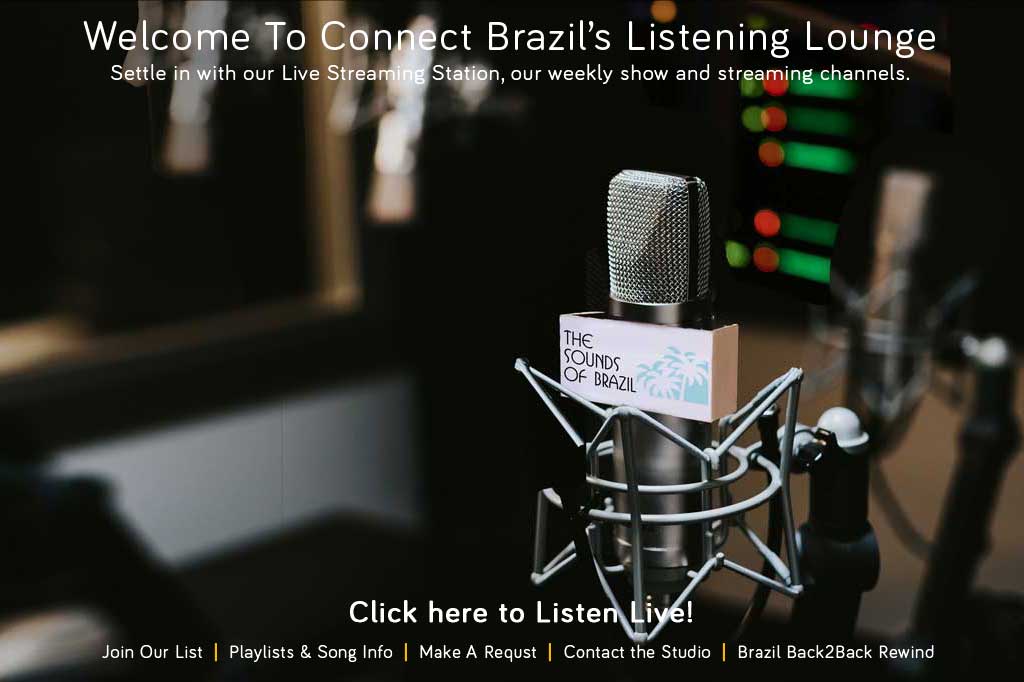 Daily Listening Schedule | Time Zone Converter |Brazil Back2Back On Demand
Make A Request | Send a message to Scott
The best events, coast to coast are just a click away at Connectbrazil.com, and we're adding more events every day! Concerts, Film Festivals, Meetups, and more. Music, Travel, Friends & Fun! Find them on the Menu or click here on your computer, tablet or smartphone.
~ ~ ~
Sunday's 'Brazilian Brunch' serves up the softer side of Brazilian song on The Sounds of Brazil stream this weekend! We'll sample some of the best and breeziest, along with a request or too! So make plans to join me this Sunday for three full hours beginning at 5 am, 9, 2 and 8 pm Central.
~ ~ ~
This Week On The Sounds Of Brazil – Mas Que Nada
Hour One Set 1: The Sounds of Brazil Opening Theme
Mas Que Nada<>Sergio Mendes/Greatest Hits
Morning Gaze<>Quetzal Guerrero/Coiza Boa
Setembro<>Quincy Jones/Back on The Block
Welcome to the Lounge
Mas Que Nada<>Marc Antoine & Patti Austin/Cruisin'
Set 2:
Introduce Our Next Set
Creepin<>Kenia/Distant Horizon
Spring Ain't Here<>Pat Metheny/Letter From Home
Introduce Next Set
Mas Que Nada<>Jorge Ben/Samba Esquema Novo
Constant Rain<>Philippe Saisse/Body And Soul Sessions
Bossa Love<>Marcos Ariel/4 Friends
Set 3: Introduce This Week's Spotlight Song
Stage<>Alexandra Jackson/Legacy & Alchemy
Momento<>Luca Mundaca/Momento (single)
Luna<>Boney James/Solid
Hour 2: Mas Que Nada
Set 1: – Cue to music
O Que é o Amor<>Roberta Campos/O Que é o Amor
Mas Que Nada<>Paulinho Nogueira/Reflections
Welcome Back / Smooth Bossa Classic
Mas Que Nada<>Tamba Trio/NovaBossa
Coiza Boa<>Quetzal Guerrero/Coiza Boa
Flap<>Deodato/Skyscrapers
Special Announcement
Rio Sway<>Brian Simpson & Maysa/Out Of A Dream
Set 2:
Introduce Next Set
Mas Que Nada<>Al Jarreau/Tenderness
Ilha Dos Frades<>Velas/Velas
Introduce Next Song
Incendiando<>Eliane Elias/Made In Brazil
Manha De Carnaval<>Toots Thielmans/Brazil Project
Morena<>Yutaka/Brazasia
Set 3:
Introduce Last Set
Mas Que Nada<>Jessy J/Tequila Moon
Instalação do Samba<>Toco/ Instalação do Samba
~ ~ ~
Next Week on The Sounds of Brazil:
Our celebration for Bossa Nova's 65th birthday continues with the best of Carioca keyboardist Marcos Ariel. Don't miss this show!!
Whether it's your radio, your computer at work or your tablet or smartphone, thanks for tuning in! I really appreciate it, and please tell a friend or two about us.
And don't forget about our weekly broadcasts in Chicago, Sundays at 2 pm on 90.9 FM