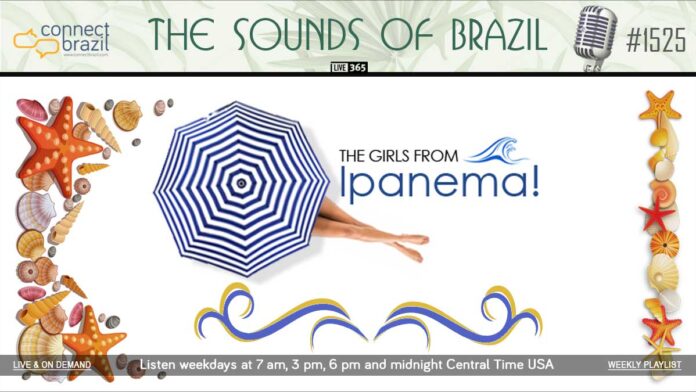 The Girls From Ipanema
| Air Date: 08-06-23 through 08-13-23
| On-Demand: 08-06-23 through 08-20-23
Live365.com is the official streaming radio partner for The Sounds of Brazil!
This two-hour program airs 4X daily on our streaming Station. You are invited to listen, Monday to Friday at 7 am, 3 pm, 6 pm, and midnight Central Time (US). Weekend times, too:
On The Radio: Listen to The Sounds of Brazil every Sunday, 2-4 pm on Chicago's 90.9 FM WDCB and streaming live at wdcb.org.
On-Demand: Click here to listen to this program anytime: through August 28, 2022.
Sign up for our emails on music, travel, friends & fun. Click here to like us on Facebook.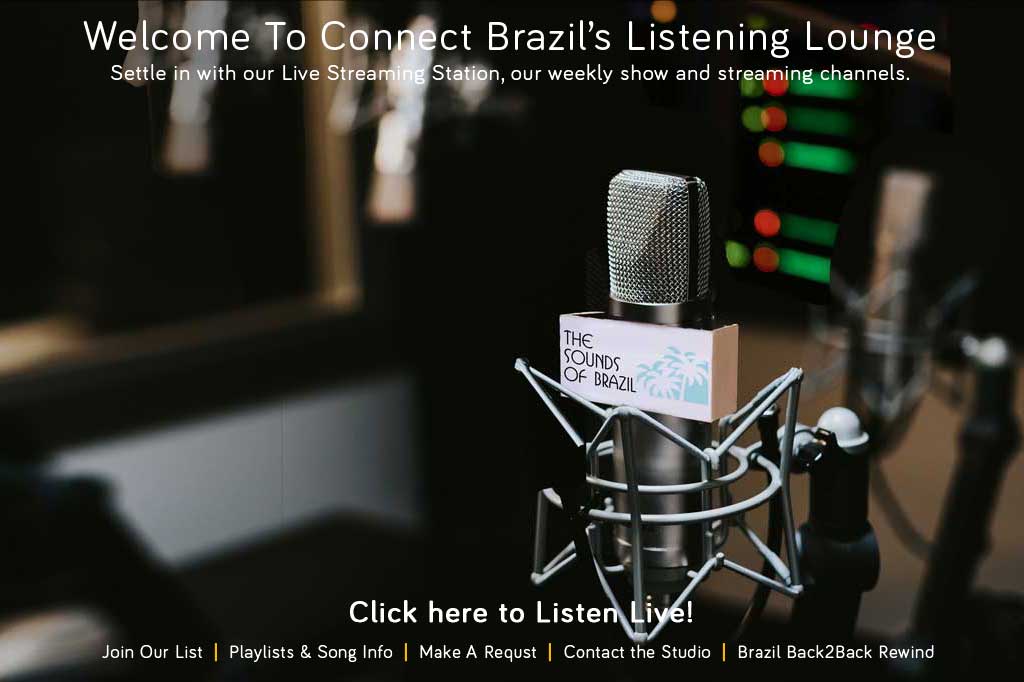 Daily Listening Schedule | Time Zone Converter | Connect Brazil This Week
Make A Request | Send a message to Scott
Welcome back!
This week, August's 'Bossa Rio' theme brings us another radio and webcast special: 'The Girls From Ipanema'.
Rio has not only inspired hundreds of memorable songs, but it also has paved the way for countless talented Brazilian performers.
This week, we'll focus on the women, with tunes from 15 classic MPB and Brazilian jazz standouts, including Leila Pinheiro, Joyce, Cris Delano, Astrud Gilberto, Gal Costa, Zizi Possi, and others.
As you'll hear, 'The Girl From Ipanema' was only the beginning! On the radio and our live steaming station too.
Enjoy the show!
Scott Adams
~ ~ ~
Every song you've ever loved started out as a new song and our 'New Music: Brazil' channel is where to find your future favs! From big names like Antonio Adolfo, Bebel Gilberto, Daniela Soledade, and Torcuato Mariano to newcomers like Cecy Santana, Anavitoria, and Pedro Santos. Hear them all anytime. Click here to listen.
~ ~ ~
Sunday's 'Brazilian Brunch' serves up the softer side of Brazilian song on The Sounds of Brazil stream this weekend! We'll sample some of the best and breeziest, along with a request or two! So make plans to join me this Sunday for three full hours beginning at 5 am, 9, 2, and 8 pm Central.
~ ~ ~
THE GIRLS FROM IPANEMA
Hour 1:
Set 1: The Sounds of Brazil Opening Theme
Begin The Beguine<>Gal Costa/Plural
Saudade<>Thievery Corporation/Saudade
Mas Que Nada<>Jorge Ben/Samba Esquema Novo
Welcome to the Lounge
Morrendo De Amor<>Joanna/Joanna
Special Announcement
Green Eyes<>Marcos Ariel/My Only Passion
Set 2:
Introduce Our Next Set
The Girl From Ipanema<>Stan Getz/Bossa Nova OMPS
My Nichole<>Indigo City/Samba Electrique
Introduce Next Song
I Can't Help It<>Torcuato Mariano/Paradise Station
Better Days Ahead<>Pat Metheny/Letter From Home
Inquietação<>Elizeth Cardoso/Ary Amoroso
Set 3: This Week's Spotlight Song:
Vento Praia Nordeste<>Zanna/Zanna
O Proximo Verao<>Jingo/Nu Brazil
Rio Sway<>Brian Simpson & Maysa/Out Of A Dream
THE GIRLS FROM IPANEMA
Hour 2:
Set 1:
Toucan's Dance<>Sergio Mendes/Arara
Linha Do Equador<>Djavan/Coisa De Escender
Welcome To Our Second Hour
Voce E Eu<>Sylvia Telles/Bossa Nova, Sua Historia Sua Gente
Bom Dia<>Roberto Vally/Boom Boom Boom
Nothing But A Song<>Tiago Iorc/Let Yourself In
Special Announcement
Saudade Vem Correndo<>Bebel Gilberto/Tudo
Set 2:
Introduce Next Set
Yesterday<>Zizi Possi/Bossa
Meu Amigo Ricardo<>Celia Vaz/Celia Vaz
Introduce Next Song
Brincadera<>Kenia/Initial Thrill
One Crazy Summer<>Urban Funk Society/Brasil 5000
Ben Maior (Longer)<>Roupa Nova/Agora Sim
See You In Rio<>Joyce/Music Inside
Set 3:
Introduce Last Set
Pra Illuminar<>Leila Pinheiro/Millenium
Café Roma<>Brass/Cafe Roma 3
~ ~ ~
Next Week: It's our Connect Brazil salute to Brazilian jazz guitarist Ricardo Silveira and his musical legacy. Don't miss this two-hour special, along with a story or two.
I hope you'll enjoy the program this week, too, and please – tell a few friends about us! It's always great to share the music.
Whether it's your radio, your computer at work, or your tablet or smartphone, thanks for tuning in! I really appreciate it, and please tell a friend or two about us.
And don't forget about our weekly broadcasts in Chicago: Sundays at 2:00 pm Central on 90.9 FM WDCB and wbcb.org.
View our complete daily broadcast schedule here.
The Girls From Ipanema