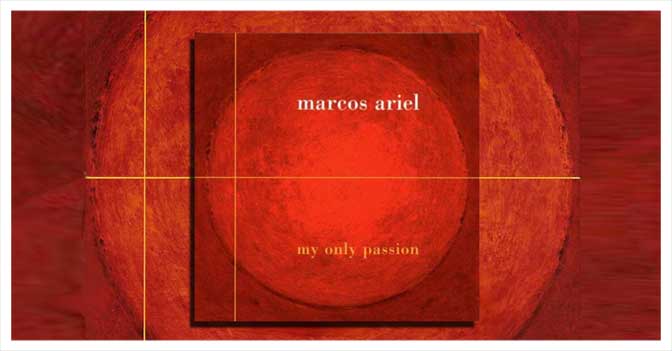 A Brazilian jazz favorite becomes a legendary album.
Marcos Ariel's 'My Only Passion' marks a high point in the career of one of Brazil's most talented pianists.
---
Originally published by Connect Brazil, Septemebr 29, 1999
As a child, Marcos Ariel listened to everything: the rhythms of Bahia, European classics, American tunes on the radio. All found their way into his style, and he would try anything, from subtle to exuberant, from small groups to solo albums. A move to Los Angeles in the early 90's found him a second home and it was there that he began to explore new styles, including the 'down tempo' calm born of the influence of Europe's club jazz scene. "The world is full of so many rhythms … I attempt to further explore these with every project I do."
Blending urban dance grooves to the sounds of his homeland, 'My Only Passion' quickly found itself at home with smooth jazz radio and has since become a pioneering classic for the 'Chill Brazil' set. With sensul melodies and sweet ballads, Ariel masters the mood.
Ariel clearly knows American jazz, but he hasn't forgotten Brazil. "Rio Walk" crackles with excitement, full of percussive fury. "Floresta" calls to you from the forest, a sensuous flute on a river of bells. Best of all is a street-smart read of the "Girl from Ipanema," driven with percussion, guitars, and a vocal bed that more than hints at a Copacabana night. It's an old tune with a modern feel; a Bossa with surprising tenacity which mirrors Ariel's energy and his zest for life.
With Ariel, the music never sits still — this album carries the listener from one style to the next. The early tracks get you dancing, as busy rhythms meet his understated piano. He stirs a calm breeze on "Green Eyes", a classical grace on "Moon's Mood." When the pace slows down, Ariel heats up — he's sweetly intense on "My Only Passion." And you'll love the emotion on "Just for You." As the music builds, Bill Cantos sings as tender as Ivan Lins — a perfect match.
But what really makes this CD sizzle is the musical partnership established with his long-time friend, guitarist Ricardo Silveira, who's fluid style helped to create the album's sound. It also speaks to the magnanimous nature of Ariel and his musical vision for the project, which at times to the casual listener might sound as if Silveira's guitar is the album's focus on songs like 'Green Eyes' and the title track.
Ariel's ability to share the melodic spotlight with high-caliber musicians, including guitarist Victor Biglione and flutist Zé Nogueira is part of what has insured the long-term success of 'My Only Passion' and has led to a series of recordings in this vein. There's no doubt that this is groundbreaking CD which pioneered the 'down tempo' Chill style for Brazilian jazz.
Marcos Ariel's 'My Only Passion'
Girl From Ipanema
Green Eyes
My Only Passion
Moon's Mood
Sacred Passage
Just For You
Rio Walk
Floresta
Millennium
The Angles I Know
Bahia Suite
Song For Lucas and Alice
Personnel: Marcos Ariel (acoustic piano, keyboards, synthesizers, flute, vocal), Daniella Carlo, Bill Cantos, Brady Schwartz (vocal), Victor Biglione, Ricardo Silveira, Lula Galvão, Frank Gimbale (guitar), João Baptista, Antonio Sant-Anna, Keith Jones (bass), Marcelo Costa, Meia Noite (percussion), Joel Taylor (drums), Eduardo Chermont (drum programming and sampling). Produced by Marcos Ariel and Eduardo Chermont.
Total time: 54:32
Stories like 'Marcos Ariel's My Only Passion' are what we do. Why don't you join us?
Sign up for our emails on music, travel, friends, and fun. Listen to our 'always live' streaming station and our 12 streaming music channels, always free. Browse our Lifestyle Directory. Click here to like our Facebook page and here for Brazilian events coast to coast.
Here's our 'One-Track' choice: 'Green Eyes'