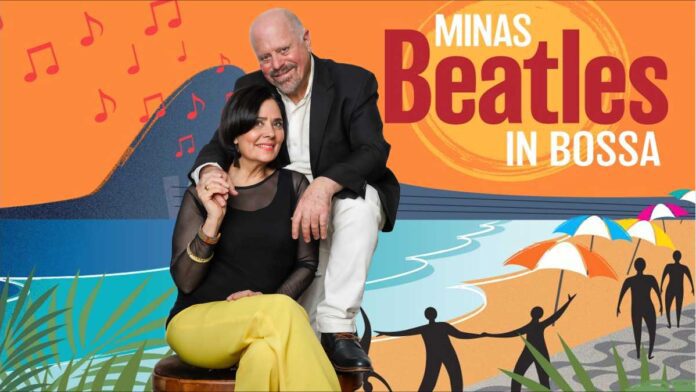 Philly-based Minas Brings the Beatles To Bossa Nova By Popular Demand. Here's what top reviewers are saying.
Review Roundup for Minas and Beatles In Bossa: We've gathered the most insightful comments, critiques, and observations from music's influential experts.
---
What began with fan applause in 2017 and continued with hundreds of fan requests ever since is now one of 2022's best Brazilian albums. Organic? It doesn't get any better than this.
Here's Connect Brazil's collection of top reviews for this remarkable album.
Read quotes from the Review Roundup for Minas and Beatles In Bossa
Illiam Sebitz | 5 Finger Review
"Minas' Beatles in Bossa impresses with its natural, vibrant, and heartfelt presence, allowing us to hear and appreciate the colors and textures of the exceptional music of the Beatles through a Brazilian perspective and thoughtful performances."
This re-imagination of fourteen Beatles' songs is infused with American Jazz and Brazilian styles of Bossa Nova, Samba, Choro, Partido Alto, Afoxé, Marcha Rancho, and Frevo.
'Blackbird' has a nylon-strung guitar and vocal intro that sets the tone for this Brazilian-themed arrangement. Minas transforms the melody to something new while still keeping the theme recognizable. Haddad wrote this creative arrangement with a fresh approach to this classic Beatles melody.
'With A Little Help From My Friends' is another Brazilian arrangement that is all Minas. The concept came from Haddad and King with the horn arrangement provided by Andrew Neu. Haddad's nylon-strung guitar keeps a Latin pattern as the horns accent the two vocalists trading phrases of the melody. Neu plays an exciting solo. The arrangement is rewarding, enabling us to hear the melodic lines, harmony, and orchestration from a different perspective.
Want to learn more? If you tap or click the link you can read the complete review at 5 Finger Review.
Joe Ross | Roots Music Report 5 Stars
"On Minas' Beatles in Bossa, there's clearly a sense that life has returned and that there are sunny, optimistic, hopeful times ahead. The resulting artistry is full of warmth and charisma, and you'll be singing and dancing right along with them before you know it."
There are few songs that have had as much impact on musicians as those of The Beatles. Orlando Haddad (vocals, guitar, berimbau) and Patricia King Haddad (vocals, piano, keyboards) are certainly no exception.
In 1978, they formed Minas at the University of North Carolina School of the Arts, performed all over the eastern seaboard, moved to Brazil, then returned to the U.S. in 1984 where they perform and record extensively in Brazilian jazz, folk, and classical genres.
Their eighth album, Beatles in Bossa, provides lovely Latinesque arrangements of 14 classic favorites from the Fab Four.
They have clearly put a lot of creative time, effort, and thoughtful planning into this project that covers many of my personal jazzy favorites from 'Blackbird' to 'Day Tripper,' 'Can't Buy Me Love' to 'Norwegian Wood'. They don't overlook a couple of positive contributions from George Harrison, "Within You Without You" and "Here Comes the Sun."
Read More About Minas and Beatles In Bossa:

Raul Da Gama | That Canadian Magazine
"Beatles music is quite difficult to make it sound as if was freshly minted just for you. Minas's Orlando Haddad and Patricia King Haddad (have scored) a proverbial musical winner. It often feels as if this music was written just for them."
Old themes, old names, and old places… have been infused with a fresh sense of mystery. 'Eleanor Rigby' for instance, is like something mystical; hidden in a nook and cranny deep within a favela teeming with life.
'Within You, Without You' is turned into a swirling capoeira. The berimbau adds magical flavour when whirling around the soprano saxophone, just like two capoeira contestants.
Meanwhile, the airy piano adds to the serpentine charm as do the bewitching percussive colours of Cyro Baptista's surdo and cuica.
But more than anything else it is the sheer ingenuity of the invention that is packed into each song that will make your jaw drop. That the arrangements are first-rate is only part of the wow factor.
Even George Martin couldn't have asked for more.
Read more quotes from Our Review Roundup for Minas and Beatles In Bossa
Bronwyn Katz | WQHS Radio (World Cafe 'Live')
"World Cafe Live hosted The Beatles in Bossa Nova, a reimagination of classic 60's pop by the Brazilian-focused husband and wife band, Minas. The show opened to a venue crammed with extra chairs and excitement so tangible it took up any remaining elbow room."
The crowd, which channeled its excitement through a babble of talk and a never-ending demand for onion rings, fell silent as the lights dimmed and the opening notes of Minas' take on Eleanor Rigby began to play.
It soon became apparent that the band could play no wrong; the audience's response to every song fluctuated between swilling their drinks to the beat and a room-wide outbreak of nodding and foot tapping.
Whether the band played an upbeat version of "Fool on the Hill" or a take on "Get Back" complete with a trumpet fanfare, the music elicited an enthusiastic response from everyone present. In fact, the audience erupted into applause during each of the band's covers.
Leonid Auskren | Jazz Quad
"Many music lovers are in love with bossa nova rhythms, many people revere the legendary Beatles. This album should unite those and others – after all, it is called: Beatles in Bossa."
Composing their own songs, and also performing Beatles songs in arrangements where jazz is adjacent to the rhythms of bossa nova, samba, choro, and other types of Brazilian music.
Minas makes extensive use of horns and, of course, colorful percussion in their versions, but not a single track loses its magical melodic foundation, laid down by the geniuses of popular music from Liverpool. Both spouses and a representative of the younger generation, Jordan Haddad, lead their vocal parts with great reverence for the originals.
(T)here is something to say about each track, together compiling an album that you can't help but like!"
Read the complete review here.
Michael Doherty | Michael Doherty's Music Log
"Another of the disc's highlights is "Eleanor Rigby," which works incredibly well with this approach. This is one of the best renditions of "Eleanor Rigby" I've heard."
Minas is led by the duo of Orlando Haddad and Patricia King. While they are known for their songwriting as well as their vocal work, on their new album they cover some of their favorite Beatles songs.
'Come Together.' The rhythm of this one works so well, with a hint of funk, helping to make this track one of the disc's highlights. And check out that lead on saxophone.
Minas clearly has a good time with 'Day Tripper,' delivering a fun version that swings and grooves, particularly during that delicious jam.
Another of the disc's highlights is 'Eleanor Rigby,' which works incredibly well with this approach. This is one of the best renditions of 'Eleanor Rigby' I've heard.
George W. Harris | JazzWeekly
"Think you've heard The Beatles every way possible, well, here's a new one, and it's fantastic."
Vocals by Orlando Haddad, Patricia King Haddad, and Jordan Haddad harmonize and solo with aplomb to the luscious samba pulses and horns.
The result is an album that succeeds even if you don't know the difference between The Beatles and the Dave Clark Five, as the music succeeds on its own.
Some of the tunes are reminiscent of vintage Sergio Mendes and Brasil 66, with a soulful take of 'Can't Buy Me Love', a pretty 'Eleanor Rigby', and a mix of slick guitar and tenor sax for 'Day Tripper'.
The girl from Ipanema gets a tan in London.
Click the link to read the complete review at Jazz Weekly.
Review Roundup for Minas and Beatles In Bossa
Contact Minas
Listen To This Album On:
Also On These Channels
Music, Travel, Friends and Fun! 2022 marks Connect Brazil's 25th year.
Did you enjoy our 'Review Roundup for Minas and Beatles In Bossa'? If you did, why not join us at Connect Brazil?