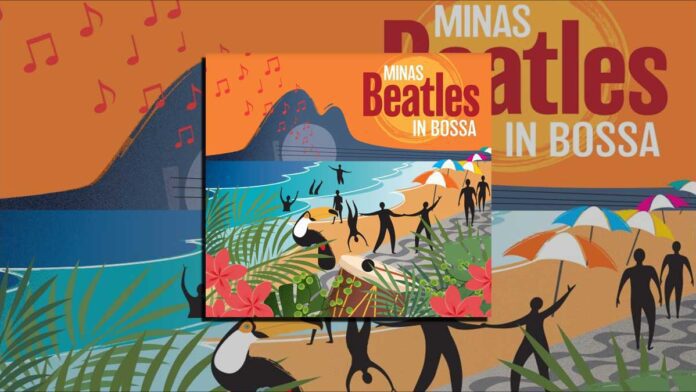 14 handpicked Lennon-McCartney and Harrison favorites filtered through the Prism of Brazil
Minas reimagines Beatles In Bossa. Today is 'launch day' for their new album, inspired and released by popular demand.
---
by Scott Adams
Let's catch up with Orlando and Patricia Haddad, co-leaders of the Philadelphia-based group, Minas. Today marks their 8th recording since they formed Minas in 1978.
Under their leadership, Minas has grown to become one of the most popular Brazilian American concert and performance groups in the region.
In fact, that's where the idea for this recording came from, during a concert at Philly's World Café Live! in November 2017.
"It was for our first Beatles In Bossa show," recalls Orlando. "The concert was sold-out, and the audience loved everything about it. The songs, our arrangements, and the musicians. Afterward, fans asked for the album! The response was so impressive that Patricia and I got to work on the album soon after that."
More shows followed and Minas kept audiences informed every step of the way. Even throughout the pandemic. Fan interest in the album continued to grow.
Brazilian Style Reimagines Beatles In Bossa
Minas brings a fresh approach to each of these Beatles classics. Each song benefits from the arrangements used for that first concert four years ago. Here, jazz meets up with Minas's distinctly Brazilian sound. Bossa Nova, Choro, Samba, and other styles act as a musical prism for these songs we know so well.
Early reviews take note of the unique arrangements and musicianship.
Raul da Gama of thatcanadianmagazine.com is one of the first. Beatles In Bossa is "infused with a fresh sense of mystery," he writes. "'Within You, Without You' is turned into a swirling capoeira without ever losing its droning Indian groove. The berimbau adds magical flavour when whirling around the soprano saxophone, just like two capoeira contestants."
Now, Beatles In Bossa is offered as a 70-minute CD and as a double vinyl album.
MUSIC, TRAVEL, FRIENDS AND FUN! 2022 MARKS CONNECT BRAZIL'S 25TH YEAR.
Minas Reimagines Beatles In Bossa
Stories like 'Minas Reimagines Beatles In Bossa' are what we do. Why don't you join us? Sign Up for our e-letter. Listen to our 'always live' streaming station and our 12 streaming music channels, always free. Browse our Lifestyle Directory. Click here to like our Facebook page and here for Brazilian events coast to coast.
Beatles In Bossa by Minas
Hear This Album On:
Also On These Channels
Track List: Beatles In Bossa by Minas
Blackbird
Come Together
She Loves You
Day Tripper
Lucy in the Sky with Diamonds
I Will
Can't Buy Me Love
Eleanor Rigby
Within You, Without You
Here Comes the Sun
Norwegian Wood
With A Little Help from My Friends
In My Life
Get Back
Personnel
Orlando Haddad (vocals, guitar, and berimbau); Patricia King Haddad (vocals, piano, and keyboards); Jim Stager (acoustic and electric basses); John Swana (EVI, flugelhorn, and trumpet); Andrew Neu (saxophones and flute); Tom Cohen (drums); Cyro Baptista (percussion and berimbau); Jordan Haddad (vocals); Rob Hyman (accordion)