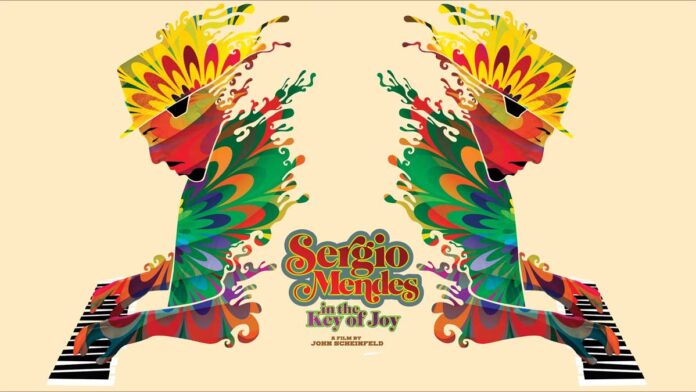 PBS brings its television premiere to American fans this June.
Sergio Mendes documentary snapshot: "There's a word in English that I love. Serendipity. That's the story of my life" – Sergio Mendes
---
PBS will broadcast and stream the five-star documentary, Sergio Mendes & Friends: A Celebration during June 2021. This national premiere is based on filmmaker John Scheinfeld's feature documentary, Sergio Mendes: In The Key Of Joy.
Answer: The Great Pyramids, The Cosmos and Sergio Mendes
Question: Name three things worth waiting for.
It's true, and when it comes to Sergio Mendes In The Key of Joy, it's a fact. Rumor of a new Sergio album first appeared on Connect Brazil, hours after it was leaked nearly four long years ago.
Months went by. We bought new calendars. Twice. This Sergio story added so many twists, turns, and delays that our as it happens updates took on a life of their own. Loyal listeners kept asking for details. After all, The Sounds of Brazil is linked with Sergio Mendes, from the very beginning.
Even a few Hollywood gossip sites reached out to us for the latest inside info.
Do you want to know what to expect when watching June's Sergio Mendes documentary? Then keep reading.
Gumbo meets Feijoada
"Sergio, he did the gumbo. He put the gumbo together. I love it. And it worked!" – Quincy Jones
So, we waited. Then, in typical Brazilian fashion just before 2019's holiday season, a jeitinho appeared out of nowhere. Everything came together and suddenly, news for In The Key of Joy was everywhere: Rolling Stone, Billboard, Rio's O Globo. Jazziz.
John Scheinfeld's documentary made its world premiere at the Santa Barbara International Film Festival on January 18, 2020. The album release followed on February 28, 2020.
So we wrote:
No one in the world carries the banner for Brazilian music better than Sergio Mendes.
His forward-looking style has entertained millions of fans worldwide. He inspires generations of musicians to follow in his footsteps with joyful, sun-kissed sambas of their own, like this one.
The album
Two editions of the album are available. The Standard edition features a dozen new songs. A Deluxe edition includes the documentary's soundtrack plus16 classic hits from Mendes's storied career.
In The Key of Joy includes Brazil's highly-respected instrumentalists Hermeto Pascoal, Joao Donato, and Guinga. Do you want a few more? Chicago rapper Common, Compton rapper Buddy, The Voice's Sugar Joans (Sergio's God-daughter) are also special guests on the album. Brazilian samba star Rogê, Columbia's Cali y El Dandee. Sheléa, Joe Pizzulo, and Mendes' wife and lead vocalist, Gracinha Leporace round out the headliners.
The documentary includes archival footage and family photos. Interviews with Mendes's contemporaries provide insight, plus music from throughout his career. We have all the details below.
Sergio Mendes's story
Already a youth sensation in his native Rio de Janeiro, Sergio Mendes was part of the legendary Bossa Nova at Carnegie Hall concert in '62. Three years later, he discovered Lani Hall singing at Mother Blues during the Chicago winter of 1965. She became the lead singer of Brasil '66 just a few short months later.
Fusing the sounds of Brazilian music with American pop, Billboard radio hits brought the new group a string of successes. The group's chart-bound Bossas included 'Fool on the Hill', 'Scarborough Fair', and 'Mas Que Nada'.
'The Look of Love' was originally recorded by Dusty Springfield for the 1967 James Bond spoof Casino Royale. But when Brazil '66 gave the song its Brazilian spin during the '68 Oscars, it made Billboard history. Brasil '66's cover version is more popular than the original. 'The Look of Love' by Sergio Mendes & Brasil '66 shot up to No. 4 on the pop charts.
A three-time Grammy winner, Sergio Mendes has released 35 albums. In 2012, his Real in Rio (from the movie Rio) was nominated for an Academy Award as Best Original Song.
Here's what to expect when watching the Sergio Mendes Documentary on PBS
June 2021's television documentary, Sergio Mendes & Friends: A Celebration, reunites Mendes with a who's who list of musical friends. Who else? One of them is actor Harrison Ford, who was Sergio's carpenter when he built his home recording studio.
The list of interviews is a long one. Herb Alpert, Tribalistas' Carlinhos Brown, Lani Hall, Quincy Jones, and John Legend. There's Gracinha Leporace (the group's long-time lead singer and Mendes's wife), Jerry Moss and Pelé. Carlos Saldanha (Oscar-nominated director of the film, Rio) appears. will.i.am offers a unique take on Sergio Mendes and his ongoing musical journey.
Filmed in Rio
In order to make the documentary, Sergio returned to Brazil to meet with director John Scheinfeld and producer Dave Harding. Their team was able to capture the beauty, style, and excitement of Rio de Janeiro.
The crew also filmed in nearby Niterói, the singer's birthplace. They shot many other places that carry strong personal connections with Sergio. The production even traveled to Sao Paulo where Sergio Mendes sang with the legendary soccer player Pelé.
Sergio tells most of his story in his own words. To lend more emotion and intimacy to the story, the documentary includes 50 recordings from each stage of his career.
You will experience never-before-seen material such as home movies and personal photos from the Mendes family. What was it like?
Through the lense
The documentary's Director of Photography, Daniel Brockett, is also a Contributing Editor for HD Video Pro magazine and he writes about the experience in his blog.
"It's been quite a while since I've seen my work projected in a theater with an audience, and if you haven't had the privilege to experience it, it's something special to feel their reaction as they watch the story you helped to tell," says Daniel.
"During production, there were dozens of shoots here in Los Angeles, at Sérgio's home, and at multiple recording studios.
"In 2017, we journeyed to Brazil with Sérgio and his wife Gracinha to shoot Sérgio at his birthplace, at the first club he ever played at professionally and at various locations all around his home town of Niteroi, across the bay from Rio. We also shot studio sessions with various musicians in Rio and a song session with Soccer legend Pelé in Sao Paolo.
"Visually, Brazil is a wonderful tapestry of tropical beauty mixed with the European and Portuguese influence; I've rarely shot in a more beautiful, spectacular location," he says.
"…The highlight of the shoot for me was the day we spent in a small recording studio in the hills of Rio, almost directly in the shadow of the iconic Christ the Redeemer statue," recalls Daniel from his blog.
"For the session, Sérgio assembled a small jazz ensemble of bass, drums and a three-piece horn section. With Sérgio at the keyboard, the group played original jazz tunes that Sergio had written as a young composer when he was just coming onto the music scene in Brazil.
"These jazz tunes were written well before Sergio found worldwide acclaim for his global hit, 'Mas Que Nada' with Brasil '66. No vocals, no lyrics—just pure, unadulterated jazz. It was a challenging shoot, trying to light the small studio to resemble a jazz club, but the musical experience was incredible as a fan, and I kept practically pinching myself that I was getting to hear this music as I shot that nobody else had heard played for more than 60 years. It was a magical experience for a jazz fan."
Let's close with a word from the director. "Sergio's warmth, humor and appreciation of life through all the senses made me feel a strong connection with him. I want others to feel the same way," says director Scheinfeld. "His life is an exceptional blend of encounters, spontaneity, and serendipity and makes him an irresistible subject for a film."
Sergio Mendes Documentary Comes to PBS
Stories like 'Sergio Mendes Documentary Comes to PBS' are what we do. Why don't you join us?
Sign up for our emails on music, travel, friends and fun. Listen to our 'always live' streaming station and our 12 streaming music channels, always free. Browse our Lifestyle Directory. Click here to like our Facebook page and here for Brazilian events coast to coast.
Correction: An earlier instance of this article incorrectly showed the Sergio Mendes Documentary on PBS as occurring in "June 2020". We have updated this article to properly show June 2021 as the initial PBS broadcast period.