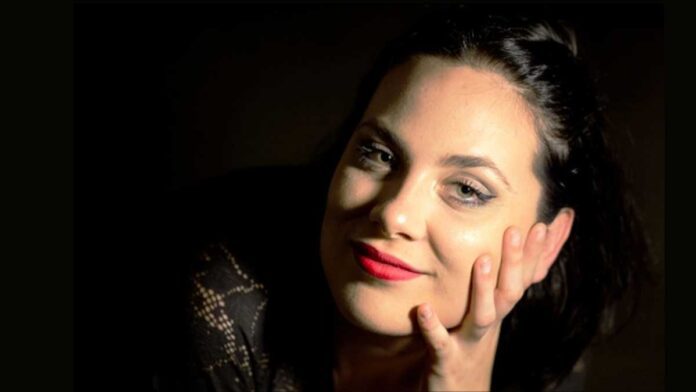 From A Debut Album Of Originals, One Cover Stands Out. And It's An American Classic.
Tetel Di Babuya's take on comfort and joy captures the jazzy warmth of the season.
---
'Jingle Bells'?
Nope. Well, how about 'My Favorite Things' or Joni Mitchell's eloquent 'River'? Truth be told, none of these began as Christmas songs.
Admittedly, it's a stretch to think of 'Someone To Watch Over Me' as Christmassy. However, times of uncertainty remind us that music brings us closer to that seasonal sense of 'comfort and joy' we cherish and long for.
"There's a somebody I'm longin' to see, I hope that he turns out to be, someone who'll watch over me," sings Tetel Di Babuya. As her story unfolds, don't be surprised if you find yourself hoping her dream will come true.
Tetel included 'Someone To Watch Over Me' in her debut album earlier this year. As we noted in our review, Meet Tetel is jazzy and old-school. Each of the album's 11 songs reflects her love of jazz standards but in her own original way.
Tetel is a Brazilian singer and songwriter of unusual talent. She's also been an accomplished concert violinist with the Sao Paulo symphony.
Tetel Di Babuya's take on the Gershwins and Ella
Writing and performing in both English and Portuguese, Di Babuya's lyrics are clever and insightful. Her vocal style paints itself in bold colors and coy pastels. And just when you think you've figured her out, she'll remind you otherwise.
And perhaps that's why – in an album filled with originals – she chose this song to close with. Tetel Di Babuya's take on comfort and joy.
Ira Gershwin penned 'Someone To Watch Over Me' as a wedding song for his marriage to Leonore in September of '26. Weeks later, it became popular as a theater song for the musical Oh, Kay! where it was first performed by Gertrude Lawrence.
Originally composed as a dance number, George Gershwin discovered that a slower tempo transformer the song. In his book Lyrics on Several Occasions, brother Ira wrote "both of [us] had the same reaction. This was really not a rhythm tune but rather a wistful and warm one." The lyrics took on a sense of vulnerability.
The song was included on Frank Sinatra's debut album in 1946 but it was Ella Fitzgerald's version that helped it become an American classic.
"One day when I was a teenager, I thought I would finally give a listen to this woman called Ella Fitzgerald," says Tetel. She decided on Ella and Louis.
Tetel continued. "So, I pressed play…and the world was suddenly made of rainbows and vanilla. I'll never forget that feeling. They made my heart want to sing."
So, no. You won't be hearing carolers sing this one outside your front door. But listening to Brazil's Tetel Di Babuya sing it on a late winter's night while curled up by the fireplace can only enhance your holiday season.
Tetel Di Babuya's Take On Comfort And Joy
Did you enjoy 'Tetel Di Babuya's Take On Comfort And Joy'? If you did, why not join us at Connect Brazil?
Sign up for our emails on Brazilian music, travel, friends, and fun. Listen to our 'always live' streaming station and streaming music channels, always free. Visit us on Facebook, and Twitter, and browse our Lifestyle Directory for Brazilian events coast to coast.
Meet Tetel Di Babuya
Arkadia Records
Follow Tetel Di Babuya
Website | Facebook | YouTube | Instagram | TikTok
Buy Here | Amazon | Apple Music | Spotify
Listen To Tetel's 'Someone To Watch Over Me':
Also On These Channels @ AccuRadio
Production:
Recorded at Arsis Studio, São Paulo, Brazil. Songs, lyrics, and arrangements by Tetel Di Babuya, except 'Someone To Watch Over Me', by George and Ira Gershwin. Executive Producer: Bob Karcy for Arkadia Records. Produced by Bob Karcy, Tetel Di Babuya, and Igor Sarudiansky.
Personnel:
Tetel Di Babuya: – voice and violin
Daniel Grajew: – piano, accordeon and Rhodes
Nilton Leonarde: – acoustic bass, electric bass, and guitar
Emilio Martins:- drums
Richard Fermino: – saxophone, trumpet, and trombone