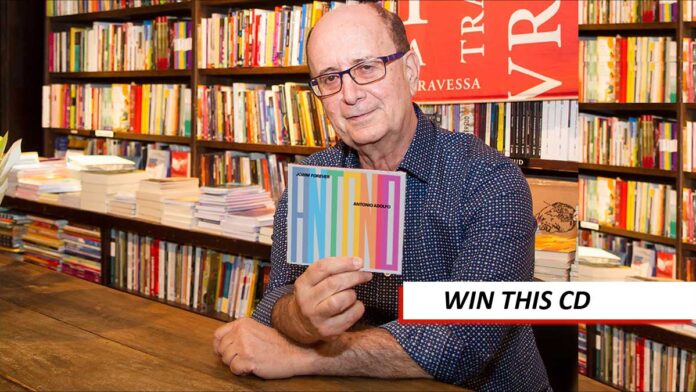 The Connect Brazil Giveaway: Here's your opportunity to win a copy of Antonio Adolfo's new album.
The Jobim Forever Giveaway! Already a top contender as one of the best Brazilian Jazz recordings of the year, each winner's CD package will include a personalized note of appreciation for an exclusive number of fans.

Breaking news!
Antonio Adolfo's inspiration brings double Grammy consideration.
Antonio Adolfo's 2020 album Bruma: Celebrating Milton Nascimento is already nominated for the Latin Grammy award for 'Best Latin Jazz/Jazz Album'.
Days ago, the Grammy Association announced that this album, Jobim Forever is Antonio Adolfo's Jobim Forever is offically in the running for January 2022's Grammy awards in five categories:
Best Latin Jazz album
The Best arrangement instrumental or A Cappella (The Girl From Ipanema), (Wave)
Best arrangement, instruments and vocal (A Felicidade)
The Best Jazz soloist: Danilo Sinna (Favela), Rafael Rocha (Wave)
Best engineered album Non-classical
The official nominations for the 2022 Grammy awards will be announced on November 23rd.
That's five days after the Latin Grammy ceremony, where Antonio Adolfo's Bruma is nominated for 'Best Latin Jazz/Jazz' album.
Congratulations to Antonio Adolfo for this recognition of his talent and creativity.
Don't miss your chance to win a personalized copy of this amazing album
Inspired by a song he heard on the radio, Jobim Forever is a personal tribute to the Brazilian legend who inspired Adolfo's own career in Brazilian jazz. Don't let Jobim Forever pass you by. You'll be rewarded with one of the most thoughtful and compelling Brazilian jazz albums of its kind.
Win one of seven copies of Antonio Adolfo's new Brazilian jazz CD, Jobim Forever, recorded in the city of his birth, Rio de Janeiro.
Final Days! Enter The Jobim Forever Giveaway
Rules:
This Connect Brazil Giveaway is available to USA addresses only. Valid contact information only. All entries are subject to our contest terms.
Winners will be announced on this page on November 13th and will also be contacted by the artist via email.
Enter Antonio Adolfo's Jobim Forever Giveaway
GET TO KNOW BRAZILIAN JAZZ PIANIST ANTONIO ADOLFO
Follow Adolfo Adolfo on
Amazon | iTunes | Google Play | Spotify | Deezer | Tidal
Facebook | YouTube | Instagram | Twitter
Sign up for our emails on music, travel, friends and fun. Listen to our 'always live' streaming station and our 12 streaming music channels, always free. Browse our Lifestyle Directory. Click here to like our Facebook page and here for Brazilian events coast to coast.