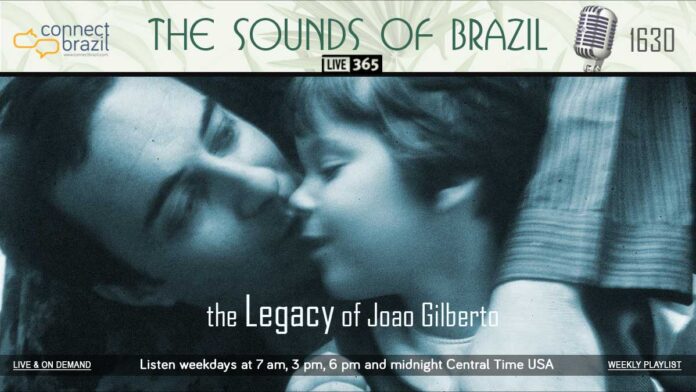 The Legacy of Joao Gilberto
| Air Date: 08-27-23 through 09-03-23
| On-Demand: 08-27-23 through 09-10-23
Live365.com is the official streaming radio partner for The Sounds of Brazil!
This two-hour program airs 4X daily on our streaming Station. You are invited to listen, Monday to Friday at 7 am, 3 pm, 6 pm, and midnight Central Time (US). Weekend times, too:
On The Radio: Listen to The Sounds of Brazil every Sunday, 2-4 pm on Chicago's 90.9 FM WDCB and streaming live at wdcb.org.
On-Demand: Click here to listen to this program anytime: through September 10, 2023.
Sign up for our emails on music, travel, friends & fun. Click here to like us on Facebook.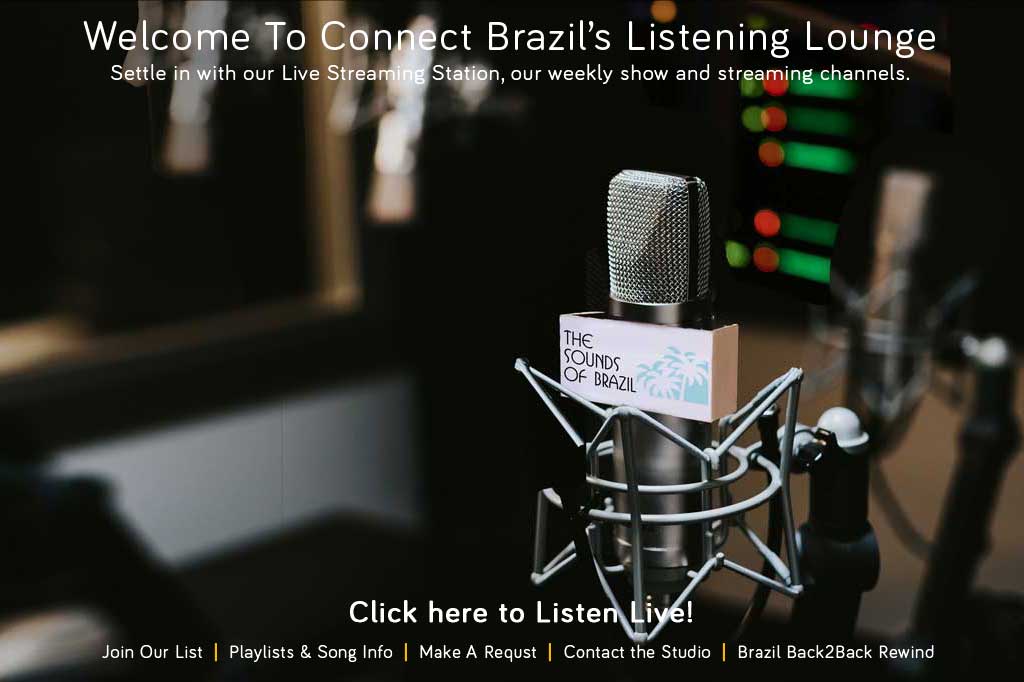 Daily Listening Schedule | Time Zone Converter | Brazil Back2Back On Demand
Make A Request | Send a message to Scott
Hello again. Let's begin with a few questions.
Who created rock and roll? Which musician gave birth to jazz? Who was the first to sing the blues? When it comes to Bossa Nova, pulling its musical thread is much easier. It can be traced to one man, one voice, and one guitar.
Back when I was writing the Brazilian music column for Jazziz magazine, I once observed that Bossa Nova legend João Gilberto "has a voice that can whisper through walls." Another legend, trumpeter Miles Davis put it another way: "He could read a newspaper and sound good."
João Gilberto will always be 'The Father of Bossa Nova' and dad to Bebel, João Marcelo, and Luisa Carolina. He was a husband to Astrud and Miucha and his music has seeded generations of musicians worldwide.
In fact, without João Gilberto, it's quite possible that the relationship we have with Brazilian music simply would not exist. Those aren't my words; that thought comes from Caetano Veloso.
João Gilberto's voice is weightless, its depth infinite; it is haunting, haunted, insular. He hears things we do not. Not only things outside our awareness; but the possibility of sounds we cannot imagine. And he teaches us the sound of stillness.
So this week, let's let the music retell the story of the legacy of João Gilberto on The Sounds of Brazil.
Happy Listening,
Scott Adams
More from Connectbrazil.com:
~ ~ ~
Love the music? Like our page at Facebook. Click here then share The Sounds of Brazil with your friends. You'll have my thanks!
~ ~ ~
Cozy up with this one: Settling in with a good book is one of the joys of summer. Want to experience the stories and people surrounding the birth of Bossa Nova in Rio de Janeiro?  Bossa Nova's most important book makes a great impression: it's almost like being there!
~ ~ ~
Sunday's Brazilian Brunch serves up long sets of Bossa Nova and Brazilian Jazz, plus fan favorites from our earliest years – the perfect musical backdrop for whatever you have going on this weekend! Only on Sundays at 5 am, 9 am, 2 pm, and 11 pm Central time and only on The Sounds of Brazil's streaming station from the player.
~ ~ ~
Sign up for our Connect Brazil e-letter!
The Legacy of Joao Gilberto
Hour 1:
Set 1: The Sounds of Brazil Opening Theme
Third Time Lucky<>Basia/Basia on Broadway
Super Ambient<>Bossacucanova/Ipanema Lounge V.1
Fly Me To The Moon<>Julie London/Ultra Lounge #14
Welcome to the Lounge            
Doralice<>J. Gilberto & S. Getz/Bossa Years
Special Announcement
Maria Moita<>Antonio Adolfo/Bossa 65
Set 2:
Introduce Our Next Set
Summer Samba (So Nice)<>Astrud Gilberto/Album
Pepe<>Ricardo Silveira/Small World
Introduce Next Set                           
Guarapiranga<>Toco/Outro Lugar
Mainstream<>Soulstance/Truth Simplicity & Love
Like A Prayer<>Danni Carlos/Danni
Set 3: Introduce This Week's Spotlight Song
Quando Voce Voltar<>J. Marino & Friends/My Little Town
Boss-A-Nova<>Geneve 5/Subtly
Use Your Head<>Money Mark/Redhot + Rio
---
Subscribe to the Connect Brazil e-letter. It's free.
---
The Legacy of Joao Gilberto
Hour 2:
Set 1:
E Preciso Perdoar<>Bebel Gilberto/Joao
Welcome To Our Second Hour
Samba Da Minha Terra<>Joao Gilberto/Legendary Joao Gilberto
Easy Ridin'<>Leo Gandelman/Western World
Os Grillos<>Marcela Mangabeira/Simples
Special Announcement
Seresta/Phill Fest/Seresta
Set 2:
Introduce Next Set
Saudosismo<>Miucha/Saude Brasil
Ocean Way<>Torcuato Mariano/Last Look
Introduce Next Song
Tout Est Bleu<>Bebel Gilberto/Tudo
Meu Pais (My Country)<>Luiz Avelar/Homenagem a Ivan Lins
Color of the Watercolor<>R. Folegatti/Watercolors
Set 3:
Who Needs Forever?<>Astrud Gilberto w/Thievery Corp.
Tema de La Onde<>Nicola Conte/Café Roma Vol. 2
~ ~ ~
Next Week: Let's celebrate Bossa Nova's 65th birthday with a special show, 'Beach Blanket Bossa!' to kick off September's 'BossaNovaville' theme, which coincidentally happens to be the name of our popular streaming channel. Always Free. Listen to it here.
I hope you'll enjoy the program this week, too, and please – tell a few friends about us! It's always great to share the music.
Whether it's your radio, your computer at work, or your tablet or smartphone, thanks for tuning in! I really appreciate it, and please tell a friend or two about us.
And don't forget about our weekly broadcasts in Chicago: Sundays at 2:00 pm Central on 90.9 FM WDCB and wbcb.org.
View our complete daily broadcast schedule here.
The Legacy of Joao Gilberto