Antonio Carlos Jobim's song about the joys and challenges of life celebrates its 50th anniversary this year.
The Waters of March Is Brazil's Most Popular Song, according to newspapers, journalists, scholars, and Brazilian music fans everywhere.
This series was presented by the Consulate-General of Brazil in Chicago and the Brazilian Foreign Ministry's Cultural Department.
In celebration of Brazil's Bicentennial year, 1822 – 2022
This week's Brazilian Minute: The Waters of March Is Brazil's Most Popular Song
Script from Audio:
Brazil's Bicentennial includes the 50th anniversary of Brazil's most popular song. Antonio Carlos Jobim's 'Águas de Março', 'The Waters of March'.
It happened on a rainy day in March 1972 when Jobim was frustrated with the stormy weather. Things were not going his way. So, he sat down and began to write.
'Águas de Março' tells the story of the cycle of life. The song's simplicity is also what makes it popular worldwide. There's meaning in each phrase.
There are thousands of versions for 'The Waters of March' in more than a dozen languages, but Jobim's duet with the legendary Elis Regina is the most famous, and the one that makes it Brazil's most popular song!
Read and listen to new weekly episodes of The Brazilian Minute.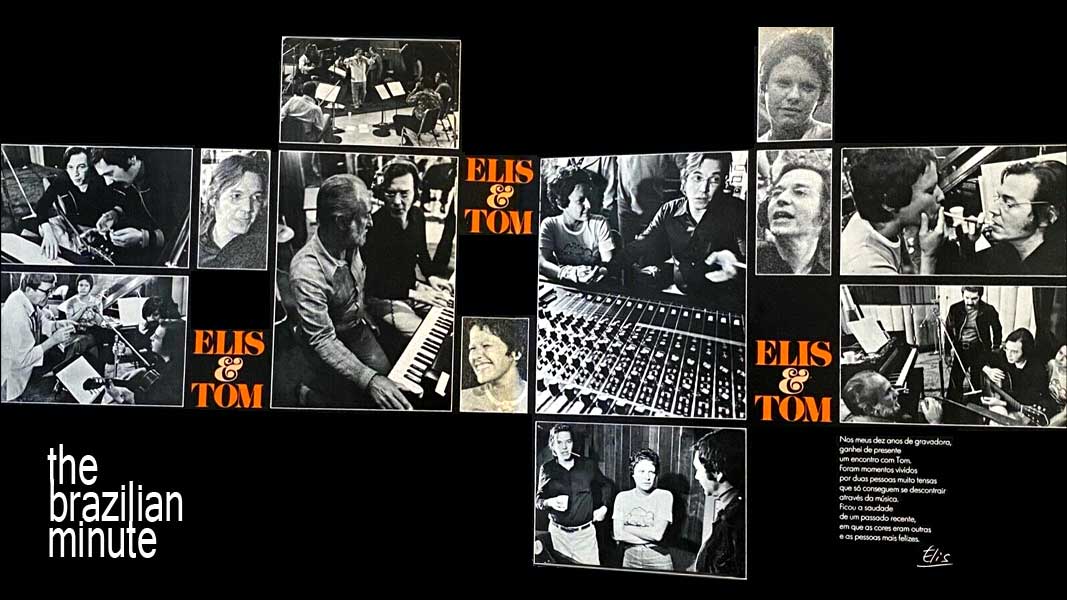 More on: The Waters of March Is Brazil's Most Popular Song
The Debut
It wasn't a good one. The song's initial release hinged on a music entrepreneur with a good idea and bad timing. Amazingly, it worked out very well for MPB singer and songwriter João Bosco. Why? Tap or click here to read about it on this page.
Weeks later, Elis Regina recorded her version on her self-titled album 'Elis'. Meanwhile, Antonio Carlos Jobim was headed to a New York studio to begin work on his self-titled album Jobim. In Brazil, the album was titled Matita Perê and both releases contained a newly-recorded version of 'Águas de Março'.
The US release also contained the English version of 'The Waters of March'.
Less than two years later, these two Brazilian superstars would meet in Los Angeles to record Brazil's most popular song. Tap or click to read this unlikely story.
March 17th is Elis Regina's birthday. You can read the book-length biography of her life, translated to English here.
The Lyrics
Fans, critics, and music historians alike marvel at the lyrics of this song in English or Portuguese. Many note that there is not really a story being told, as much as a poetic stream of thought.
The meter of the phrasing in 'Águas de Março' is slightly different when compared to the English version, 'The Waters of March'.
However, Jobim – who authored both sets of lyrics – set the phrasing with purpose. He also made allowances for the differences between the two languages.
With the Portuguese version, nearly every line begins with "É.." (It is).
"É pau, é pedra, é o fim do caminho. é um resto de toco, é um pouco sozinho."
This simple choice amplifies the importance of the noun or the action of each phrase. The idea works well with the English version, too.
"A stick, a stone, it's the end of the road. It's the rest of the stump, it's a little alone."
50 years on, the relevance and wisdom of Jobim's observations about life remain unmatched in the lyrics of a song.
Compare both sets of lyrics, and read the story behind Jobim's frustration that led to the creation of 'Águas de Março'. Tap or click here.
The Commercials
Within months of those early releases, both 'Águas de Março' and 'The Waters of March' found their way onto new recordings by Sergio Mendes, Stan Getz, and João Gilberto.
And it wasn't just musicians who were taking notice.
In 1985, Coke used the song with rewritten lyrics on a summer "Coke Is It" TV campaign. The ad made its US debut on ABC-TV, on January 20th, during the Super Bowl XIX live broadcast. Unique versions in Portuguese for "Coca-Cola é Isso Aí" also aired on Brazilian TV for several years, with lyrics written by Nelson Wellington.
The Philippine shopping mall chain, Ayala Malls created their own ad version of 'The Waters of March', and even an 'unauthorized' bootleg commercial for Trader Joe's has racked up more than a million views on YouTube in the past few years.
The Documentary
There are many hidden stories connected to Antonio Carlos Jobim's 'Águas de Março' and we've taken great care to research fact from fiction.
No, the lyrics are not haiku. No, it is not a song about climate change.
'The Waters of March' is Brazil's most popular song because of a duet recorded for an album (Elis & Tom) in Los Angeles, in 1974. It united two of Brazilian music's biggest names, Antonio Carlos Jobim and Elis Regina.
The backstory of how this fateful meeting occurred is here, and it should not be missed.
A few days after Elis Regina arrived in Los Angeles to meet with Jobim, Cinematographer Roberto de Oliveira packed up his cameras and flew to L.A. He was there to film a documentary on the making of Elis & Tom for TV Bandeirantes in Brazil.
For many years, this historic documentary was unavailable to the public. However, we have unearthed the complete 46-minute TV show, as originally produced for broadcast.
You'll find it directly below. Enjoy!
Music, Travel, Friends and Fun! 2022 marks Connect Brazil's 25th year.
The Waters of March Is Brazil's Most Popular Song
Did you enjoy 'The Waters of March Is Brazil's Most Popular Song'? If you did, why not join us at Connect Brazil?
Sign up for our emails on Brazilian music, travel, friends, and fun. Listen to our 'always live' streaming station and streaming music channels, always free. Visit us on Facebook, and Twitter, and browse our Lifestyle Directory for Brazilian events coast to coast.