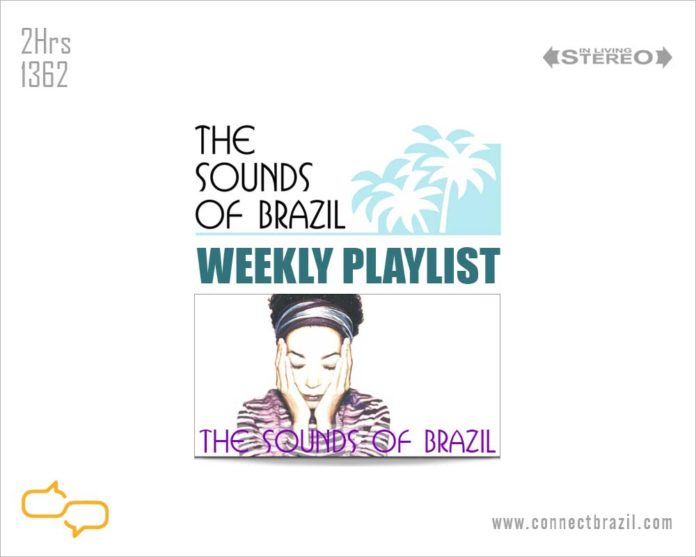 THE BEST OF ROSALIA DE SOUZA
| Air Date: 07-01-20 through 07-07-20
Live365.com is the official streaming radio partner for The Sounds of Brazil!
This two-hour program airs daily on our streaming Station. Listen Monday to Friday at 7 am, 3 pm, 6 pm and midnight Central Time (US). Weekend times, too:
Daily Listening Schedule | Time Zone Converter | Make A Request | Upcoming Events | Send a message to Scott
On The Radio: Listen to The Sounds of Brazil every Sunday, 2-4 pm on Chicago's 90.9 FM WDCB and streaming live at wdcb.org.
On Demand: This program is available for repeat listening from July 12th to July 26th, 2020.  Click here to Listen On Demand.
Sign up for our emails on music, travel, friends and fun. Click here to like our Facebook page and here for Brazilian events coast to coast.
Hello again!
It's the best of singer Rosalia de Souza, the Carioca singer who was born on the 4th of July! She became Bossa's Modern Girl after cutting her teeth in countless studio sessions across Europe while calling Italy home. Today, she's redefining Brazilian jazz with a sense of neo-nostalgia.
Plus, this week marks the 50th Anniversary for Sergio Mendes & Brasil 66's all-time chart success on the Billboard Hot 100. Can you guess the song (without cheating)? 🙂
Scott Adams
Hour 1:
Set 1: The Sounds of Brazil Opening Theme
Brazasia<>Yutaka/Brazasia
Flute, Accordion & Viola<>Dori Caymmi/If Ever
Rio<>Lucio Alves/Bossa Nova Sua Historia
Welcome to the Lounge            
As Gotas<>Rosalia de Souza/Garota Moderna
Special Announcement
Set 2:
Introduce Our Next Set
Carolina Carol Bela<>Rosalia da Souza/D'Improvviso
Love I've Never Known<>John Legend/Red Hot +Rio 2
Introduce Next Set                           
The Vendor<>Ricardo Silveira/Small World
From Paris To Rio<>Latin Vibe/Café Roma Vol. 2
Asa<>Lee Ritenour & Djavan/World of Brazil
Set 3: This Week's Spotlight Song
The Mood Is Modal<>Beat Girls/The Mood Is Modal
Stand Up Paddle Girl<>Gabriel Martins/Mergulho
Caminhos Cruzados<>Joao Gilberto/Amoroso
---
It's Bossa Nova's 60th Birthday! Read all about it with our Bossa 60 StoryStream.
---
Hour 2:
Set 1:
Fullgas<>Rosalia de Souza/Single
Welcome To Our Second Hour
Invictor<>Jorge Vercillo/ Como Diria Blavatsky
Sessao Das Onze<>Ricardo Silveira/RSVC
The Look of Love<>Sergio Mendes & Brasil 66/Greatest Hits
Special Announcement
Rio De Janeiro Underground<>Romero Lubambo/Underground
Set 2:
Introduce Brazil Back2Back: Made In Chicago
Bom Motivo<>Toco with Rosalia de Souza/Outro Lugar
Underneath The Face of the Moon<>Kevyn Lettau/Universal Language
Introduce Next Song
You Are My Romance<>Oscar Castro-Neves/Tropical Heart
Caso Serio<>Rita Lee/Rita Lee
Don Azimuth<>Marcos Ariel/4 Friends
Set 3:
Canto De Ossanha<>Rosalia de Souza/Garota Moderna
Felicidade<>Seu Jorge/Musicas para Churrasco, Vol. 2