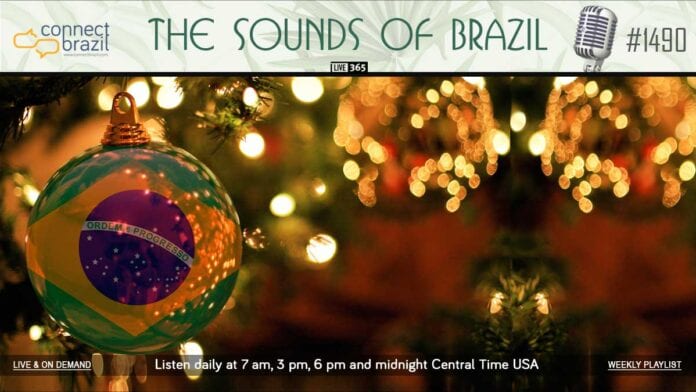 Celebrating 26 years of A Brazilian Christmas
| Air Date: 12-22-22 through 12-25-22
| On-Demand: 12-25-22 through 01-08-23
Live365.com is the official streaming radio partner for The Sounds of Brazil!
This two-hour program airs 4X daily on our streaming Station. You are invited to listen, Monday to Friday at 7 am, 3 pm, 6 pm, and midnight Central Time (US). Weekend times, too:
On The Radio: Listen to The Sounds of Brazil every Sunday, 2-4 pm on Chicago's 90.9 FM WDCB and streaming live at wdcb.org.
On-Demand: Click here to listen to this program anytime through January 8, 2023.
Sign up for our emails on music, travel, friends & fun. Click here to like us on Facebook.
Daily Listening Schedule | Time Zone Converter | Connect Brazil This Week
Make A Request | Send a message to Scott
Ho Ho Ho! Beginning at midnight December 22nd, 2022 our streaming station at Connectbrazil.com will present A Brazilian Christmas, streamed 'live', non-stop, and commercial-free through Christmas Day. 2021 marks our 26th consecutive year. Sounds great on your Smart Phone, too.
~ ~ ~
Here they are! The year's best Brazilian songs! The best Brazilian concerts, stories, and events from 2022. Our annual Best of Brazilian Music Showcase is waiting for you right now!
~ ~ ~
Our Brazilian Christmas music list: We've updated our list (and checked it twice!) and here's the link for every Brazilian Christmas song you'll hear on our streaming station. Enjoy!
~ ~ ~
Join Our List and the next issue of our Connect Brazil e-letter will find its way to your inbox with the latest music news, concerts, and more. Sign up here!
Unwrap A Brazilian Christmas
Hour 1:
Set 1: The Sounds of Brazil Opening Theme
Have Yourself A Merry…<>Joyce/Brazilian Christmas
The Christmas Waltz<>Lori Mechem/Brazilian Christmas
Holiday Sweeper
Gloria<>Nando Lauria/ Christmas Collection
I'll Be Home For Christmas<>Joao Bosco/Brazilian Christmas
Backsell – Christmas List
O Tannenbaum<>Vinne Zumo/Retro Cool Bossa Nova Xmas
Set 2:
Boas Festas<>Caetano Veloso & Gilberto Gil/World Christmas
The Christmas Song<>Steve Barta & Herbie Mann/12 Days
Christmas Paradise<> Brazilian Love Affair/Christmas Paradise
Holiday Sweeper
Snow In The Prairies<>Torcuato Mariano/Winter Solstice No. V
White Christmas<>Ivan Lins/Brazilian Christmas
Brazil/Bahia<>Ettore Stratta/Symphonic Bossa Nova
Christmas Jingle
Mary Cristo<>Tribalistas/Tribalistas
Backsell – Promo Weekly Playlist
Set 3:
My Favorite Things<>Daniela Soledade/Single
In Natura<>Ricardo Bacelar/In Natura
Christmas In Rio<>Jeremy Lister/Happy Holidays, Everyone
________________________________________________________

________________________________________________________
Unwrap A Brazilian Christmas
Hour 2:
Set 1:
Meu Pais (My Country)<>Luiz Avelar/Homenagem a Ivan Lins
O Holy Night<>Luisa & Cesar Camargo Mariano
God Rest Ye Merry<>Dan Moretti/December Solstice
Natal das Criancas<>Ivete Sangalo/Natal em Familia
Christmas Liner
Bossa Nova Christmas<> Don Grusin and Natali Rene/Single
Little Drummer Boy<>Jeff Linsky/Concord Christmas 2
Backsell – Promo Christmas List
Have Yourself A Merry XMas<>Art Four Sale/Four The Holidays
Set 2:
Sleigh Ride<>Dean Zigoris/Single
Silent Night<>Al Jarreau/Making Spirits Bright
Caroling, Caroling<>Lisa Ono/Boas Festas
Holiday Sweeper
The Christmas Song<>Terra Sul/MoJazz Christmas
Jesus Cristo<>Simone/25 de Dezembro
Set 3:
Uma Feliz Natal<>Ivan Lins & Jose Feliciano/Um Novo Tempo
Gift of Heart (Christmas In Rio)<>Robert Hebert/Single
~ ~ ~
Next Week: Beginning January 1st, It's 'The Best of Brazil 2022' on The Sounds of Brazil. The best songs, the best memories, new names, concerts, and what lies ahead for the New Year! Get ready with our Best of Brazilian Music Showcase.
Whether it's your radio, your computer at work, or your tablet or smartphone, thanks for tuning in! I really appreciate it, and please tell a friend or two about us.
And don't forget about our weekly broadcasts in Chicago: Sundays at 2:00 pm Central on 90.9 FM WDCB.

Unwrap A Brazilian Christmas