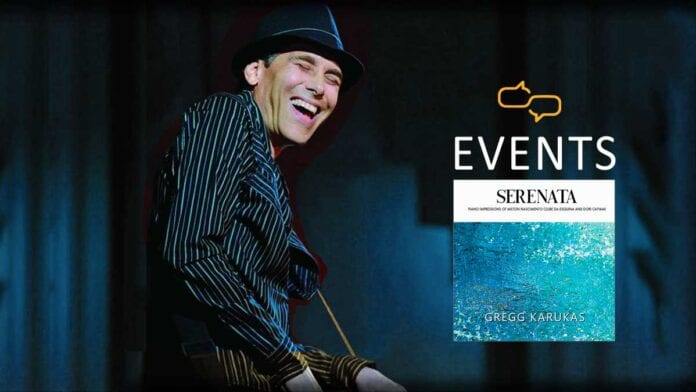 Check here for virtual concerts, club dates, and streaming sessions with popular Smooth Jazz pianist, Gregg Karukas.
Upcoming events for Gregg Karukas and his new Serenata album are updated as new events are added. Check this page often.
---
Just Added: Gregg Karukas will perform a live show at Spaghettini's outdoor Wine Garden, Monday, May 3rd. Dubbed as a Soul/Jazz and Brazilian Party, it's a great idea for a live experience in SoCal. Ticketed Event | Details
SERENATA BY GREGG KARUKAS IS A SPRINGTIME SURPRISE
When was the last time an album compelled you to enjoy it from beginning to end and to return to it time and again?
Longtime fans, Brazilian jazz, and New Age listeners call Serenata "… an intimate and inspiring listening experience."
Read Gregg Karukas's Serenata Review Roundup: It brings you concise comments, musical insight and recommendations from music's influential experts.
Streaming Radio
Upcoming events for Gregg Karukas include several 'featured' programs on Connect Brazil's streaming station. Click into the Connect Brazil Listening Lounge.
These include Brazil Back2Back (3/17), Saturday's Featured Album during Bossa Nova Breeze (3/27), and The Sunday Brazilian Brunch (Easter Sunday 4/4).
On Demand Virtual Concerts
Rick's Cafe Live! Gregg Karukas with Rick Braun and Kirk Whalum
Saturday night's guest appearance for Gregg Karukas on Rick Braun's YouTube show, Rick's Cafe Live! was a lot of fun. It was also the first time we've had the chance to see Gregg perform songs from Serenata, his new CD and digital album dedicated to Brazilian songwriters Milton Nascimento and Dori Caymmi.
Did you miss it?
By special arrangement, Connect Brazil is able to provide this virtual concert event on-demand. Enjoy!
Official List: Upcoming events for Gregg Karukas
Click on any event for the entire list.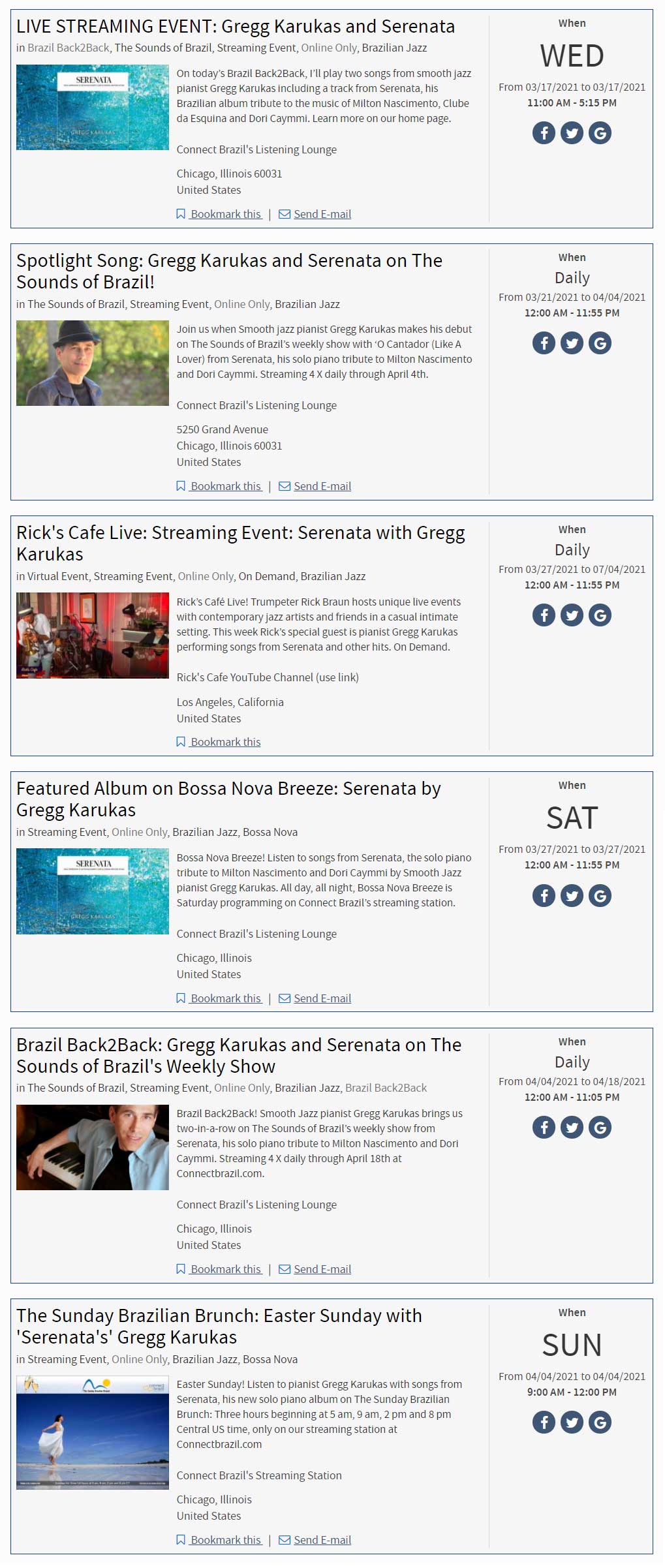 Bio
Great melodies are the essential quality that has defined Grammy-winning pianist Gregg Karukas's 30 years in music, with a dozen albums and chart-topping hit songs
But there's another side to Gregg Karukas that has paced his greatest successes but has remained slightly out of the spotlight: His love of Brazilian music.
Serenata is Gregg Karukas's first album in more than six years.
During this time away from the piano, he has faced personal challenges of the highest order: caring for his lovely wife Yvonne until cancer took her life in 2018; a health scare of his own; a biking accident brought a broken collar bone. The pandemic.
Serenata is also Gregg Karukas's first solo piano album, and it was here, in his living room, seated at his grand piano, that the combination of memories and realities began to mingle with the powerfully beautiful melodies of iconic Brazilian songwriters Milton Nascimento, Dori Caymmi, and others.
Let Gregg Karukas take you on a personal tour of these cherished and romantic memories found in Serenata and the magical, healing power that music brings to our lives.
Upcoming Events for Gregg Karukas
Follow Gregg Karukas on
Facebook | YouTube | Instagram | Twitter
Amazon | Apple Music | Pandora | Spotify | Deezer | Gregg Karukas store
Stories like 'Upcoming Events for Gregg Karukas' are what we do. Why don't you join us?
Sign up for our emails on music, travel, friends and fun. Listen to our 'always live' streaming station and our 12 streaming music channels, always free. Browse our Lifestyle Directory. Click here to like our Facebook page and here for Brazilian events coast to coast.