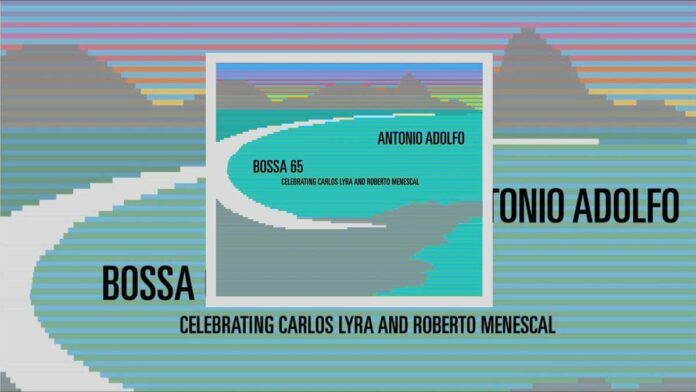 Handpicked Favorites From Songwriters Carlos Lyra And Roberto Menescal
Antonio Adolfo celebrates Bossa Nova's 65th anniversary with a visionary tribute to a pair of original living legends.
---
Originally published in Top Brazilian Summer Sambas '23
2023 marks Bossa Nova's 65th birthday. And if it had not been for pianist Antonio Adolfo's yearly tradition, this musical milestone might have passed us by.
Bossa 65: Celebrating Carlos Lyra and Roberto Menescal is the latest in a prolific series of annual recordings stretching back more than a dozen years.
These albums draw on Adolfo's own experiences with Bossa Nova and Brazilian jazz. They've become volumes of his own musical encyclopedia.
Bossa 65 focuses on a slice of Bossa Nova's history that deserves the spotlight. Five songs each from two of Bossa Nova's living legends. Menescal? Adolfo includes 'O Barquinho' and 'Rio'. Lyra? There's 'Coisa Mais Linda' and 'Maria Moita'. Both songwriters were in their youthful 20s during Bossa Nova's peak.
Adolfo's Bossa 65 Reunites Three Living Legends
"I was 17 when Carlos Lyra invited me to start my career with him," recalls Adolfo. "A year later, I joined Roberto Menescal's group and went on to tour and record in Europe with the legendary Elis Regina.
Adolfo's masterful talent as an arranger continues on Bossa 65. "As a teen, I fell in love with groups who featured horn players like Jazz Messengers and Bossa Rio," says Adolfo.
"I'm still close friends with both composers. And I love how these horn players bring energy and subtlety to the songs I've selected for this special tribute."
Music, Travel, Friends, And Fun!
Antonio Adolfo Celebrates Bossa 65
Stories like 'Antonio Adolfo Celebrates Bossa 65' are what we do. Why don't you join us? Sign Up for our e-letter. Listen to our 'always live' streaming station and our 15 streaming music channels, always free. Browse our Lifestyle Directory. Click here to like our Facebook page and here for Brazilian events coast to coast.
Antonio Adolfo Celebrates Bossa 65
Visit Antonio Adolfo on:
Listen And Buy Antonio Adolfo's Bossa 65
Buy it here: Amazon Music | Antonio Adolfo Music
Listen free: Brazilian Jazz | Brazilian Jazz Instrumentals | New Music: Brazil | Our Streaming Station
Bossa 65: Celebrating Carlos Lyra and Roberto Menescal
Tracklist
Coisa Mais Linda (Most Beautiful Thing)
Samba Do Carioca (Carioca's Samba)
Bye Bye Brasil
O Barquinho (Little Boat)
Maria Moita (Maria Shut-Mouth)
Tete
Marcha Da Quarta-Feira De Cinzas (Ash Wednesday March)
Rio
Nos E O Mar (We And The Sea)
Sabe Voce (Do You Know)
Personnel
Arranged and produced by Antonio Adolfo
Antonio Adolfo (piano), Lula Galvao (guitars), Jorge Helder (bass), Rafael Barata (drums and percussion), Dada Costa (percussion), Jesse Sadoc (trumpet and flugelhorn), Marcelo Martins (tenor sax and flute), Danilo Sinna (alto sax), Rafael Rocha (trombone).
Originally published in Top Brazilian Summer Sambas '23