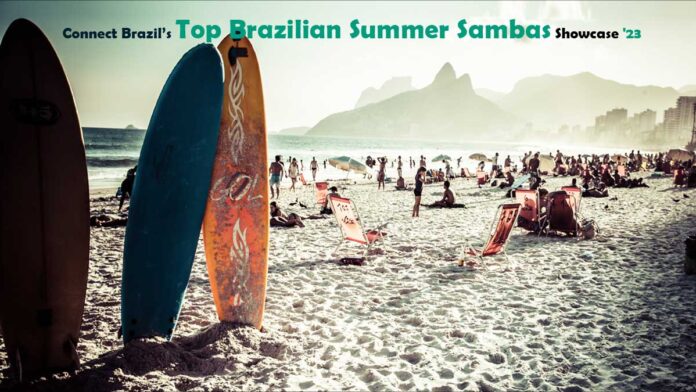 This Summer's List of fan favorites from the Land of Samba and Sun.
Top Brazilian Summer Sambas '23! Handpicked tunes for great summertime memories!
---
Summer's here! Let's catch up with 2023's collection of top Brazilian tunes.
Once again, our editors have rounded up a sun-kissed collection of new and upcoming albums, as well as fan favorites sparked by our own summertime memories.
From breezy Bossas and Brazilian pop to MPB, Samba, and Brazilian jazz, you'll want to add them to your personal playlists to keep you happy long after summer ends.
And here's the good news! All songs from Top Brazilian Summer Sambas '23 are already available on our streaming channels and on Connect Brazil's always-live streaming station. Free to listen anytime, anywhere.
Great! What's Next?
Watch for our Brazilian Harvest Music Showcase this Fall!
Scott Adams, Midday Host
The Sounds of Brazil's streaming station at Connectbrazil.com
Top Brazilian Summer Sambas '23
Deodato | 'Summertime' from The Crossing
What happens when you hand Eumir Deodato one of George Gershwin's greatest hit songs? Well, the same thing that happened when the Brazilian keyboardist transformed German composer Richard Strauss's tone poem 'Also Sprach Zarathustra'.
Instant summertime energy. Ready to go back in time?
It's the summer of 1973. AM radio stations coast to coast are cranking out an improbable jazz song as one of the nation's top tunes. Having peaked at #2 on Billboard's Top 100, young jazz fans were buying up the five-minute single. And they bought up the album version, which clocked in at an amazing nine minutes.
'Also Sprach Zarathustra (2001)' went on to win the 16th Annual Grammy Award for Best Pop Instrumental Performance.
Amazingly, Deodato's 'Summertime' came to us 37 years later, reuniting guitarist John Tropea's power guitar that helped to define the Deodato sound.
And now that we're finally doing 2023's deep dive into that same Summertime freedom that the 70s gave us, there's only one more thing to do.
Finding our original copy of 'Super Strut'.
Buy it here: Amazon Music
Listen free: XODO! | Brazilian Jazz Instrumentals | Cafe Copacabana | Our Streaming Station
Caro Pierotto | 'Sei La' from Sambalismo
Samba! Even when spoken softly, the word leaps off the tongue with passion and excitement. Here's an outstanding album to guide you through the many sounds and styles of Samba. And it will draw you into a deeper – at times autobiographical – understanding of the Brazilian spirit. Welcome to Caro Pierotto's Sambalismo.
It's not an exaggeration to say that Samba is an elemental part of daily life for Brazilians. Samba is the story of life. It goes well beyond the Alegria-pulse of Carnaval or the sound of a single cavaquinho.
At every turn, these ten original songs that make up Caro Pierotto's Sambalismo meet a pretty high standard: The artist's own expectations. The L.A.-based singer and songwriter explains.
"Committing to a project is like committing to a relationship," says Caro. "I've doubted myself throughout. But the 'keep going' message just keeps pulling me along."
Sambalismo was recorded live-in-studio in Rio de Janeiro during a week that Caro calls 'a magical immersion' with her talented core band from Los Angeles and a handpicked number of Rio's most-talented instrumentalists.
The result is an album that's complete from beginning to end. From Caro's songwriting and arrangements to the authenticity of her performance. Sambalismo is both traditional and contemporary, standing easily among the Samba recordings we value most.
What went into the making of Sambalismo? Find out here.
Buy it here: from Caro's website (CD) | Amazon Music | Apple Music | Spotify
Listen free: XODÓ | New Music: Brazil | Women Of Brazilian Song | Our Streaming Station
Tawanda with Ivan Lins | 'I'm Not Alone (Anjo de Mim)' from My Heart Speaks
Ah, those perfect summer moments. Basking on the beach with a cooling breeze, relaxing with friends and music to enjoy a perfect sunset. Because when it happens, we live it to the fullest. And sometimes it's good to plan that way.
Like for today.
It's been six weeks since news of a new Ivan Lins album captured the imagination of Brazilian jazz fans. After all, it's been a while since his last release. Much longer since Lins's last recording on an American label.
Ivan Lins's My Heart Speaks on Resonance Records is available for pre-order ahead of its September 15th debut date. Offered digitally, there's also a deluxe CD with a 24-page booklet that details the album's creation.
Resonance planned well, releasing the first single on Ivan Lins's June 16th birthday. Dianne Reeves sings 'The Heart Speaks'. English lyrics by Jane Monheit.
Today, July 21st debuts the next single by showcasing a new voice for jazz lovers. Tawanda has a talent for musical storytelling that's a perfect match for 'I'm Not Alone (Anjo de Mim)'. See if you don't agree.
My Heart Speaks also includes Monheit and Randy Brecker as special guests.
But, perhaps the most exciting aspect of this album centers on the one thing that Ivan Lins has never done.
I don't want to ruin the surprise, so tap or click for the backstory. It's shaping up to be quite a summer!
Download 'I'm Not Alone (Anjo de Mim)' and pre-order the album:
Buy Here: Resonance Records | Amazon | Bandcamp | Linktree
Listen free: New Music: Brazil | Brazilian Jazz | Women of Brazilian Song | Our Streaming Station
Phill Fest | 'Bomba da Dayana'
We spend a lot of time being serious these days. But happily, here's a lighthearted, slice-of-life song from the clever imagination of guitarist Phill Fest.
And with a run-time of under three minutes, 'Bomba da Dayana' is sure to make you smile. Bomba? That means 'gas station' in Portuguese.
"My wife, Isabel, and I have a Brazilian friend named Dayana who lives across the street. Her husband owns a few gas stations here in West Palm Beach, with one in particular that usually has the best prices in town.
"We'd always say: "Vamos pra bomba da Dayana" in Portuguese, which means 'let's go to Dayana's gas station'."
Sung in English, you might find your own crazy story reflected in this little ditty. But how it came to be recorded – and Fest's surprising group of 'who's-who' musicians who joined him in the studio – is impressive.
But wait, there's more. Riding high on the success of his Seresta album, Phill Fest is ready to share some exciting career news, too. Tap or click for the rest of the story.
Buy Phill's music here: Amazon Music | Apple Music
Listen to Phill Fest: XODO! | Brazilian Jazz | New Music: Brazil | Our Streaming Station
Exploring Rio de Janeiro's Historic Past
Top Brazilian Summer Sambas '23
Antonio Adolfo | 'Samba do Carioca' from Bossa 65: Celebrating Carlos Lyra and Roberto Menescal
2023 marks Bossa Nova's 65th birthday. And if it had not been for pianist Antonio Adolfo's yearly tradition, this musical milestone might have passed us by.
Bossa 65: Celebrating Carlos Lyra and Roberto Menescal is the latest in a prolific series of annual recordings stretching back more than a dozen years.
These albums draw on Adolfo's own experiences with Bossa Nova and Brazilian jazz. They've become volumes of his own musical encyclopedia.
Bossa 65 focuses on a slice of Bossa Nova's history that deserves the spotlight. Five songs each from two of Bossa Nova's living legends. Menescal? Adolfo includes 'O Barquinho' and 'Rio'. Lyra? There's 'Coisa Mais Linda' and 'Maria Moita'. Both songwriters were in their youthful 20s during Bossa Nova's peak.
"I was 17 when Carlos Lyra invited me to start my career with him," recalls Adolfo. "A year later, I joined Roberto Menescal's group and went on to tour and record in Europe with the legendary Elis Regina.
Adolfo's masterful talent as an arranger continues on Bossa 65. "As a teen, I fell in love with groups who featured horn players like Jazz Messengers and Bossa Rio," says Adolfo.
"I'm still close friends with both composers. And I love how these horn players bring energy and subtlety to the songs I've selected for this special tribute."
Learn more about this visionary tribute album here.
Buy it here: Amazon Music | Antonio Adolfo Music
Listen free: Brazilian Jazz | Brazilian Jazz Instrumentals | New Music: Brazil | Our Streaming Station
Ruy Castro | Bossa Nova (Soft-cover book, English)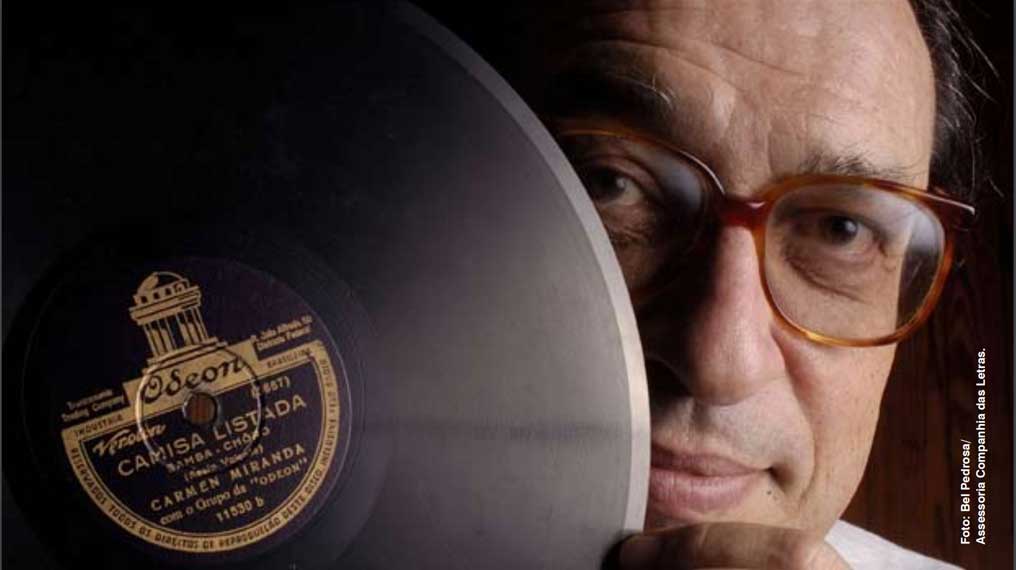 For some, 65 years is retirement age. Not so for 2023's 'Bossa Nova Summer of Love' and the history of music that was born in a Rio de Janeiro recording studio on July 10, 1958.
And if you feel the need for a summertime read, well, we have a book for you. It's the perfect companion for our Top Brazilian Summer Sambas '23 Music Showcase.
Bossa Nova by Ruy Castro is the complete history of Bossa Nova as it really happened. Even in English Castro's storytelling creates a panorama of the times. Every chapter, page, and verse illustrates the cultural revolution of Bossa Nova in ways that even the music fails to show.
Period maps pinpoint the sites and locations of the music's history. Want an example? The famous Bottle's Bar, aptly named for the barrage of glass bottles that would rain down from nearby apartments to end the frequent late-night Bossa Nova jam sessions.
There are other books about Bossa Nova, but none have been researched as thoroughly (and without worry of where the bones are buried) as Ruy Castro's read.
And as reads go, this one charms you into a sense of living its history at your own pace. So go ahead. Bossa Nova's 65-year-old story is waiting to be told to you.
Buy it here: from Connect Brazil | Amazon
Listen free: BossaNovaville | Bossa Nova Love Affair | All Jobim | Our Streaming Station
Bebel Gilberto | 'É Preciso Perdoar' from João
Sharing memorable songs along with the best new and upcoming releases is what our seasonal Connect Brazil Music Showcases are all about.
All has been quiet on the Bebel Gilberto front since our breaking story on her anticipated album João, caused a stir. Since then, the famous daughter of the album's namesake has largely stayed away from the public eye.
The prominent passings of Astrud Gilberto (in early June) and then Donato (a few days ago) brought heartful saudades from the singer and songwriter. And numerous performance dates from coast to coast have been announced.
Bebel's website hints at good things to come. "More than a tribute to her father, the unforgettable João Gilberto, the album is a visit to Bebel's most fundamental musical memories," her website proclaims.
Set for release on August 12th, you can pre-order the album here. Meanwhile, we've included the initial single 'É Preciso Perdoar' for you to enjoy right now.
Buy it here: Amazon Music
Listen free: XODO! | Cafe Copacabana | Brazilian Jazz | Bossa Nova Love Affair | Our Streaming Station
Brazilian Music's Most Amazing Year
Top Brazilian Summer Sambas '23
Leo Gandelman | 'Bari Bossa' from Lounjazz
Brazilian jazz fans are flocking to this nearly forgotten hidden gem by Leo Gandelman. It's buried deep down the tracklist of his Lounjazz album from 2005.
And what seemed slightly awkward back then, sounds positively prescient today. A driving hybrid samba rhythm sets the pace.
Gandelman is a Berklee College of Music grad and the most awarded sax player in Brazilian music. He's equally talented on soprano, alto, and tenor saxes.
But here – as the title implies – he turns to the soulful bari sax for a warm tone. The swinging melody floats above a compelling combination of free-flowing jazz where acoustic and electric define the mood. Try it on a late-summer's night drive, or at your next caipirinha cookout.
Leo Gandelman's Lounjazz is adventurous, chill, and sometimes edgy. It makes its own box; it won't fit in yours. But it seems to fit Seu Jorge, who not only supplied original lyrics for the horn-driven Samba 'Dançarará but the energy as well. You won't be the only one listening.
There's Buzz that Virgin Music is re-releasing Lounjazz digitally sometime this year.
Website| Facebook | Instagram | YouTube
Buy it here: Amazon Music
Listen on: XODO! | Brazilian Jazz | Cafe Copacabana | Brazilian Jazz Instrumentals | Our Streaming Station
Ziggy Blue featuring Natalis | 'O Que Faltou'
Remember this song? Many of our fans do and year after year, they show their support by requesting it. On our streams, on the radio, and even in our annual Top Brazilian Summer Sambas Showcase, where it returns for a second time.
In fact, with more than 100k plays and hundreds of reviews since its release in 2019, 'O Que Faltou' by Ziggy Blue featuring Natalis has been a bona fide 'summer samba' anthem.
Ziggy is an Atlanta-based indie producer and composer with an R&B, house music, and hip-hop history that spans decades. He kept hearing something that was missing from the Bossa sound. So, he decided to do something about it.
His search for a songwriter that would match his vision led him to Fernanda Noronha, who delivered a song with a memorable hook. Then he brought the song to Natalis, who accepted the challenge of singing in Portuguese.
Together, the indie producer and the multi-platinum recording artist went into the studio and came out with an instant summertime classic.
'O Que Faltou' even rocked the pool deck on 2020's Capital Jazz Cruise, whenever we played it. Folks were even DL'ing the song the beach in Antigua.
Try it at your favorite beach. Or right now.
Music, Travel, Friends, And Fun!
Top Brazilian Summer Sambas '23
Stories like 'Top Brazilian Summer Sambas '23' are what we do. Why don't you join us? Sign Up for our e-letter. Listen to our 'always live' streaming station and our 15 streaming music channels, always free. Browse our Lifestyle Directory. Click here to like our Facebook page and here for Brazilian events coast to coast.