Bossa Nova Love Affair
'Bossa Nova Love Affair' is produced for your listening pleasure by Connect Brazil. Live365.com is the official streaming radio partner for The Sounds of Brazil!
| Air Date: 03-12-23 through 03-19-23
| On-Demand: 03-12-23 through 03-26-23 here.
This two-hour program airs 4X daily on our streaming Station. You are invited to listen, Monday to Friday at 7 am, 3 pm, 6 pm, and midnight Central Time (US). Weekend times, too:
On The Radio: Listen to The Sounds of Brazil every Sunday, 2-4 pm on Chicago's 90.9 FM WDCB and streaming live at wdcb.org.
On-Demand: Click here to listen to this program anytime through March 26, 2023.
Sign up for our emails on music, travel, friends & fun. Click here to like us on Facebook.
Daily Listening Schedule | Time Zone Converter | Connect Brazil This Week
Make A Request | Send a message to Scott
Hello again!
It's a roll of the dice this time of year. The weather can bring a rainy chill or drenching rains.
Or it might bring 70's and sunshine, making the weatherman instantly irrelevant.
Hi, It's Scott Adams, welcome!  I say that Bossa Nova is the cure for the weather's unpredictability. It makes us yearn for the Sunshine Season. All we have to do is listen!
The Spring Fever Samba Music Showcase! Nine new and handpicked tunes to set the pace for the Sunshine Season. Hear them all!
So this week, it's a Bossa Nova Love Affair! Two hours of musical magic from the land of Samba and Sun!
Plus a Brazil Back2Back that's sure to cause some Waves. That's in our second hour.
So, welcome to the radio show where the sun is always shining, and where conditions are perfect for The Sounds of Brazil…
Happy Listening,
Scott Adams
March Fridays are dedicated to favorite versions of The Waters of March for Brazil Back2Back (every Monday, Wednesday, and Friday). Listen at the top of the hour, 11 am, 2 pm, and 5 pm Central. Always two of a kind, and always two in a row! Have an idea for an upcoming Brazil Back2Back? Click here to see the entire schedule.
~ ~ ~
Make A Reservation to join me for The Sunday Brazilian Brunch. It's perfect for smoothing out the bumps of a busy week. Three full hours every Sunday beginning at 5 am Central, and then again at 9 am, 2 pm, and 8 pm. No app is needed when you click the 'play' arrow at the bottom of every page at Connectbrazil.com.
~ ~ ~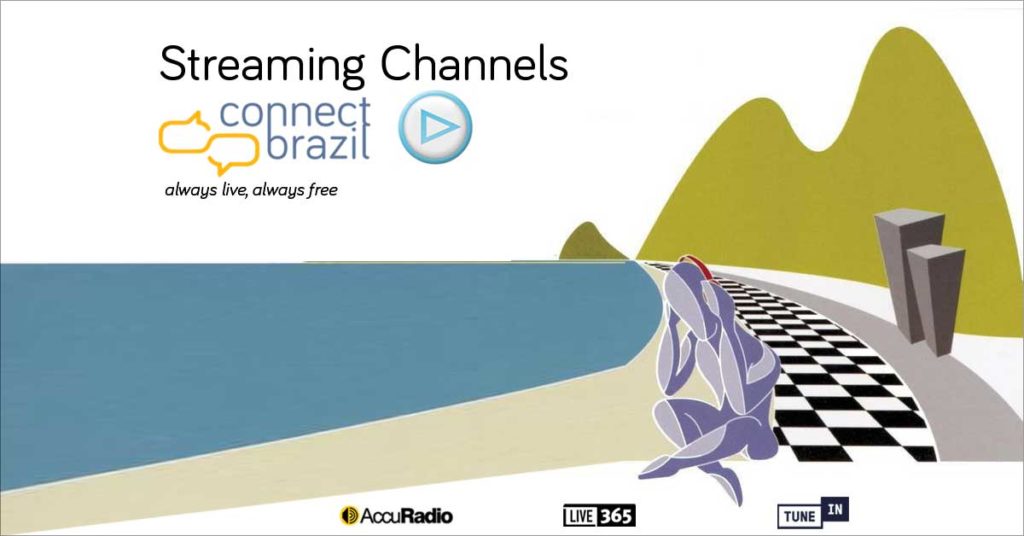 Bossa Nova Love Affair
Hour 1:
Set 1: The Sounds of Brazil Opening Theme
Saudade Vem Correndo<>Bebel Gilberto/Tudo
Ilha Dos Frades<>Velas/Velas
It Might As Well (Be Spring)<>Astrud Gilberto/Getz Au Go-Go
Welcome to the Brazil Club Lounge
Quiet Moments<>Lonnie Liston Smith/Exotic Mysteries
Special Announcement
Ipanema Afternoon<>Oscar Castro-Neves/Scandals
Set 2:
Introduce Next Song
Voce<>Emilio Santiago/Perdido de Amor
Te Querendo<>Azymuth/Brazilian Soul
Introduce Next Set
Triste<>Sarah Vaughan/Brazilian Horizons
The Mood Is Modal<>Beat Girls/The Mood Is Modal
Aguas De Marco<>Rosa Passos/Best of Rosa Passos
Set 3: Introduce This Week's Spotlight Song
Samba Da Minha Terra<>Joao Gilberto/Legendary
Tristeza Em Mim<>Sergio Mendes-Brazil 65/Best Of
O Barquinho<>Maysa/Barquinho
Rio Skyline<>Kilauea/Tropical Pleasures
Bossa Nova Love Affair
Hour 2:
Set 1:
Secret Entrance To Your Heart<>Michael Ross/Single Meet Michael!
Batidinha<>Antonio Carlos Jobim/Wave
Welcome To Our Second Hour
So Nice<>Astrud Gilberto/A Certain Smile
Leblon<>Adam Dunning/Sunset Monkeys
Café Caldo<>Mazachigno/Cafe Roma 2
Special Announcement
Toucan's Dance<>Dori Caymmi/Brasilian Serenata
Set 2:
Introduce Brazil Back2Back: 'Wave'
Wave<>Oscar Peterson/Motions & Emotions
Wave<>Joao Gilberto/Amoroso
Introduce Next Set
Quando Voce Voltar<>J. Marino & Friends/My Little Town
Big Sur Cruise<>Marcos Ariel/Wave Hunter
Rosa Morena<>Yeahwon Shin/Yeahwon
Set 3:
Introduce Final Set
My Cheri Amor<>Alexia Bomtempo/Astrolabio
Estrada Branca<>Til Bronner/That Summer
~ ~ ~
Next Week: We'll 'Spring Into Brazil!! Be sure to listen and you're invited to make a request on our Lounge page, too!
I hope you'll enjoy the show and please – tell a few friends about us on 90.9 FM WDCB in Chicago and wdcb.org, at 2 pm CT every Sunday.
Whether it's your radio, your computer at work, or your tablet or smartphone, thanks for tuning in! It's always great to share the music.
Bossa Nova Love Affair