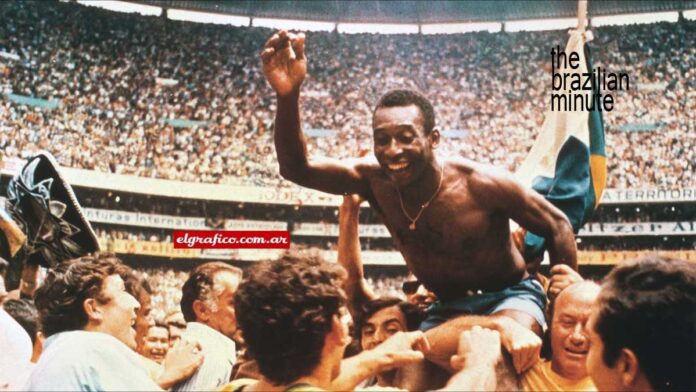 Brazil is the only nation to Win five World Cups
Brazil's World Cup legends such as Pele, Garrincha, Sócrates, and Ronaldo are included in the triumphant history of the Jogo Bonito, The Beautiful Game.
Presented by the Consulate-General of Brazil in Chicago and the Brazilian Foreign Ministry's Cultural Department.
In celebration of Brazil's Bicentennial year, 1822 – 2022
This week's Brazilian Minute: Brazil's World Cup Legends
Script from Audio:
Welcome to Brazilian Minute, brought to you by the Consulate-General of Brazil in Chicago and the Brazilian Foreign Ministry's Cultural Department.
In 2002, Brazil defeated Germany to become the only country to win five World Cups. Brazil is also the best-performing country in World Cup history.
Brazil won its first World Cup in 1958 and it's second in 1962. These wins elevated two Brazilians to legendary status. Pelé and Garrincha.
Pelé began as a teen, becoming one of soccer's greatest players and sports personalities. Spectacular when scoring, Pelé personified the phrase Jogo Bonito, The Beautiful Game.
However, many rate his athletic teammate Garrincha higher.
Pelé was quick. Garrincha was unstoppable moving the ball. Pelé was graceful. Garrincha was powerful. And when Pelé was injured, it was Garrincha who carried Brazil to victory in 1962.
Stunningly, Pelé and Garrincha never lost a game when they played together.
Read and listen to new weekly episodes of The Brazilian Minute. It's brought to you by the Consulate General of Brazil, in Chicago, and the Brazilian Foreign Ministry's Cultural Department.
Brazil's World Cup Legends
Overview
Whether you call it soccer or futebol, one country, Brazil, stands above the rest. Along with its music and cuisine, Brazil's passion for the sport is such that it defines Brazil's culture. It's said that Brazil's children are given a soccer ball and a guitar early in their lives.
Children join organized leagues at a young age. Talented players come from all regions of the country to be identified, nurtured, and developed. In fact, Brazil produces so many high-caliber athletes that it seeing Brazilian players on teams across the continents is commonplace.
With tournament play for the 2022 World Cup already underway, let's learn more about Brazil's place in the history of the competition.
Why Brazil Is Number One
Brazil's squad is affectionately known as the 'Canarinha', a nickname that the National team has carried for decades. The story goes back to 1950 when Brazil hosted the World Cup. They suffered a humiliating defeat by Uruguay on their home soil. So, a competition was created to reassess how Brazil's team reflected "the vitality of the country."
Team colors were changed as a result. Gone were the blue and white uniforms, to be replaced with the canary yellow jerseys we see today. The re-do worked and it wasn't long before Brazilians lovingly referred to the team as "the Canary", or Canarinha.
Simply put, no other nation has enjoyed the success that Brazil has earned over its decades of World Cup play. Brazil is the only nation to garner five World Cup titles.
But even this outstanding fact only hints at Brazil's domination in World Cup competition.
Second place? Twice. Third place, twice, and fourth place, twice. Interestingly, Brazil is the only country to have played in every FIFA World Cup tourney. And with no playoff rounds required.
If you like stats, Brazil excels here, too. Out of its 110 matches, Brazil has won 74. That's a win rate of 74%. A 126-goal difference with 239 points and just 18 losses.
Brazil's World Cup Legends: World Cup Highlights
Brazil won its first World Cup in 1958 with the introduction of Pelé, a young superstar in the making. Featuring outstanding players like Vavá, Garrincha, and Zagallo, this Brazilian squad is legendary in the annals of Brazilian sport. The final saw Brazil best the host nation of Sweden, 5-2.
Consequently, four years later Brazil won again with a back-to-back win without their best player. Pele was injured, but Vavá, Garrincha rose to the challenge by defeating Czechoslovakia in Chile, 3 to 1.
Then, Brazil's fortunes soured in 1966 when its national team was sent home during the first round.
However, Brazil returned to the 1970 competition with resolve and determination. And it showed the world what sporting excellence looked like. In a historic competition, Brazil won each of its qualifiers against tough competition, plus the World Cup title. 4-1 over Italy. This is a record that has never been equaled.
As the quality of international competition grew over the next two decades, so did Brazil's anxiety. These lean years saw Brazil return to the final just once, in 1994. Led by Romário the Final, again against Italy, went to a dramatic shoot-out to determine the champion. Brazil won, 3-2.
More hardship followed, plus another mystifying loss. But, then…
Brazil's fifth World Cup title came in 2022 with a purpose-built squad to reflect the changing nature of the games. A pair of fullbacks, Cafu and Roberto Carlos, led Brazil to victory over Germany. After a thrilling closely-fought match, the final score was 2-1.
What will fortune bring to Brazil's 2022 National Team? The next few weeks will tell the story, but Brazil's is off to a good start, dispatching Serbia 3-1.
Brazil's World Cup Legends
Did you enjoy 'Brazil's World Cup Legends'? If you did, why not join us at Connect Brazil?
Sign up for our emails on Brazilian music, travel, friends, and fun. Listen to our 'always live' streaming station and streaming music channels, always free. Visit us on Facebook, and Twitter, and browse our Lifestyle Directory for Brazilian events coast to coast.