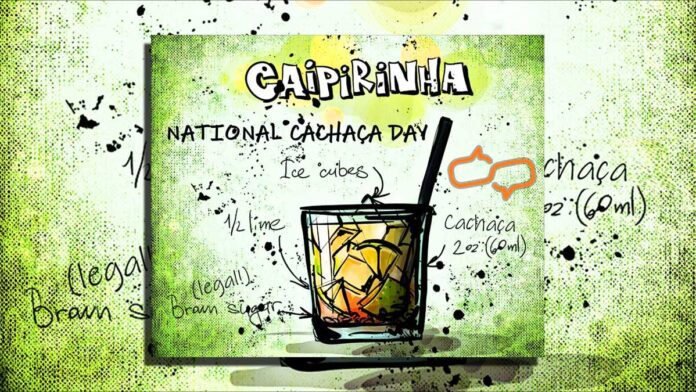 It's not an official holiday, because Brazil's signature sipper doesn't really need one.
5 Can't-Miss Ways To Celebrate National Cachaça Day? Well, of course, because today – September 13th – is the day.
---
by Sean Chaffin
But go ahead and take the rest of the week because with temperatures starting to dip towards autumn, there's nothing quite like a sweet cocktail from the land of Samba and Sun to beat the late-summer heat.
The annual day is set for September 13th and is the perfect way to 'infuse' yourself with a taste of Brazilian culture. Need a pronouncer for Cachaça? Just say 'kah-SHA-sah'.
According to the celebration's official site: "Cachaça is considered the first distilled cane spirit in the Americas, pre-dating rum by nearly a hundred years. The earliest recorded distillation of fresh sugarcane juice into spirit was in 1529 on a sugar plantation on the Brazilian coast." Who knew?
With almost 500 years of sipping the spirit, it must be pretty darn tasty too. So, Connectbrazil has come up with five great ways to celebrate National Cachaça Day. Go ahead, take the weekend.
Get Connect Brazil's Weekender e-letter!
You Don't Have To Fly To Rio To Celebrate National Cachaça Day
While most of us probably can't jump on a plane for Rio de Janeiro right now, the weather looks splendid this week and it bears keeping in mind for a future trip. It's still winter in the southern hemisphere right now, but temps in the mid-70s and the slow travel season might be the perfect time to head south.
Those with a well-timed vacation can head to a local bar, beach, or music club to celebrate National Cachaça Day, to order up the perfect caipirinha ('kai-peer-EEN-yah') or one of its many smooth-sipping cachaça cousins). But it is the caipirinha that's considered to be Brazil's national cocktail.
The caipirinha is literally everywhere in Brazil and the traditional drink is made from cachaça, crushed ice, lime, and sugar. It's a sweet taste with quite a kick. But as a waiter at Texas de Brazil once told me – the melting ice smooths the flavor and lightens up the drink a bit. He was right, and he gave me one more tip for a perfect caipirinha, too. You'll find it here.
So, whether chilling in Copacabana, imbibing in Ipanema, or dancing the night away in Lapa, grab a glass and enjoy.
More from Connect Brazil:

Mixers and Melodies: 5 Can't-Miss Ways To Celebrate National Cachaça Day
No National Cachaça Day party would be complete without a breezy Bossa or a percolating Samba nearby. Of course, if you're at Connectbrazil you probably already have an interest in Brazilian music and culture.
So why not relax with a nice cocktail and some smooth sounds? Sip that caipirinha while listening to any of our 14 streaming channels. There's something for every taste – from Djavan and Ivan Lins to Antonio Carlos Jobim and Elis Regina to Tribalistas and Seu Jorge.
Put in those earbuds or fire up the Bluetooth speaker. You may not be in Rio, but can let the music (and a nice cocktail) take you there.
A Night Out with Friends
As National Cachaça Day approaches, maybe it's time to plan a night out with some friends. Find a nice bar or restaurant to share a few drinks or a nice meal.
Every major city now has a Brazilian churrascaria such as Texas de Brazil or Fogo de Chão. Fill up on those tasty meats cooking in the traditional gaucho style.
Other bigger cities may have even more offerings: Meet up with friends for Caipirinhas and empanadas at Chicago's Barra Ñ, MbarK in Miami (ask Victor to mix up a 'Brazilian Aviator' for you), or head over to Rei Do Gado in San Diego.
Clink those glasses and celebrate in style with a toast – "Saúde."
Mix It Up at Home
Long day at work? Make it a relaxing night in and mix your own caipirinha. Many major spirit shops now carry cachaça – perfect for a little mixology experimentation.
Numerous recipes exist for the perfect caipirinha, but if you're looking for the best, try this one. You'll find other favorites like Chameleon Punch, "a festive punch-style recipe to serve by the glass or by the bowl" and perfect for celebrating National Cachaça Day.
Drinks and a Movie
You've bought that bottle of cachaça and cooked the perfect meal. Okay, so maybe it was a takeout night. Either way, film buffs may want to mix in a little "Netflix and chill" with that perfect drink.
What better time than while watching a Brazilian film? Here's a list of imdb.com's picks of the best Brazilian movies of the last 20 years, from the critically acclaimed City of God to the brilliant aesthetics of House of Sand. And because cachaça means good times, it's easy to recommend Bossa Nova, a Carioca Rom-Com starring Amy Irving. You'll fall for it, too.
Ready for a little bit of Rio and Carnival? Check out the documentary "Samba". In the film, composer and singer Martinho da Vila guides viewers into the world of this distinct Brazilian musical tradition through his Rio samba school, the Vila Isabel, winner of Carnival 2013.
So enjoy a nice drink and a nice film – pinga and popcorn – no Uber needed!
One More? Okay, Fire up the Grill
Late-summer grilling is always a welcoming event for friends and neighbors, so break out the cachaça for our tangy and tasty Cachaça Chicken recipe this weekend.
Stories like '5 Can't-Miss Ways To Celebrate National Cachaça Day' are what we do. Why not join us? Sign up for our emails on music, travel, friends, and fun. Click here to like our Facebook page and here for Brazilian events coast to coast.
An Editor and Senior Writer at Connectbrazil.com, Sean Chaffin is also a freelance writer based in Crandall, Texas. His love of Brazilian music and culture is infectious and he's been known to drive long hours in search of the perfect lime.