January 1, 1502. How did Rio de Janeiro (River of January) get its name?
Exploring Rio de Janeiro's historic past is an annual event for the city, which celebrates the anniversary of its founding every March 1st.
Presented by the Consulate-General of Brazil in Chicago and the Brazilian Foreign Ministry's Cultural Department.
In celebration of Brazil's Bicentennial year, 1822 – 2022
This week's Brazilian Minute: Exploring Rio de Janeiro's Historic Past
Script from Audio:
March 1st marks Rio de Janeiro's 457th birthday, that day in 1565 when the city of São Sebastião do Rio de Janeiro was officially founded near Sugarloaf Mountain. Each year, Rio's citizens celebrate with a 1500-foot cake and a rousing chorus of "Happy Birthday"!
In 1808, the Napoleonic Wars forced Portugal's Royal family to relocate to Brazil, making Rio de Janeiro the only European capital outside of Europe. Rio remained Brazil's capital until the founding of Brasilia in 1960.
Today, Rio de Janeiro is Brazil's second-largest city. Home to world-class museums and culture, and the world's largest urban forest, with nature trails, waterfalls, and 2,000 unique examples of flora and fauna. High above is Corcovado's Christ the Redeemer, one of the new Seven Wonders of the World.
Read and listen to new weekly episodes of The Brazilian Minute.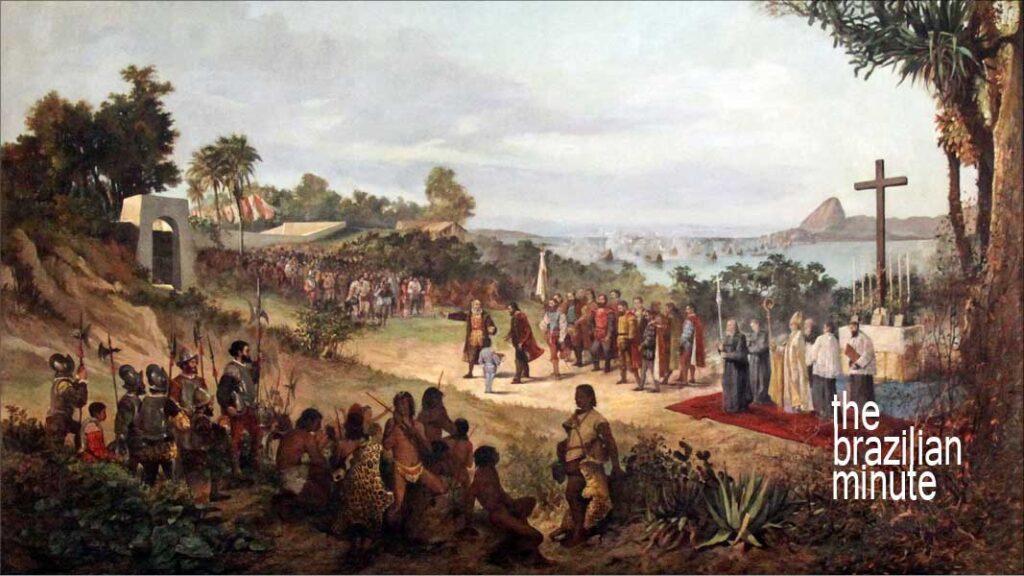 More on: Exploring Rio de Janeiro's Historic Past
The Mouth of A Great River
By 1501, the exploits of Italian explorer Amerigo Vespucci had come to the attention of the Portuguese crown, and he was commissioned to return to Cabral's recently-claimed Brasil.
Ordered to pursue a southern tack to determine the size of this new land, Vespucci's role as piloto brought Commander Coelho's fleet to the mouth of a great river, that proved too irresistible to pass by.
Explorer's Log:
Day 1:
As expeditions go, this one has been somewhat leisurely. We left Lisbon in May 1501, arriving at Cape Erde to resupply and to meet with Commander Pedro Álvares Cabral who was returning to Portugal after having discovered Brasil only weeks earlier. His observations were warmly received. Accordingly, we charted our course south and west.
Our navigator, Amerigo Vespucci has guided us to the mouth of a great river. The mountains which surround this area provide a stunning landscape, even prompting our commander Gonçalo Coelho to remark "This place might have a future!"
Day 2:
January 22nd. We've joined Gaspar de Lemos's expedition across the peninsula – a rugged hike – and now this huge expanse of water has been given a name: River of January. Some have suggested shortening it to simply 'Rio', which is Portuguese for any large body of water, not just rivers.
Day 3:
The Tupininquim call this 19-mile-long bay Guanabara, and we've explored all 130 islands along with the surrounding forests and a tall, rough tree that yields a deep red dye. We've named it pau brasil and sent the first harvest back to Portugal just last week.
Day 4:
The French have now joined our little settlement at the base of Sugarloaf Mountain. The view of the bay is spectacular. I wish we could say the same of our new European comrades: reports of pirating are commonplace.
Day 5:
Amazing! The French, under their Viceroy Villegaignon have claimed our land and renamed it France Antarctique, establishing a fort on nearly Serigipe island. I guess our Portuguese leaders have been more interested in Bahia to the north.
Day 6:
Today is the day! The Portuguese flag has prevailed and our settlement is now a city, named São Sebastião do Rio de Janeiro in honor of the Portuguese King. We'll expel the French, resist the Dutch and pirate attacks, and build fortresses to defend the bay of Guanabara.
Day 7:
We've discovered that there is no 'river of January' after all, but this giant bay surrounded by tropical rainforests, beaches, and mountainous peaks will surely be the epicenter for one of the most beautiful places in the world.
Music, Travel, Friends and Fun! 2022 marks Connect Brazil's 25th year.
Exploring Rio de Janeiro's Historic Past
Did you enjoy 'Exploring Rio de Janeiro's Historic Past'? If you did, why not join us at Connect Brazil?
Sign up for our emails on music, travel, friends, and fun. Listen to our 'always live' streaming station and our 15 streaming music channels, always free. Browse our Lifestyle Directory. Click here to like our Facebook page and here for Brazilian events coast to coast.