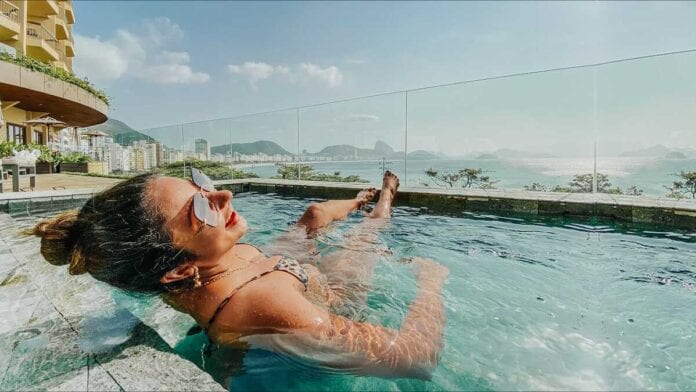 Ready to explore Rio de Janeiro's Amazing Pool Scene? Try this Copacabana Rooftop Pool Crawl.
Our Copacabana rooftop pool crawl isn't a guided tour: Your concierge can't arrange it, and that's great news because you can do this whenever the spirit moves you.
---
by Sean Chaffin
Rio's Zona Sul beach districts of Leme, Copacabana, Ipanema and Leblon attract hundreds of thousands of visitors every year, and this exclusive list boasts some of the world's most astonishing views when seen from above.
Besides, the beach can wait a day. A rooftop pool visit overlooking the tropical Atlantic is a unique, 'forever' experience. Sipping a cold beer or caipirinha only adds to the ambiance.
Some might offer a more relaxed atmosphere. Others really get the party going. One of Zona Sul's worst-kept secrets is that the social scene starts at sunset with the best rooftop pools.
Here are seven to consider for your own version of this Copacabana rooftop pool crawl, courtesy of Connect Brazil.
We'll start in Leme and end in Arpoador. Then, we'll invite you to experience Ipanema and Leblon. We'll even give you a few important tips that can get you VIP access to these amazing hotels.
The Hilton Rio de Janerio Copacabana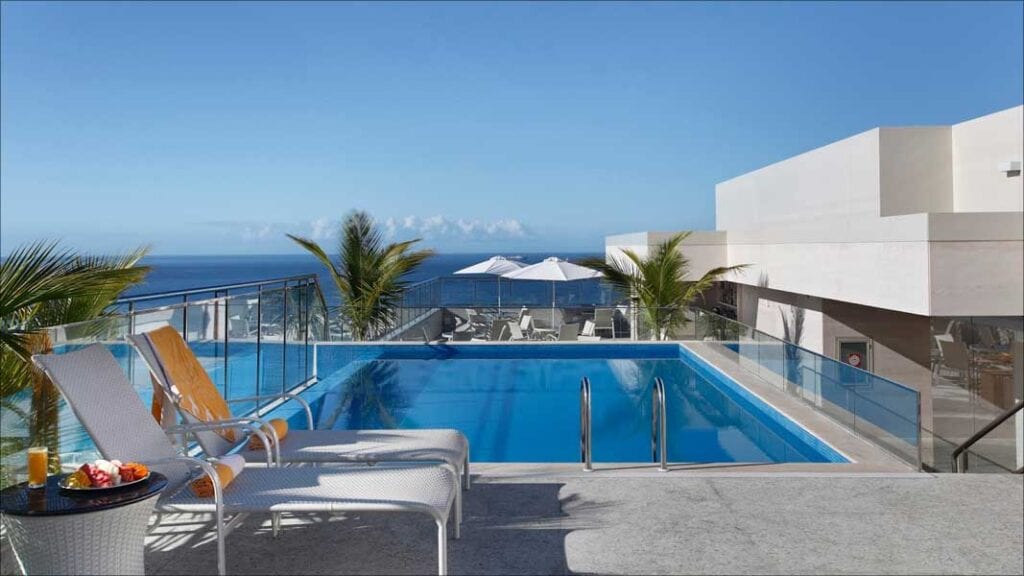 Your Copacabana rooftop pool crawl begins at the elegant statue of Princess Isabela. Noteworthy, because she championed the Lei Aurea (the Golden Law) which abolished slavery in Brazil.
As you face her monument, you'll see The Hilton Rio de Janerio Copacabana to your right.
Formerly the Windsor Atlantica, The Hilton Rio de Janerio Copacabana is an inspired choice for a 5-star hotel. Part of it is its location and the corner of Avenida Atlantica and Princessa Isabela, making it easy to get around Zona Sul by private car, and just minutes away from Rio Sul Shopping, Sugarloaf and trendy Lagoa.
Another is that this Hilton features a pair of rooftop pools, each with an inspired view all its own. The four-floor rooftop pool tempts from your first sip of coffee at breakfast; it commands the view along the main dining room's windowed-wall.
Shady until midday, you'll enjoy a nice breeze – perfect for cooling down.
Take the elevator to the top for the intimate setting of the Hilton's rooftop bar and pool. Simply called the Rooftop Bar, you'll languish in luxury complete with drinks and plenty of smiles.
The vistas of Copacabana beach and the mountain marking its beginning are simply breathtaking. The beach just seems to stretch on forever when gazing out from the sparkling waters of this infinity pool.
The bar is well-stocked to keep those drinks flowing. Make use of that brilliant view to plot your place on the beach next time you're in the mood to join the Cariocas for some sun and surf fun. Too much sun, or not enough coconut water?
Another trip to the Rooftop Bar and pool can always be added to your personal itinerary.
PortoBay Rio Internacional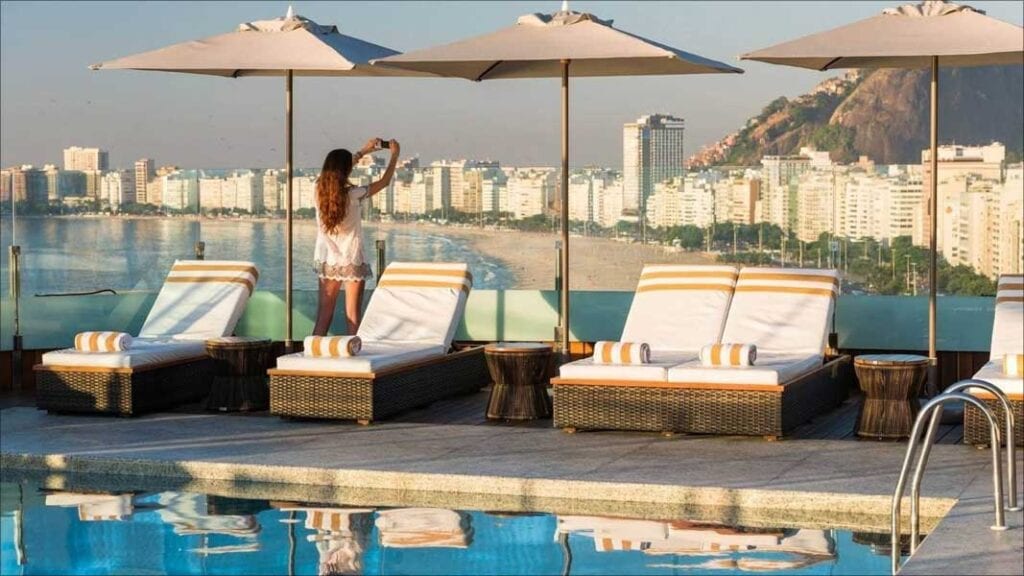 Our next stop is the PortoBay Rio, and while it may not be the largest rooftop pool in the city, this oasis of relaxation offers an awe-inspiring and expansive view of Copacabana. In fact, it's considered among the very best.
Treat your eyes to panoramic views of Sugarloaf Mountain and the famous Christ the Redeemer statue. Gaze at Arpoador, which defines the far end of Copacabana. Sip a nice cocktail or jump in the cool water for some escape from the heat – all at 20 feet above the street below.
Finish that first drink? There's a bar right by the pool – perfect for a re-do. The hotel also makes for a nice stay in Rio, at a lower price than others in the area but still with plenty of character and charm, plus great service. Claim a deck chair, a shady umbrella, and enjoy your life in Rio. Don't forget the sunglasses and sunblock.
When you are ready to continue with our Copacabana rooftop pool crawl, exit the PortoBay and turn right.
A 5-minute walk brings you to the Belmond Copacabana Palace. Tip: take this detour. Historic and legendary, this grand hotel is not included on our Connect Brazil crawl because its pool is located on the street-level. But take the opportunity to walk the second floor promenade and please ask the desk manager for permission to visit the pool before continuing to our next stop.
~ ~ ~
JW Marriott Hotel Rio de Janeiro
The JW Marriot is a 5-star hotel with purpose and panache, and one of Marriot's grandest properties. Here, the pool deck is the star of the show, as part of this luxury hotel's Moon Lounge.
Take a dip in the pool by day and set out for some cocktails, tunes, and maybe even some dancing by night. The views of the beach bring a thrill and the Marriott makes for a great way to spend an evening with friends.
Tip: Drinks can be pricey, but here you get what you pay for. In this case that means friendly bartenders (some of the best on the Copa strip!) and one of the most luxurious and cool vibes in the city – not to mention the million-dollar view.
Order a scrumptious burger and spend some time with friends. Watch the sun go down – and of course the moon rising over the ocean.
Pestana Rio Atlantica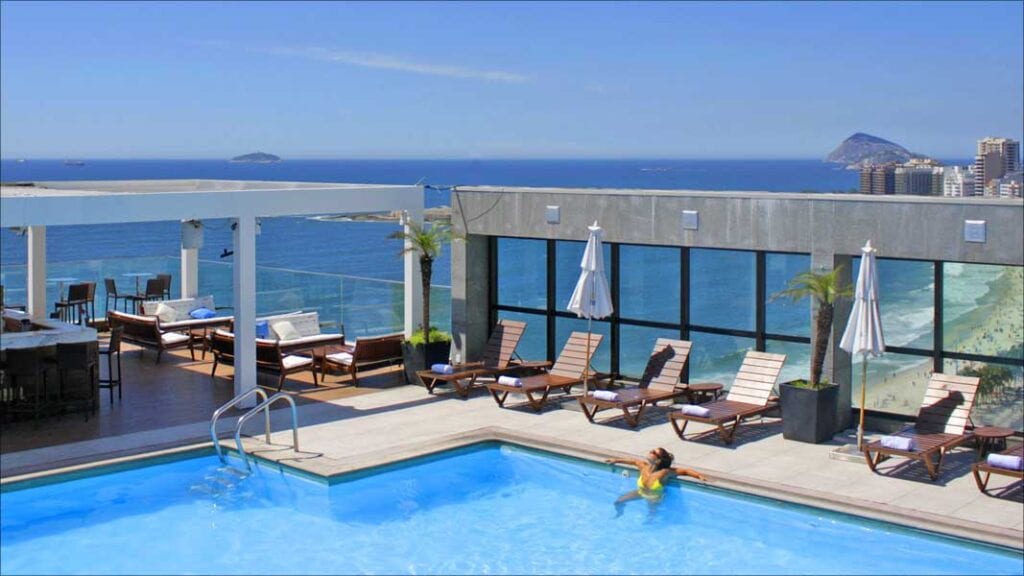 The Rio Atlantica has enjoyed a special relationship with Connect Brazil fans for the longest time, welcoming more than a hundred winners (along with their new best friends) of our Fly Me To Brazil giveaways. Ahh, those were the days.
Ask them and they will tell you that they still remember the unmatched view from the Pestana Rio Atlantica's pool deck, made all that much more special due to the hotel's location in the middle of Copacabana's 5 km length.
The pool deck cabanas are a nice touch, as is the full service bar.
The pool is generous in terms of size, and popular, too, given that the hotel is a top choice for European travelers .
Nightlife on the rooftop pool deck is more common here than many others on this list. DJ's transform into a tropical star-lit disco, 20 stories above Copacabana beach.
Tip: Late-night snacks are easy, too, due to the hotel's neighborhood location. A 5-minute walk brings you to your choice of markets, bars and restaurants, including our favorite pizza place, Caravelle.
Miramar Hotel by Windsor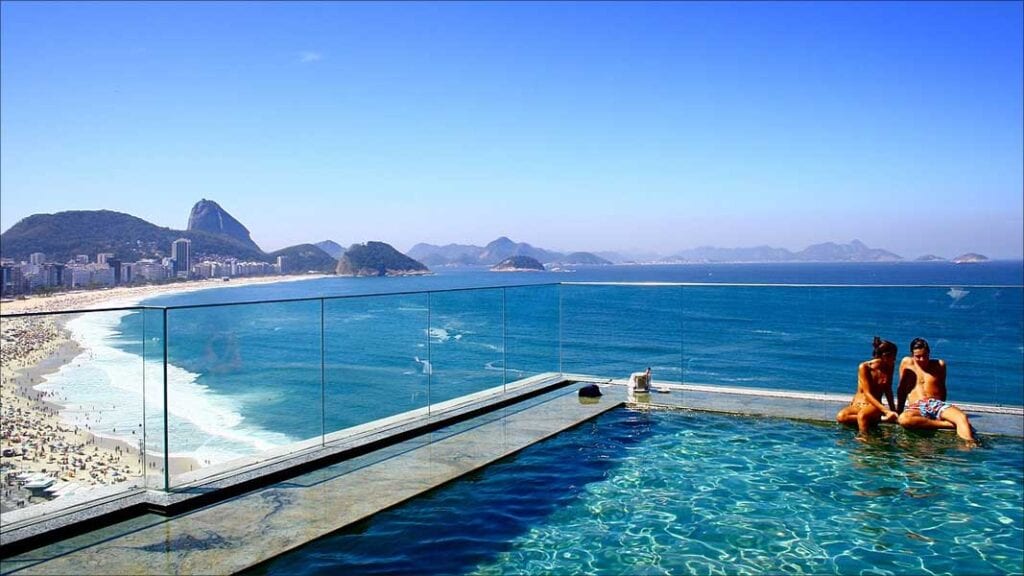 Windsor's Miramar Hotel is an ambitious 4-star which offers amazing value with plenty of luxury.
The infinity edge pool scene is unique; with the pool's crystal blue waters transitioning right into the Atlantic Ocean. Tip: Position yourself perfectly for a unique optical illusion.
Don't be surprised if that's a topic of conversation during lunch which can be enjoyed poolside.
The view of the beach and cityscape are unmatched. A perfect place recap another day of memories made, or to plan your next adventure. Daydreaming included.
An added plus is that the hotel is located right in the heart of the world-famous beach. After a dip in the water and taking it easy, jump right back on Avenida Atlantica a walk along Copacabana's famous mosaic-tiled sidewalk.
Oh, did we forget to mention that Miramar serves one of the best breakfast buffets in all of Zona Sul?
Emiliano Hotel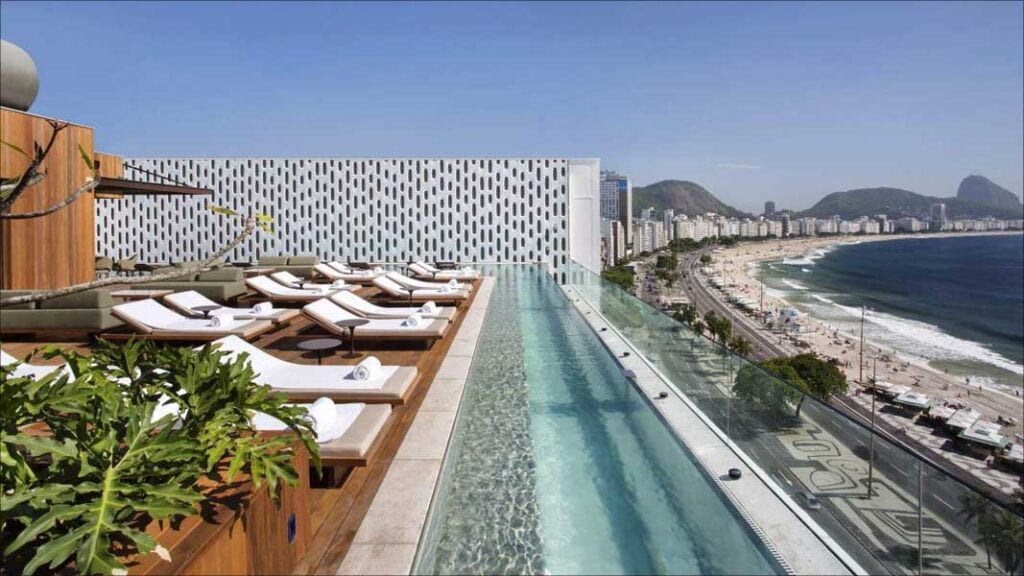 Next, our Copacabana Rooftop Pool Crawl takes us to the buzz-worthy, family-friendly Emiliano Hotel. This boutique hotel even has private parking for your rental car.
Stunningly designed around Copa Chic, the water's edge just doesn't seem to end at this rooftop pool. The elongated infinity pool seems runs the length of the roof with plenty of room for sunbathers.
Take in some rays while lounging in the water and daydreaming. The view from this roof takes guests to infinity and beyond – with plenty of revitalizing tropical breezes.
After indulging yourself with a cool down, head to your lounge chair and maybe turn a few pages in that novel you've been trying to finish.
The service is impeccable and be sure to place that tropical drink order with that next waiter. Or maybe a Brazilian craft beer would be nice or a light-bodied Pilsner for some refreshing liquid libations.
There's plenty of time to decide and you've got nowhere to go.
Fairmont Rio de Janeiro Copacabana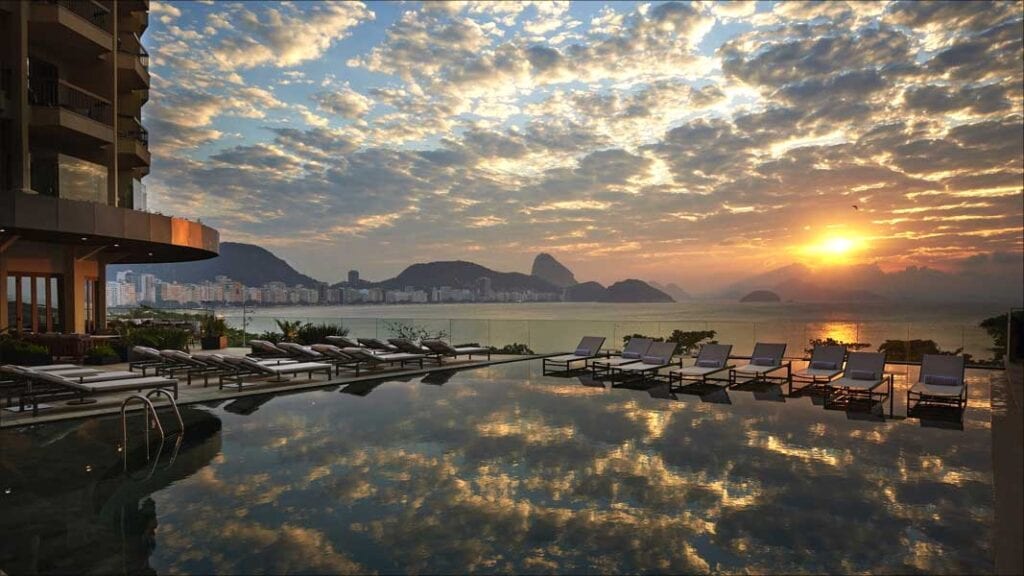 We've finally reached the end of our Copacabana rooftop pool crawl with a visit to the fully-renovated Fairmont Rio de Janeiro Copacabana, one of the most storied and spectacular 5-star hotels in Rio de Janeiro.
Indeed. The Fairmont's location nestles more than 400 rooms, apartments, and suites into one of the most coveted corners in Arpoador. This is the outrageously expensive, comfortably chic neighborhood which separates Copacabana from Ipanema.
And it has – hands down – the best pools in Rio de Janeiro. Yes, pools.
These two pools (both engagingly situated for either morning or afternoon sun) have been with the property since day one.
But it took a 14-month 'clean sheet' approach by renowned architect Patricia Anastassiadis to bring these pools to world-class status. It was part of a 2018 retro design that recreates the glamor and intrigue of Rio de Janeiro in it's golden-age 1950's.
Six stories up, 'rooftop' may be just a technicality, but it's something we can bicker over, drink in hand, while admiring the vast accommodations given over to sun worshipers here.
The Infinity pool captures the morning sun (tip: take in a sunrise here), bordered by the hotel's terrace restaurant. Here, the beach view is close-up and intimate, providing a unique perspective of Copacabana's sweeping crescent.
You'll enjoy the staff DJ spinning smooth Brazilian sets, along with the occasional local musicians.
You'll find the afternoon pool tucked away on the far side of the 6th-floor deck. Think "living-room" setting, where the adjacent open-air lounge sets the tone for a tranquil and relaxing experience.
A final tip: Most of Rio de Janeiro's Zona Sul hotels have a strict 'registered guests only' policy, so please be polite by introducing yourself to the Desk Manager when arriving at a hotel. Explain that you would like to see their pool deck as part of Connectbrazil.com's Copacabana Rooftop Pool Crawl. You might be surprised at what a mannerly introduction can do… and don't show up wearing a swimsuit and haviannas!
Stories like 'Copacabana Rooftop Pool Crawl' are what we do. Why don't you join us?
Sign up for our emails on music, travel, friends and fun. Listen to our 'always live' streaming station and our 12 streaming music channels, always free. Browse our Lifestyle Directory. Click here to like our Facebook page and here for Brazilian events coast to coast.