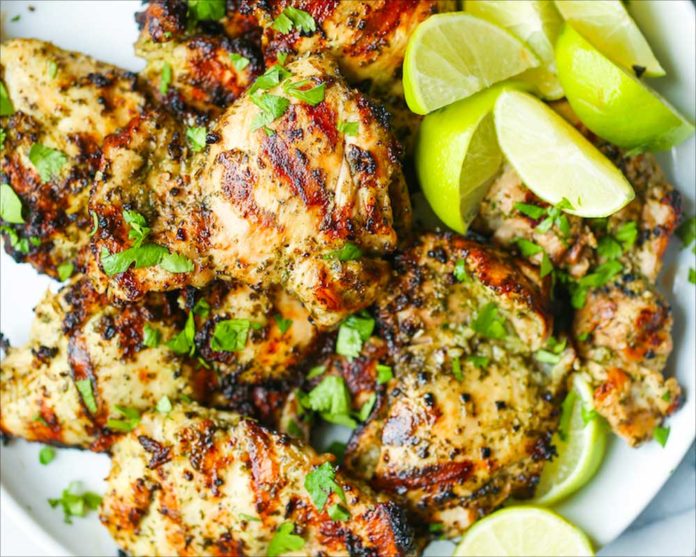 Frango Pinga. Two Portuguese words that will bring big flavor to your grill with this simple – and surprising – recipe from the Land of Samba and Sun.
By Scott Adams
The Story
My first bite of this tasty Brazilian griller was on a friend's penthouse deck in Rio's Barra da Tijuca. The informal Sunday-afternoon invite was for a Brazilian Jazz CD release party by his music label.
Many of the label's musicians were there with their families and the sunset jam session was one I'll never forget!
Frango is Portuguese for chicken (in this case. chicken thighs) while Pinga refers to inexpensive, bottle-capped, bathtub-variety cachaça found everywhere in Brazil. But any quality cachaça will do in a pinch: It's really the thought that counts.
There are endless variations of this recipe for Frango Pinga, but my advice is to give marinades and seasonings a pass. One of the golden rules for Brazil On the Grill is to let the flavor of the meats come through naturally. Add to enhance, not distract!
This marinade has the added benefit of making your grilling tasks easier, by protecting the frango from overcooking. This recipe will also introduce you to another Brazilian cooking staple, Cheiro Verde.
No skewers needed for this one, just a hot, well-oiled grill, good friends and great music. Your guests are sure to enjoy a wonderful afternoon, plus there will be plenty of cachaça left over for Caipirinhas!
Here's what you'll need and how to do it.
Streaming Music
Ingredients
3 lbs. of boneless skinless chicken thighs, washed, drained
8 tablespoons of Olive oil
3 shots of cachaça
Juice from 1 whole lime
3 limes, cut into wedges
6-8 cloves of fresh garlic, minced
1 tablespoon of Kosher salt
Freshly ground pepper, to taste
½ Red Onion, finely chopped
For Cheiro Verde:
2 bunches of Spring onions, very thinly sliced
2 bunches of Flat Parsley, finely chopped
Preparation
First of all, create the Cheiro Verde by combining the Spring onions and parsley. Set aside half of it by wrapping it in a paper towel in your refrigerator.
Create the marinade by adding the olive oil, cachaça, the garlic, the red onion, half of the Cheiro Verde, pepper, salt, plus the juice from half of the lime into a large bowl.
Clean the chicken thighs under cold water. Pat dry, the move to a clean cutting board to trim away excess fat.
Note: Do not share your chicken cutting board with any other ingredients in this recipe. Thoroughly wash your chicken cutting board, surrounding surfaces, utensils and sink with soap and hot water, because of food handling concerns.
Add your chicken to the marinade by massaging the mixture into each thigh. Then, transfer your chicken thighs into 1-gallon Zip-Lock plastic bags.
Then, pour the marinade into each bag. Press out the air, seal and massage the chicken once again through the bag.
Refrigerate for several hours but even better, overnight is best.
Grilling
Let your Frango Pinga come up to room temperature about 30 minutes before grilling. Open the bags and let stand.
Medium high heat (350 degrees) is perfect for chicken thighs. Place the thighs on the hot side of your grill. Sear each side for about 90 seconds, then flip. Continue to grill your Frango Pinga for a total of three to five minutes per side, then move them to the cool side of the grill. Stack them to make room for the next round of chicken thighs.
Finally, remove your Frango Pinga from the grill to your serving platter (or wooden cutting board). Cover loosely with foil to rest chicken for five minutes before serving.
Presentation
Sprinkle the remaining Cheiro Verde over the Frango Pinga, then lightly dust with Kosher salt. Decorate with lime wedges, serve and above all, enjoy!