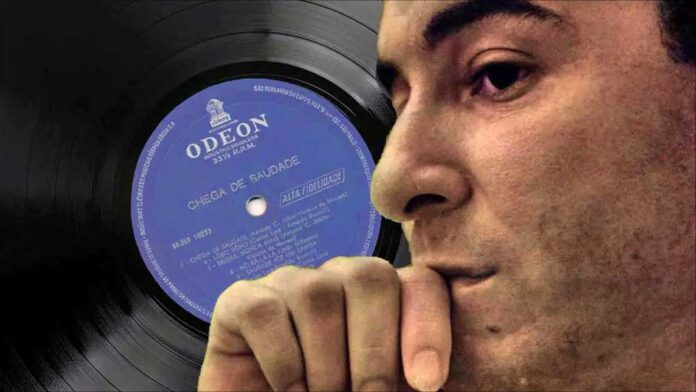 It almost happened. And it came down to a simple twist of fate.
A world without the birth of Bossa Nova hinged on the soul-searching actions of a single man.
---
by Scott Adams
"Champagne, women, and music, here I come!" – João Gilberto, 1948.
Sixty-five years ago this week, – on July 10th, 1958 – a down-on-his-luck musician walked into a recording studio in Rio de Janeiro to become Bossa Nova's unlikely hero.
Even when he was 18 and growing up in rural Juazeiro, Bahia (roughly 300 miles from the coast of Salvador), João Gilberto knew what he wanted.
The future 'Father of Bossa Nova' probably had an idea of what awaited him in Rio de Janeiro. Samba, already well into its third decade, had found a more sophisticated style for the city's radio shows and the nightclubs in Zona Sul.
The love-lost melancholy of the Samba-Cançáo mimicked elements of Argentina's Tango. It carried a touch of Cuban Bolero with a tinge of American pop.
João Gilberto had the voice. So, he headed south to Brazil's musical Mecca, Rio de Janeiro.
Rio de Janeiro Blues
Rio's music scene was to be a match made in heaven for João Gilberto's plan to become one of Brazil's great vocalists.
But something (everything) went wrong in Rio. Gilberto had a dream, but no vision beyond his first gig with the vocal group Garotos Da Lua, where he was hired on as a featured soloist.
But just as the group started to break big on television, João Gilberto was replaced, due to his unreliability and disruptive behavior. He'd arrive late to rehearsals or not show up at all.
Talented but unfocused? Yes, but worse still, he developed a reputation as a musical Malandro. A charming, sweet-talking rouge always in need of a favor.
His friendships soured. Job offers dried up. After seven long, disappointing years João Gilberto left Rio de Janeiro with little of his dream remaining.
At that moment, it looked like it would be a world without Bossa Nova.
A World Without Bossa Nova: Gilberto's Seclusion
João Gilberto entered into self-imposed musical exile, living with his sister in a small mining town in Minas Gerias. He was 14 hours by bus from the bristling beach barrios of Ipanema and Copacabana. Worlds away.
For the next eight months, João Gilberto remained in near-total isolation. He found creative refuge in the small home's bathroom with just his voice and guitar. He liked the acoustics.
And he played constantly, day and night, searching for the sound he heard in his mind. Gilberto imagined his laconic vocal style paired with a sophisticated guitar rhythm that was perfectly complete onto itself. No need for a drummer, a pianist, or a bass player.
Time and purpose resulted in the musical twist of fate that gave birth to Bossa Nova.
Bossa Nova's First Song
Today, most of us know 'Chega de Saudade' as Bossa Nova's first song. It was the combination of Jobim's melody, Vinícius de Moraes' lyrics, and Gilberto's voice and guitar that created the magic.
But in all honesty, 'Chega de Saudade' was not written to be a Bossa Nova song. And Elizete Cardoso's singing is emblematic of Brazil's popular vocal style of the day, pre-Bossa Nova.
However, she was the first to record it, invited by the songwriters to the studio in April 1958 for the album Canção do Amor Demais.
So why isn't 'Chega de Saudade' actually Bossa Nova's first song? It's because of what happened a year earlier, in 1957.
Fate Prevents A World Without Bossa Nova
For João Gilberto, those weeks and months of riffing in endless repetition resulted in a practice song.
At little more than a minute long, 'Bim-Bom', is the very first original Bossa Nova tune. 'Bim-Bom' is characterized by his laconic vocal style and his guitar's complex chords and signature rhythm.
Gilberto's new, yet-unnamed style ignited the music scene when he returned to Rio de Janeiro in 1957.
Jobim's second thoughts about the musical Malandro were quickly set aside once he heard Gilberto sing 'Bim Bom'. He realized that Gilberto's relaxed voice and guitar style allowed for looser phrasing and greater melodic freedom.
And then Jobim recalled a tune he had set aside due to its awkward song structure. 'Chega de Saudade'.
Joao Gilberto's Hidden Influence
Not long afterward, João Gilberto and his new guitar style were recorded for the first time on Elizete Cardoso's debut of 'Chega de Saudade'.
Gilberto appears elsewhere on the album but was originally uncredited on the recording. However, those lost details of the album's studio musicians have been corrected, if lacking in historic accuracy.
One fact is clear: Without 'Bim Bom', 'Chega de Saudade' would most likely never have been recorded in 1958. Here's another: It was Gilberto's 'Bim Bom' which rescued that Jobim song from the unruly stack of discarded manuscripts that sat forgotten atop his grand piano.
Not long after, the vocal group O Cariocas recorded their version of 'Chega de Saudade' with the again-uncredited João Gilberto playing guitar.
Gilberto's own version as a solo artist was rushed into the studio weeks later to become the official first Bossa Nova single.
And on the 'B' Side of that vinyl single? 'Bim Bom', Bossa Nova's first song.
And now you know the story.
The personal challenges that João Gilberto faced could have resulted in a different fate for Bossa Nova. Pause for a moment to think about the consequences.
Can you imagine a world without Bossa Nova? It almost happened.
Music, Travel, Friends, And Fun!
A World Without Bossa Nova
Stories like 'A World Without Bossa Nova' are what we do. Why not join us? Join our list. Listen to our live streaming station and 15 streaming channels, all free. Browse our Lifestyle Directory and events coast to coast. And follow us on Twitter and Facebook.