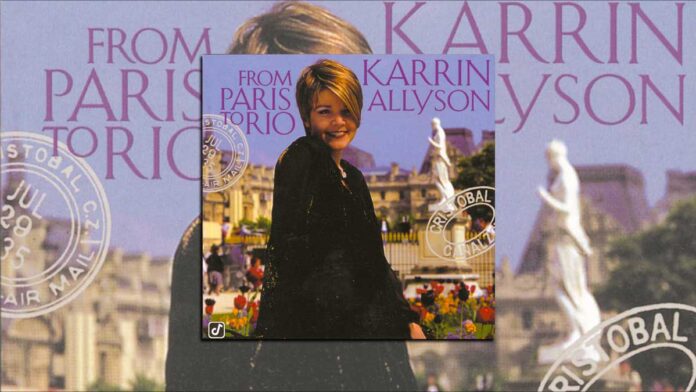 Rediscovering a five-star Brazilian jazz album that's stood the test of time.
From Paris To Rio stands as a defining moment in singer Karrin Allyson's storied career.
---
Originally published by Connect Brazil, October 29, 1999
by Mark Ruffin
Even during the harshest of winters, Kansas City's Karrin Allyson keeps the Brazilian fires hot in the mid-west.
From Paris To Rio combines her passionate love of languages and music into an aural travel log. Allyson sings three languages to affirm the old adage that music is indeed the international language.
The theme of From Paris To Rio, her sixth album, is love. That's something American, French, and especially Brazilian fans can relate to.
Musical highlights: From Paris To Rio
Allyson opens the album by singing in French. She is well-prepared because it was her minor at the University of Nebraska.
She takes us on a trip through the City of Lights with 'Under Paris Skies'. This traditional French tune is given an authentic touch by accordionist Gil Goldstein. Allyson met Goldstein and his fondness for Brazilian jazz through another K.C. legend, Pat Metheny.
The only linguistic aberration on the album, another Metheny link, is the beautiful lyrical version of the romantic theme to the Italian movie Cinema Paradiso.
The album's next three songs will set any Brazilian heart to thumping.
Baden Powell's 'Samba Saravah' speaks to Brazil's relationship with France and Allyson handles it with absolute fluidity.
Next, Allyson's remake of João Gilberto's hit 'O Pato' features Jon Hendricks' English lyrics. It's as charming a version as any heard north of the Amazon.
Allyson also sings warmly on an inspired version of 'Te Amo'. Listen for the chord changes, the lyrical lines, and the prose of this song. Few composers in the Americas can equal a near-perfect love song by Ivan Lins and Vitor Martins.
Other Brazilian composers represented include Caetano Veloso, and Heitor Villa-Lobos. There's a song from the witty Guinga and of course, Antonio Carlos Jobim.
One French love song, 'The Pleasure of Love' carries a moving arrangement featuring a string section from the Kansas City Symphony. The quintessential song from French favorite Jacques Brel, 'No Me Quitte Pas' is also covered.
Cultural commonality: From Paris To Rio
Allyson works seamlessly with the musicians throughout the 14-track album. Most are a part of her regular touring band. World-class guitarist, Kansas City native, Danny Embrey shines throughout on From Paris To Rio. He leads adeptly. Effortless as a smoking jazz soloist on the jazz standard 'Parisian Thoroughfare' or as an accomplished Samba and Bossa stylist.
Allyson's own Brazilian jazz maturity shines on From Paris To Rio. The addition of French harmonies gives Allyson an ethereal presence than ever before. Hardcore jazz and Brazilian fans will hear the commonality in her music and through it, Karrin Allyson as a complete artist.
People who like Karrin Allyson also enjoy Leila Pinheiro, Roseanna Vitro, Celia Vaz, Joanna, Sarah Vaughan.
Track Listing:
Sous Le Ciel De Paris (Under Paris Skies)
Samba Saravah
E Amo (I Love You)
O Pato (The Duck)
Ne Me Quitte Pas (If You Go Away)
Plasir d'Amour (The Pleasure of Love)
O Barquinho (The Little Boat)
Coração Vagabundo (My Vagabond Heart)
Parisian Thoroughfare
Des Histories
Intuil Paisagem (Useless Landscape)
Catavente e Girasol (Windmill and Sunflower)
Aria (Bachianas Brasilerios)/Belo Horizonte
That Day (Cinema Paradiso)
MUSIC, TRAVEL, FRIENDS AND FUN! 2022 MARKS CONNECT BRAZIL'S 25TH YEAR.
Reviews like 'From Paris To Rio' by Karrin Allyson are what we do. If you liked this story, why not join us at Connect Brazil?
Biography for Karrin Allyson
Allyson has established herself as one of the most appealing and skilled vocalists in jazz. She is an expressive ballad singer noted for her mastery of lyric interpretation. Allyson is also a creative improviser as heard on her five Concord CDs and countless appearances at clubs and festivals.
From Paris To Rio (CCD-4865-2) presents a change of pace. This album demonstrates just how versatile a singer Karrin Allyson really is.
Here, she sings in French and Portuguese, covering a repertoire that runs from Jacques Brel to Samba and Bossa Nova. "I've already recorded five albums of more or less standard material. So, I felt it was time to venture out into something a little different," says the singer. "I have been working on French songs for quite a while. With my band Karrin Allyson and the French Connection I sing exclusively French tunes. We have an accordionist, guitarist Rod Fleeman and sometimes a bass player. The Brazilian material on this album came up naturally with my jazz group since we frequently play Brazilian music. Our month-long tour of Brazil in 1996 clinched it.
French and Portuguese
"As far as the languages, I've studied French for years. It was my minor in college, so I have some fluency. I've started learning Portuguese phonetically to be able to sing the Brazilian repertoire. I love the sound of French and Portuguese."
Karrin Allyson's regular group is joined by Gil Goldstein on accordion. Selected tracks feature a string quartet arranged by Bill McGlaughlin. "I added Gil Goldstein's accordion to add something beautiful and different to the music. I heard him with Pat Metheny and I was familiar with his work. He very quickly became part of our musical family."
This melodic set is full of joy and beauty. While always swinging, it also mixes familiar melodies with the lesser-known.
The songs of From Paris To Rio
The album begins with 'Sous Le Ciel De Paris' (Under Paris Skies). It's a lyrical French waltz that paints a very idealized picture of Paris as the capitol of romance. 'Samba Saravah' is from the movie A Man and A Woman. It speaks to the loving obsession that the French have for Samba.
'Ne Me Quitte Pas' (If You Go Away) is probably Jacques Brel's best-known composition. I love Nina Simone's version. It's about how heartbroken and desperate the singer would be if her lover left her.
I first heard 'Plasir d'Amour' (The Pleasure of Love) sung by the great soprano Beverly Sills. The song expresses a universal idea. The joy of love lasts only a minute, but heartache can last your whole life. The melody is much sunnier than the lyrics."
Bud Powell's 'Parisian Thoroughfare' is a scat-filled bebop classic. "If you've ever driven in Paris, you know what this song is all about. Traffic is crazy there! I've always loved Clifford Brown's version with all of the musical traffic jams."
Allyson also recalls hearing Edith Piaf's recording of 'Des Histoires'. "The lyrics are about the denials we go through. We all try to explain why a lover has left."
From Paris To Rio: Unearthing Brazilian gems
'Te Amo' (I Love You) is a beautiful tune, written by Ivan Lins. According to Allyson, unusual in that "it's a love song for a nation as well for a particular person." She plays piano on the Lins song.
The delightful 'O Pato' (The Duck) has English lyrics by Jon Hendricks. "It's about the birds of Brazil getting into the act of doing the samba. It's a children's song! But so many people love this tune, and the musicians I work with love to play it.
Then, there's Roberto Menescal's 'O Barquinho' (My Little Boat). Kim Park's alto is reminiscent of Stan Getz's tenor behind Joao Gilberto's voice. "This is the fantasy of running away 'with a crew of only two.'
I heard Caetano Veloso and the great Gal Costa sing his 'Coracao Vagabundo' as a duet. It means 'My Vagabond Heart' and it's about having one's heart stray."
'If You Never Come To Me' is also known as 'Useless Landscape' (Inutil Paisagem). "I love the ballad version of this song that I heard by Elis Regina with Tom Jobim. But in contrast, we do it with a driving rhythm.
Brazilian Classics
'Catavento e Girasol' (Windmill and Sunflower) is covered here. It tells the story of two people in a love/hate relationship who are eternally at opposites. It's another beautiful Brazilian tune with a hopeless message.
"During our tour of Brazil, we met the composer, Carlos Althier, one of the most intriguing musicians in the country. His nickname in Brazil is 'Guinga' (gums). It comes from his training as a dentist," says Allyson.
Heitor Villa Lobos, considered the greatest Brazilian classical composer, combined European harmonies with Brazilian folk rhythms. His 'Aria' is built on Choro, a jazzy, instrumental style that predates Samba. We play it as a prelude to Danny Embrey's samba 'Belo Horizonte'."
The album concludes with, of all things, an Italian tune, 'Cinema Paradiso'.
Stan Dunn, who is a wonderful talent in many areas, presented these lyrics to me. I love them! It is closer to the album because it sums up the underlying theme in its last phrase: 'Love is worth the loss, whatever you must pay.'"
Karrin Allyson's Heartland roots
Born in Great Bend, Kansas, Karrin Allyson considers Kansas City her hometown.
Early on she took extensive classical piano studies. She worked as a folk singer and she performed in an all-female rock band, called Tomboy.
After graduating from the University of Nebraska in Omaha with a degree in piano, she worked for three years in Minneapolis. Then a family opportunity came along.
It was a call for help from her uncle, a jazz club owner in Kansas City. He found himself suddenly without a singer. Allyson landed in Kansas City on both feet. She developed her own style and quickly became a central performer in this historic jazz town.
Karrin Allyson's albums with Concord
In 1992 she signed with Concord. She has recorded I Didn't Know About You, Sweet Home Cookin', Azure-Te, Collage, and Daydream. A live set on the two-CD Fujitsu-Concord 27th Jazz Festival) has won acclaim.
Her main musical associates are at the heart of the flourishing Kansas City jazz scene. They include pianist Paul Smith, guitarists Danny Embrey and Rod Fleeman, bassist Bob Bowman and drummer Todd Strait.
In recent years, Karrin Allyson has been constantly touring, playing at festivals and jazz clubs throughout the US and Canada. She also tours in Paris, London, and in Japan. She will return to Japan for the Concord-Fujitsu Festival in November.
Allyson looks to the future. "Jazz is a constant process to improve and learn. There is always a carrot dangling in front of you that you're trying to reach musically. I want to perform with great musicians and for people who love this special music."
From Paris To Rio is a striking achievement. A jazz singer spreading her arms to embrace new worlds, bringing them together with heart, soul, and swing.