The Brazilian is one of four drivers to win Indy four times. Do you recall his other popular win?
Helio Castroneves's historic Indy 500 win came at 230 mph on the last lap after a perfectly executed race. Connect Brazil's weekly digest keeps you informed and up to date with the best of Brazil. What will you discover?
---
Cover Story
Only three drivers had won the Indy 500 four times: A.J. Foyt, Al Unser, and Rick Mears. Mario Andretti won the Indy 500 once, falling into victory lane with a backup car.
Winning Indy three times is rare air, but Helio Castroneves had been stuck on that number for 12 long years. Bad luck. Poor strategy, accidents.
Castroneves is the only active driver with a shot at more than three wins. And when he was released from Penske Racing last year, the general thinking was that Helio's time had passed him by: "If he couldn't win with Penske…"
So this year, Castroneves took an offer for a handful of races (including the Indy 500) with a bootstrap team, Meyer Shank Racing. He started well, stayed out of trouble, and took the lead on the last lap to win.
"The other drivers were playing checkers while Helio was playing chess," observed two-time winner Paul Tracy, who had his own Indy 500 history with Helio Castroneves.
But if you think that last Sunday's race into the record books is Helio Castroneves's most popular win, you'd be wrong.
For that, you'd have to go back to the fall of 2007 and championship run with Dancing With The Stars. His teammate was the talented dancer Juliette Hough.
"Sometimes I was explaining that when you get to a new track to get to know it you do a lot of laps before you start going for speed because you want to learn about where to turn and things like that," Castroneves recalled.
"Once you understand the track, you're going to change the springs. That means you're going to set up each phase of the dancing – the middle, beginning, and end – to make it a little better. Then, when you're going for the qualifying that means you start all over again, and hopefully, all the details are there for the show.
"That's basically the analogy I used with Julianne," said Helio.
You're invited to tune into our streaming station for a pair of Helio Castroneves's favorite Brazilian musicians this Friday.
Helio Castroneves joins The Sounds of Brazil as co-host
I've known Helio for quite a long time, and three weeks after his first Indy 500 win in 2000, I invited Helio to co-host my weekly radio show. He even brought along his own music.
This week, I'll replay that program – just as it aired originally – in honor of Helio Castroneves's historic fourth Indy 500 win. Scroll down for listening times.
Listen Live this Friday
Be sure to join me for Brazil Back2Back, when Helio Castroneves brings a pair of his favorite Braziloian musicians to our streaming station this Friday (6/11). Top of the hour, at 11 am, 2 pm, and 5 pm CT for two in a row.
Use the Connect Brazil Listening Lounge: Always free, always live.
Scott Adams, Midday Host
TOP STORIES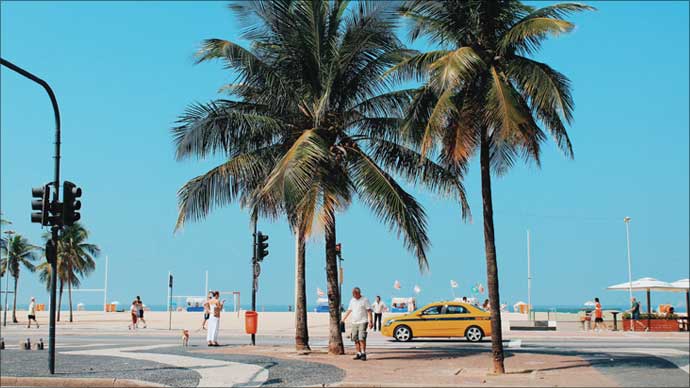 Connect Brazil's Weekender arrives in your inbox this Thursday! Read a current issue and sign up here.
New Music: Marina Lima 'Motim'
STREAMING MUSIC NEWS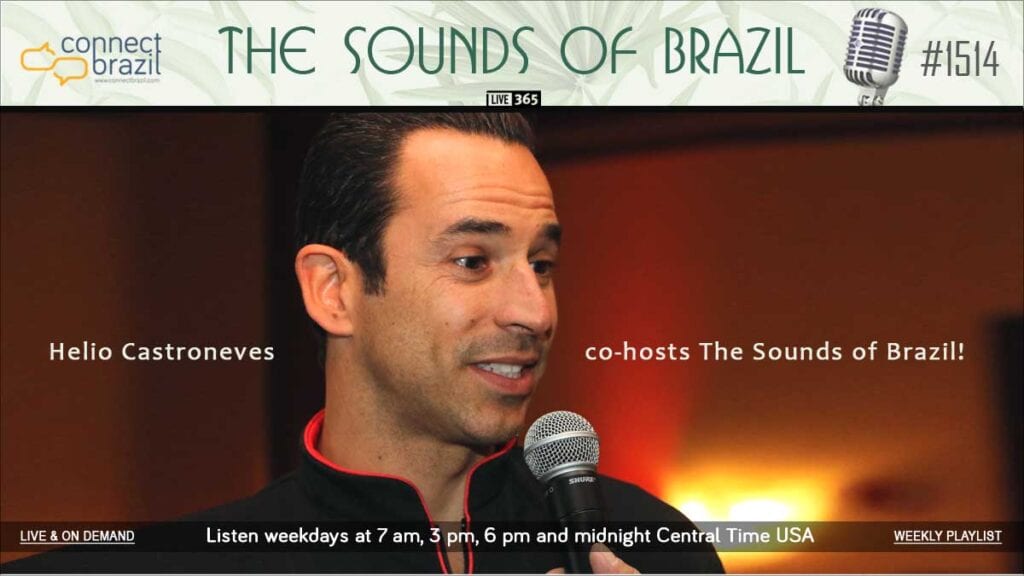 Special Presentation: Our rebroadcast of The Sounds of Brazil's program #473 features Helio Castroneves cohosting the show after his first Indy 500 victory. He even brought along his own music! You are invited to listen, 4 X daily and on-demand through June 20th. The playlist and Producer's Notes are here.
ON OUR STREAMING STATION
Unique! Our streaming station is always live, always free, with a jazzy blend of breezy bossas and crossover hits from both sides of the equator. Thousands of listeners agree: this is Brazilian music you can live your life with!
Treat your ears to our unique blend. Our streaming station is the perfect choice for the sunshine season. Listen for these songs this week during The Midday Show with Scott Adams (M-F, 9 am to 3 pm CT).
'Double Face' – Al Jarreau with Deodato
'Motif d'Azur' – Slowdown (Instrumental)
'Fullgas' – Marina Lima
Listen for these songs and thousands more on our always-live streaming station, and click here for all of our streaming music channels.
Best way to listen? Connect Brazil's Listening Lounge.
Brazil Back2Back
Always two-of-a-kind and always two in a row when you listen at the top of the hour, at 11 am, 2 pm, and 5 pm (US Central) Monday, Wednesday & Friday.
Here's this week's lineup:
Monday, June 7 – Latin Vibe
Wednesday, June 9 – New Music: Marina Lima, Phil Fest
Friday, June 11 – Helio Castroneves's favorite Brazilian musicians
Next week on Brazil Back2Back:
Monday, June 14 – Gal Costa
Wednesday, June 16 – New Music: Mariana Nolasco, Belo
Friday, June 18 – Cecy Santana's new single, 'Um Amor Assim'
Visit the Listening Lounge to listen live, for real-time playlists or to request a song.
Spotlight Song: DJ Maretimo | One Night In Rio (Ipanema Beach Mix)
Listen to this song on Connect Brazil's always-live streaming station, 24/7, worldwide.
EVENTS
Connect Brazil's Events section has the early line on entertainment recommendations for the Sunshine Season with more live venues, and club dates added regularly. And musicians can post their events for free, anytime.
Catch up with Eliane Elias on stage. Enjoy live club dates and livestream Brazilian jazz concerts with Philly's Minas, Chicago's Cecy Santana, and St. Pete's Nate Najar Trio with Daniela Soledade, You'll find virtual Brazilian cooking and Zumba classes, even the return of Brazilian Jazz to San Antonio's Riverwalk.
Plus your pick of full length, on-demand virtual Brazilian jazz concerts, too.
Click here to browse upcoming events.

THE BRAZILAIN BITES AND BURGERS GUIDE
Browse Brazilian Burgers, cafes and Food Trucks near you, coast to coast
Grillin' like a Brazilian? Maybe not today. Maybe, today is all about getting out and about. That's where Connect Brazil's Brazilian Bites and Burgers Guide comes in handy.
You're just a tap or two away from the best of Brazil near you, so plan ahead. Our Lifestyle Directory delivers Brazilian goodness to your table.
Connect Brazil is donating its services to spread the word about the tasty rewards of your support.
We hope that you will do the same by placing an order soon with an eatery near you. Your support makes everything taste better. Even Brazilian picanha burgers!
Helio Castroneves's Historic Indy 500 Win: Connect Brazil This Week
Stories like 'Helio Castroneves's Historic Indy 500 Win' are what we do. Why don't you join us?
Sign up for our emails on music, travel, friends and fun. Listen to our 'always live' streaming station and our 12 streaming music channels, always free. Browse our Lifestyle Directory. Click here to like our Facebook page and here for Brazilian events coast to coast.