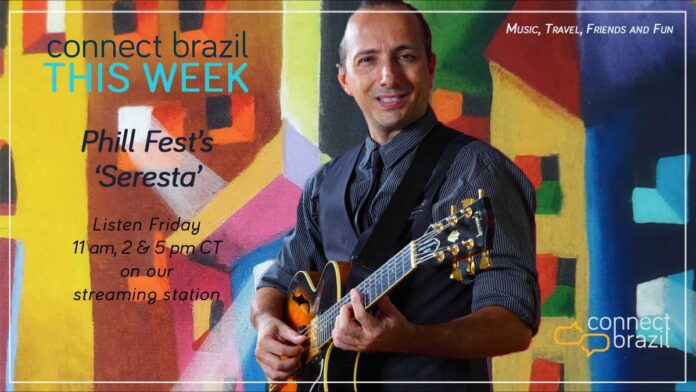 After less than a year, guitarist Phill Fest returns with a new album, titled Seresta. Connect Brazil's weekly digest keeps you informed and up to date with the best of Brazil. What will you discover?
---
Cover Story
Phill's latest album is titled Seresta (Portuguese for 'Sizzle'). The album came together quickly last October, during a visit to his father's hometown, the sun-kissed southern city of Porto Alegre, Brazil.
Several of Brazil's finest jazz musicians help make Seresta a great Brazilian jazz choice for summertime listening.
Pianist Paulo Dorfman, Luizinho Santos (sax and flute). A pair of outstanding bassists, Nico Bueno and Ed Saffi. There's drummer Ronie Martinez and percussionist Tuti Rodrigues.
A special guest on Seresta is Kiko Freitas, longtime drummer for Joao Bosco and with saxophonist Leo Gandelman. He appears on two songs, including the title track which holds special meaning for Phill, and for two-time Grammy winner Howard Levy.
Levy is the song's co-writer and he provides the liner notes for Seresta.
"Seresta is near and dear to my heart," says Levy. "I created it spontaneously in a studio in Chicago with Phill's father, Manfredo, a fantastic pianist and composer. We plucked it out of the air together and it's wonderful to hear Phill's version of it."
To mark Seresta's arrival, we are also looking back. The album's May 13th launch date is also the birthday of Phill's dad, pianist Manfredo Fest. The day came with a special honor. Google created a Doodle to celebrate what would have been Mafredo's 86th birthday.
Although Google's Doodles only last for a day, you can view Manfredo Fest's Doodle, here!
Seresta carries the Fest family's musical traditions forward.
Read Connect Brazil's original review of Seresta, then plan to catch a pair of songs from the album on Friday's Brazil'Back2Back.
Listen Live this Friday
Be sure to join me for Brazil Back2Back, when Phill Fest returns to our streaming station this Friday, top of the hour, at 11 am, 2 pm, and 5 pm CT for two in a row.
Use the Connect Brazil Listening Lounge: Always free, always live.
Scott Adams, Midday Host
TOP STORIES
Connect Brazil's Weekender arrives in your inbox in 10 short days! Read a current issue and sign up here.
New Music: Rayane Boldrini 'Tudo Lembra Você'
STREAMING MUSIC NEWS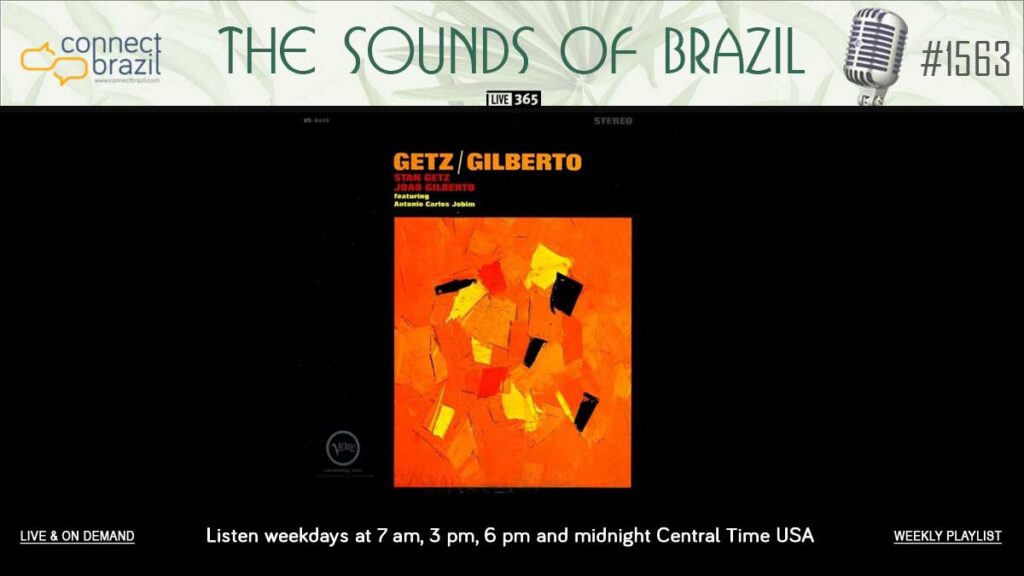 This week, we're featuring the legendary Getz/Gilberto album. Settle in with two hours of favorite songs on The Sounds of Brazil. You are invited to listen 4 X daily and on-demand through May 29th. The playlist and Producer's Notes are here.
ON OUR STREAMING STATION
Our streaming station is a jazzy blend of breezy bossas and crossover hits from both sides of the equator. Always free and always live, this is music you can live with!
Treat your ears to our unique blend. Our streaming station is the perfect choice for the sunshine season. Listen for these songs this week during The Midday Show with Scott Adams (M-F, 9 am to 3 pm CT).
'Maria, Maria' – Vitor Kley
'One Note Samba' – Nate Najar (Instrumental)
'Time Goes By' – Sheléa
Listen for these songs and thousands more on our always-live streaming station, and click here for all of our streaming music channels.
Best way to listen? Connect Brazil's Listening Lounge.
Brazil Back2Back
Always two-of-a-kind and always two in a row when you listen at the top of the hour, at 11 am, 2 pm, and 5 pm (US Central) Monday, Wednesday & Friday.
Here's this week's lineup:
Monday, May 16 – Guitarist Oscar Castro-Neves
Wednesday, May 18 – New Music: Jasmine, Sergio Pereira
Friday, May 20 – Phill Fest's Seresta debut
Next week on Brazil Back2Back:
Monday, May 23 – Brazilain Horns
Wednesday, May 25 – New Music: Anavitoria, pianist David Benoit
Friday, May 25 – Sergio Mendes for Memorial Day Weekend.
Visit the Listening Lounge to listen live, for real-time playlists or to request a song.
Spotlight Song: Gilberto Gil 'Nago Buda' (Ao Vivo)
Listen to this song on Connect Brazil's always-live streaming station, 24/7, worldwide.
EVENTS
Connect Brazil's Events section has the early line on entertainment recommendations for Spring with more live venues, and club dates added regularly. And musicians can post their events for free, anytime.
Enjoy live club dates and livestream upcoming Brazilian jazz concerts or St. Pete's Nate Najar Trio with Daniela Soledade, You'll find virtual Brazilian cooking and Zumba classes, even the return of Brazilian Jazz to San Antonio's Riverwalk.
Plus your pick of full-length, on-demand virtual Brazilian jazz concerts, too.
Click here to browse upcoming events.
THE BRAZILAIN COMFORT FOOD GUIDE
Browse Brazilian eateries, cafes and markets near you, coast to coast
Grillin' like a Brazilian? Whether it's sizzling Brazilian kabobs or a full-fledged churrasco, there's a steakhouse, butcher, or market nearby to help with your shopping list. Don't forget the wood charcoal!
Soon, your tastebud will be in overdrive, so plan ahead. Our Lifestyle Directory delivers Brazilian goodness to your table.
Connect Brazil is donating its services to spread the word about the tasty rewards of your patronage.
We hope that you will do the same by placing an order soon with an eatery near you. Your support makes everything taste better. Even Brazilian picanha steaks!
Phill Fest's Seresta: Connect Brazil This Week
Stories like 'Phill Fest's Seresta: Connect Brazil This Week' are what we do. Why don't you join us?