The story of Brazil's Indigenous peoples begins in Siberia, 17,000 years ago.
The Indigenous Peoples of Brazil: Dia do Índio is celebrated annually on April 19th. Learn more below.
This series was presented by the Consulate-General of Brazil in Chicago and the Brazilian Foreign Ministry's Cultural Department.
In celebration of Brazil's Bicentennial year, 1822 – 2022
This week's Brazilian Minute: The Indigenous Peoples of Brazil
Script from Audio:
The story of Brazil's Indigenous peoples begins in Siberia, 17,000 years ago. Over centuries they migrated south to the Brazilian lands, creating two major groups. The Tupi settled along Brazil's Atlantic coast while the Tapuia settled in the interior.
By 1500, they had grown to 2,000 nations and tribes totaling 11 million. Today, Brazil's indigenous peoples total 1/10th of that number.
The influence of Indigenous peoples on Brazilian culture has created an emerging renaissance. Dia do Índio celebrates their impact on language, art, cuisine, and music every April 19th.
The Brazilian Agency for Protecting Indian Interests lists 67 uncontacted tribes, a number that has increased in recent years. This makes Brazil the leading nation for protecting tribal traditions and lifestyles in this ever-changing world.
With another Brazilian Minute, I'm Scott Adams.
Listen to each weekly story anytime and read the print edition with expanded content for 'Indigenous Peoples of Brazil' from the home page at Connectbrazil.com.
Read and listen to new weekly episodes of The Brazilian Minute. It's brought to you by the Consulate General of Brazil, in Chicago and the Brazilian Foreign Ministry's Cultural Department.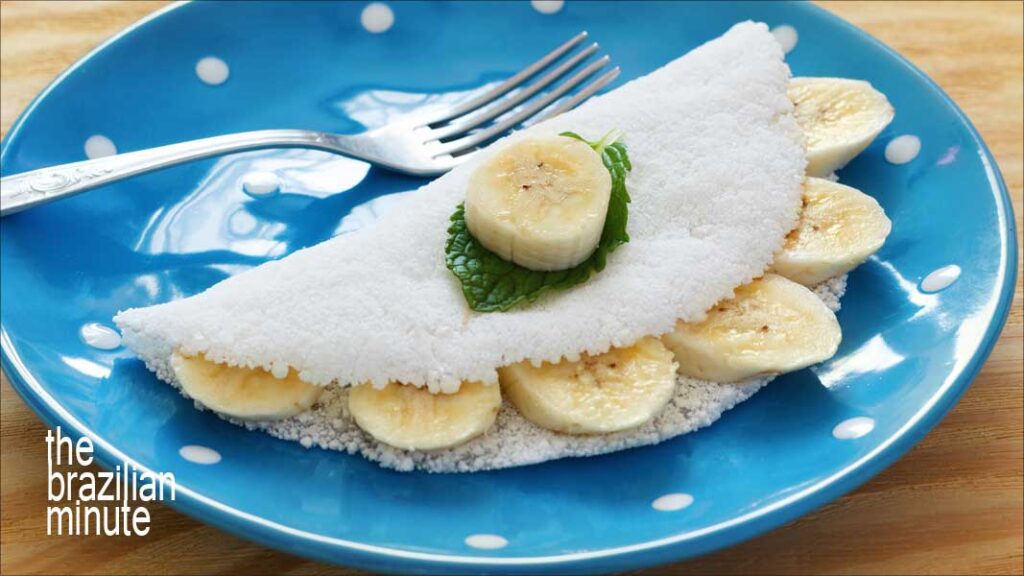 More on: The Indigenous Peoples of Brazil
Dia do Índio (Indian's Day)
Brazil celebrates Dia do Índio on the 19th of April. The date honors the First Inter-American Indigenous Congress, held on April 19, 1940, in Patzcuaro, Mexico.
In 1943, Brazil made the date official. Today, Dia do Índio has expanded to become a weeklong event for school children. This allows students to learn and understand the history and culture of the indigenous peoples.
Dia do Índio also explores customs and traditions that touch so many aspects of Brazilian life. Here are three examples.
Cuisine
The influence of the Indigenous peoples of Brazil on their country's cuisine is widespread. On a scale from 'influenced' to infused', most authentically-Brazilian dishes carry their culinary signature.
Alex Atala
Perhaps Brazil's flagbearer in this area is chef Alex Atala. His São Paulo eatery, D.O.M. is one of the top-rated restaurants in the world. D.O.M.'s mission is to encourage people to explore Brazil's indigenous foods and ingredients.
Then, Atala published a cookbook, titled D.O.M.: Rediscovering Brazilian Ingredients.
Firstly, Atala's goal with the cookbook is to illustrate his passion. Next, he wants to challenge our curiosity when it comes to indigenous food items like jambu. This Amazonian herb is a staple for many traditional dishes of the region. You will even find it in some boutique cachaça brands.
Jambu comes on with a kick, sure to make your mouth tingle. Because of this, some say it tastes like watercress, but with a stronger flavor.
beijo de Tapioca
Cassava, manioca, yucca. This woody tuber is common throughout the Americas. Baked, fried, steamed, or boiled, it is perhaps the most popular culinary connection to the Indigenous peoples of Brazil.
Watching the beginning of this video shows how Beijo de Tapioca is traditionally made. Here's another way to enjoy it.
Think of Beijo de Tapioca as a tapioca crepe. Simply, it is lightly salted and pan-fried, then filled with sliced banana and sprinkled with cinnamon. That's the traditional way, but you can use whatever your imagination desires.
Try it with grated coconut, Nutella, or soft cream cheese. Want it as they serve it at the beach kiosks in Copacabana? Order your Beijo de Tapioca with lightly-spiced grilled chicken.
This tasty, 'anytime' treat is perfect for breakfast or an afternoon snack.
Art
The São Paulo-based non-profit, Instituto Socioambiental (ISA) notes that the artistic expression of Brazil's Indigenous peoples is part of their cultural expression.
This comes in the form of environmental harmony. "Manipulating pigments, feathers, plant fibers, clay, wood, stone, and other materials" distinguishes these peoples from other nations and peoples.
ISA also asks "How, then, do we assess the applicability of this term to the visual productions of peoples who do not possess at least a corresponding word in their respective languages?"
This artistic definition is holistic to many aspects of their history and everyday life. From ritual displays to decorative pieces for daily use.
Communication, education, respect, and appreciation. Public awareness has led to new ways of cultural expression which move beyond these traditional definitions.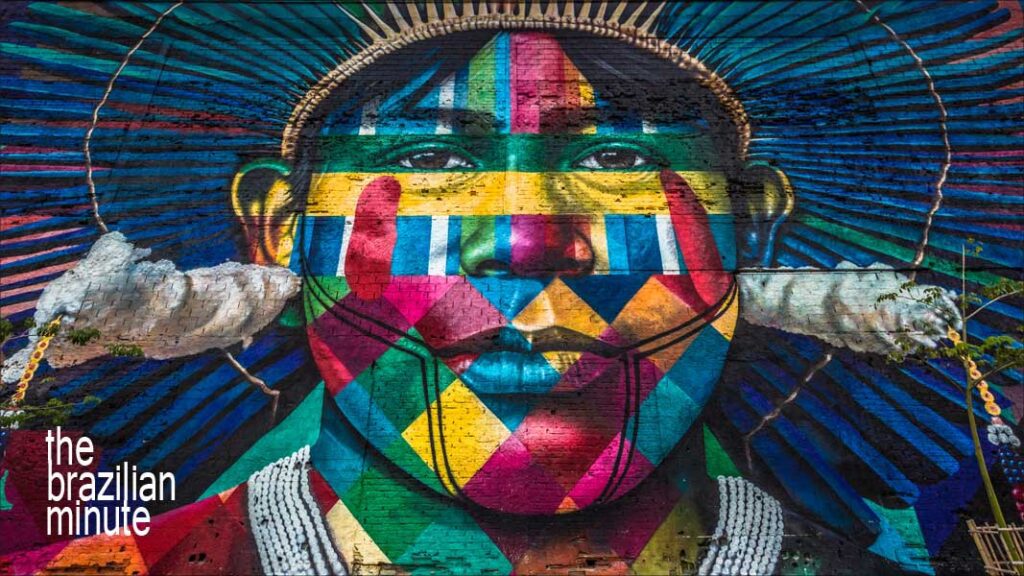 Street Art
Meet São Paulo's Carlos Eduardo Fernandes Léo. He's the muralist who is known worldwide as Kobra. He began his career as a street artist at age 12. Still today, he has painted more than 3,000 public murals on five continents.
Importantly, several of his murals raise awareness of Brazil's Indigenous peoples, such as the street art above. Public projects like this one encourage conversation, awareness, and personal appreciation.
Kobra's goal is to generate public interaction with his art, and each project begins with careful research. Historical and cultural context includes artistic techniques based on three-dimensional design. This is the basis for paintings like We Are One (Ethnicities) created in Rio de Janeiro, in 2017.
You can view his murals in Miami, Los Angeles, Cincinnati, Minneapolis, and New York. And in Chicago, where he painted his nine-story tribute to Blues legend Muddy Waters in 2016.
Artworks
Arte Baniwa is a culture-based collective. It is a project of the Baniwa Indians of the Upper Rio Negro in the Brazilian state of Amazonas.
Arte Baniwa is dedicated to sharing the work of Baniwa artisans in the production of varied basketry. Learn more here.
The success of Arte Baniwa has inspired the region. In 2021, another collective, Casa Das Artes Multi-étnicos Alto Rio Negro opened its doors. It offers home décor items and various spices. Learn more here.
Music
The Story of Uakti
As with its art, the music of the Indigenous peoples in Brazil is inspired by long-held cultural traditions. As such, the music group, Uakti literally grew out of cultural curiosity.
Cellist Marco Antônio Guimarães became interested in making the musical instruments of Brazil's Amazon region. These included pan flutes, marimbas, drums and percussion, and stringed instruments.
The Legend of Uakti
Original music, inspired by a mythological member of the Tucano tribe named Uakti. That's the basis for the group.
Legend says that Uakti's body held many holes of various sizes. The wind would pass through them to make sounds to entice the women of the tribe. Tucano males killed Uakti and palm trees sprouted where he was buried.
It is said that people make flutes from the palm canes to recreate Uakti's irresistible melodies.
Uakti's International Fame
Several musicians from the Orquestra Sinfônica de Belo Horizonte joined Guimarães. Uakti's first recording came in 1979, as part of a soundtrack for the movie Cabaré Mineiro.
Ultimately, Uakti came to Milton Nascimento's attention. Nascimento invited Uakti to record on his album Sentinala, and again on Ânima.
Uakti went on to record with Paul Simon on Rhythm of the Saints, where Philip Glass heard them. Their work with Glass made them internationally famous. This led to music for the 1983 ballet Águas da Amazônia – Sete ou Oito Peças Para um Balé.
Glass turned to Uakti again in 2004 for music used in the pre-Olympic festivities in Athens, with several outdoor concerts.
Uakti has recorded or performed with Maria Bethânia, Manhatten Transfer, Wagner Tiso, Milton Nascimento, and Ney Matogrosso.
Impressively, Uakti made 14 recordings before the group dissolved in 2016 after its 40 years together.
Music, Travel, Friends and Fun! 2022 marks Connect Brazil's 25th year.
Indigenous Peoples of Brazil
Did you enjoy 'The Indigenous Peoples of Brazil'? If you did, why not join us at Connect Brazil?
Sign up for our emails on music, travel, friends, and fun. Listen to our 'always live' streaming station and our streaming music channels, always free. Browse our Lifestyle Directory. Click here to like our Facebook page and here for Brazilian events coast to coast.