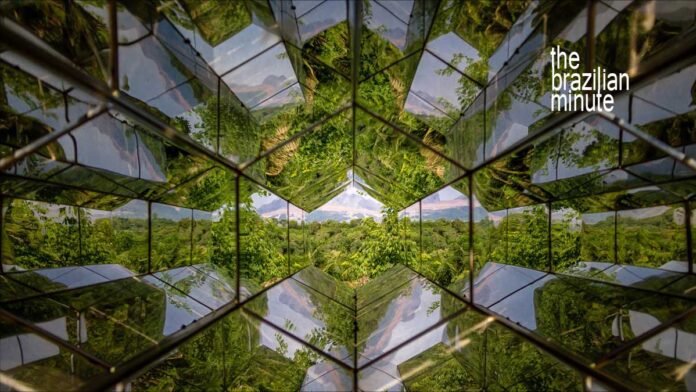 Belo Horizonte's Open-Air Museum is One of Latin America's Largest
Inhotim is Brazil's outdoor artistic masterpiece. An immersive adventure and a popular 'bucket list' destination for eco-tourists and art lovers.
This series was presented by the Consulate-General of Brazil in Chicago and the Brazilian Foreign Ministry's Cultural Department.
In celebration of Brazil's Bicentennial year, 1822 – 2022
This week's Brazilian Minute: Inhotim Is Brazil's Outdoor Artistic Masterpiece


Script from Audio:
Near the Brazilian city of Belo Horizonte, in the Atlantic forest, is one of the most spectacular – and largest – outdoor art centers in the world. It's called Inhotim.
This 5,000-acre complex includes a botanic garden designed by Roberto Burle Marx. Twenty-four pavilions dot the landscape featuring 500 contemporary artworks by Brazilian and international artists. The lush vegetation includes 1400 kinds of palm trees and a white sand beach.
Don't miss the Garden's glass-paned geodesic dome. Sun and shadow will challenge your visual perspective. Be sure to peer through Inhotim's amazing outdoor viewing machine for a kaleidoscopic way to experience the park's natural beauty.
Inhotim is just an hour's flight from Rio de Janeiro, welcoming three million art and nature lovers every year.
Read and listen to new weekly episodes of The Brazilian Minute.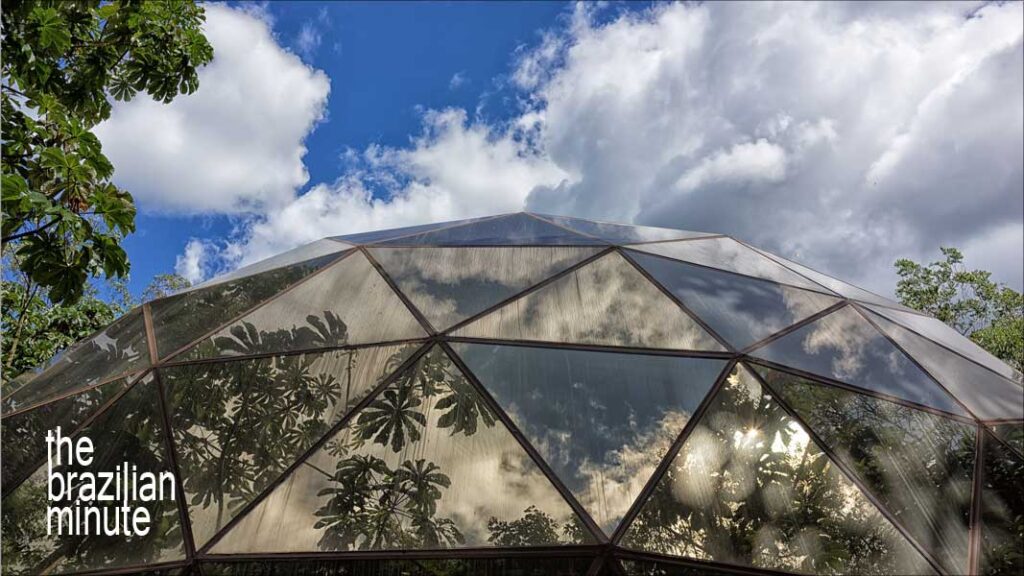 Inhotim Is Brazil's Outdoor Artistic Masterpiece
Overview:
Inhotim ("een-yoh-CHEEN") is an outdoor museum and the world's largest open-air contemporary art park. It is also one of Brazil's largest contemporary art museums and among the largest outdoor art centers in Latin America.
Open-air museums date to 1891, with Skansen, on Sweden's Djurgården island. The concept includes many variations, extended beyond the world of art to include cultural, historical, and environmental themes. Here in the US, an excellent example of an open-air museum is Colonial Williamsburg in Virginia, which opened in 1931.
Surprisingly, many zoos around the world are considered to be open-air museums.
What makes Instituto Inhotim stand apart from all others is its expansive, immersive and artistic relationship with nature and biodiversity. To put it another way, Inhotim draws you into the experience, making a visit here richly rewarding and memorable.
Inhotim's History and Location
Inhotim is located 25 miles from Brazil's sixth-largest city, Belo Horizonte. Translated to English as 'Beautiful Horizon', it is the capital city of the inland state of Minas Gerais ("General Mines").
This is a hilly area surrounded by mountains, with mineral-rich soil that's perfect for coffee growers. It is uniquely positioned between a pair of important biomes, the Atlantic Forest and Brazil's Cerrado.
Brazil is home to the widest variety of gemstones and semi-precious stones in the world. Minas Gerais produces some of the most amazing gemstones to be found anywhere.
In the 1980s, a Brazilian miner named Bernardo de Mello Paz became concerned over plans to develop the natural landscape bordering his farmhouse. So, he began to purchase large tracts of the surrounding land to stop the developers.
Years earlier Paz had assumed the title of his farmhouse from an English engineer called Senhor Tim. In countryside slang, this man's name became Nhô Tim.
And it's said that this is how Inhotim was given its name.
Inhotim's genesis
Paz ultimately converted his Fazenda into a vast botanical garden of 390 hectares created by famed artist Roberto Burle Marx.
But these plans grew out of Paz's newfound interest in collecting contemporary art. And he was inspired to do so via his friendship with Tunga, one of Brazil's most respected contemporary art sculptors.
Tunga's energetic personality meshed well with Paz and soon artists came from far and wide to create larger-than-life, open-air art. Paz supplied the space and the incentive, and Brazil's creative culture did the rest. Internationally ranked artists soon brought their works to Inhotim as its reputation grew.
The gardens also house Paz's own collections.
"The first work I acquired with the profile of what would become Inhotim was a work by Dan Graham, Bisected Triangle, Interior Curve, purchased in 1995," recalls Paz in a conversation with independent-collectors.com.
"When I bought this work, I hadn't made a conscious decision to be a collector, but to create a public art space, open to visitors, that could offer an interaction between art and nature. That was the first wish that moved me to create Inhotim, not the idea of assembling a collection."
Inhotim Is Brazil's Outdoor Artistic Masterpiece
Twenty-four unique art pavilions dot the landscape, providing a sense of wanderlust and discovery as you explore its five miles of trails.
These pavilions provide rest and refreshments during your tour. However, they also provide the opportunity to explore various perspectives of Inhotim's deeply rooted relationship with its natural environment.
Let's explore a few of them.
Black Art Museum
Inhotim hosts a two-year exhibition for Abdias Nascimento and the Black Art Museum which is presented with a new aspect for the exhibit every six months.
A longtime friend of Tunga, Nascimento created his craft in a number of areas. This includes his roles as a curator, poet, visual artist, and founder of the Black Experimental Theater.
Be sure to check Inhotim's official site for exhibition details, tickets, and scheduling.
Geodesic Dome
Seemingly larger inside than out, Inhotim's Geodesic Dome opened in 2009 with an exhibit presentation of Matthew Barney and musician Arto Lindsay.
Triangular panes of glass are framed within a curved web of steel with varied dimensions to provide an alternative view of the surrounding woodland. Soon, you will realize that there are actually two domes that intersect at mirroring angles. Delightful.
Botanical Garden
Encompassing the greatest area within Inhotim is the ground's botanic garden, home to more than 4,300 species of flora from within Brazil and beyond.
A total of nine themed gardens are connected by twisting pathways to enhance your experience. You'll encounter thirty botanical highlights during your walkabout to the Orchids Garden, the Trails Garden, the Gardens of All Senses, the Scenic Garden, and more.
Inhotim also hosts its own Teaching Nursery, where plant growing and research dictate daily activity. Be sure to ask if this can be included in your tour.
Inhotim's botanic garden was officially recognized in 2010, and 11 years later it was awarded a grant by Botanic Gardens Conservation International for its work with plant conservation.
Sonic Pavilion
One of your tour's most bio-immersive places on this list is a 'must-do' visit to Inhotim's Sonic Pavilion.
Created by US artist Doug Aitken and debuting in 2009, the Sonic Pavilion is truly a work of environmental art.
Within its modernist circular structure of floor-to-ceiling frosted glass panels, is a deep well, which burrows more than 650 feet down. Sonically placed at its bottom are microphones, tuned to capture the natural sounds of the earth as it shifts below.
Aitken's careful application of acoustics helps to amplify these sounds. From rumbles to gurgles, the Sonic Pavilion is a unique way to appreciate our Planet Earth.
Outdoor kaleidoscope
Inhotim's Viewing Machine is known internationally for its stunning ability to change how you view the world around you. Visual artist Olafur Eliasson turned the concept of the traditional kaleidoscope into an open-air experience that lets you explore your imagination.
You'll find the Viewing Machine positioned at a high point of the park, overlooking a valley of gardens and hills.
The first thing you'll see is the machine itself. A glass and metal hexagonal tube with a half-dozen artfully crafted mirrors. Powered only by natural light, you can point it in any direction for endless creations of reflected beauty.
Inhotim Is Brazil's Outdoor Artistic Masterpiece
Did you enjoy 'Inhotim Is Brazil's Outdoor Artistic Masterpiece'? If you did, why not join us at Connect Brazil?
Sign up for our emails on Brazilian music, travel, friends, and fun. Listen to our 'always live' streaming station and streaming music channels, always free. Visit us on Facebook, and Twitter, and browse our Lifestyle Directory for Brazilian events coast to coast.
Inhotim Is Brazil's Outdoor Artistic Masterpiece
Enjoy this video of Inhotim!