Top stories, our Brazilian Comfort Food guide plus new music from Jorge Vercillo, Gilsons, and Brazilian jazz pianist Antonio Adolfo
Jorge Vercillo gets smooth for our list today. Connect Brazil's weekly digest keeps you informed and up to date with the best of Brazil. What will you discover?
---
We've launched our Warmth of Brazil Storystream. You'll find it on the homepage at Connect Brazil. Here's what's new here this week.
Top Stories
Feature: We look back at the year that was with the top songs and stories from 2020.
Music: We ask 10 Questions about Yellow Sax Marine, Leo Gandelman's new Brazilian jazz tribute to the Beatles.
Food & Drink: We share our recipe for Brazil's traditional simmering, spiced cider sipper, the Quintao. Perfect for these chilly winter nights.
People: Meet Scott Fivelson, the songwriter behind Breeze BossaNova's 2020 hit.
Picture of the Day: A week's worth of Brazilian-inspired New Year Resolutions will pop up to greet you.
Connect Brazil's Weekender arrives in your inbox every other Thursday. Read a current issue and sign up here.
Streaming Music News
We've added several new songs to Connect Brazil's Streaming Channels this week. You'll hear 'em our New Music: Brazil Channel:
'Tres Pontas' from Antonio Adolfo
'A Minha Dor' from Roberto Vally featuring Daniela Soledade
'Devagarinho' by Gilsons
"SONG4U' by Jorge Vercillo
Click here for all 13 of our streaming music channels.
This week, The Sounds of Brazil features saxophonist Leo Gandelman's Brazilian jazz, streaming 4 X daily and on demand through January 17th. Show page is here.
On our streaming station
The sea, the sun and The Sounds of Brazil! A jazzy blend of breezy bossas and crossover hits from both sides of the equator. America's only 'Always Live' streaming station for Brazilian music. Listen here.
Brazil Back2Back
Always two-of-a-kind and always two in a row at the top of the hour, at 11 am, 2 pm and 5 pm (US Central) Monday, Wednesday & Friday. Here's this week's lineup:
Monday, January 4 – Marcela Mangabeira
Wednesday, January 6 – New Music from Jorge Vercillo and Antonio Adolfo
Friday, January 8 – Jazz pianist Scott Wilkie's Brasil. It's his birthday this week
Next week on Brazil Back2Back:
Monday, January 11 – The Brazilian side of Lee Ritenour, on his birthday
Wednesday, January 13 – New Music from YouTube discoverys, Raquel Martins and Lucca Giacco
Friday, January 15 – Ten days until Jobim's birth day, so two versions of 'Dindi'
Visit the Lounge Page to listen live, for real-time playlists or to request a song.
Events
Connect Brazil's Events section has top choices for January, including Friday evening's YouTube concert by Daniela Soledade and Nate Najar, Brazil Classico and a pair of full length, on-demand virtual concerts by Brazilian jazz pianist Ricardo Bacelar.
Click here to browse upcoming events.
The Brazilain Comfort Food Guide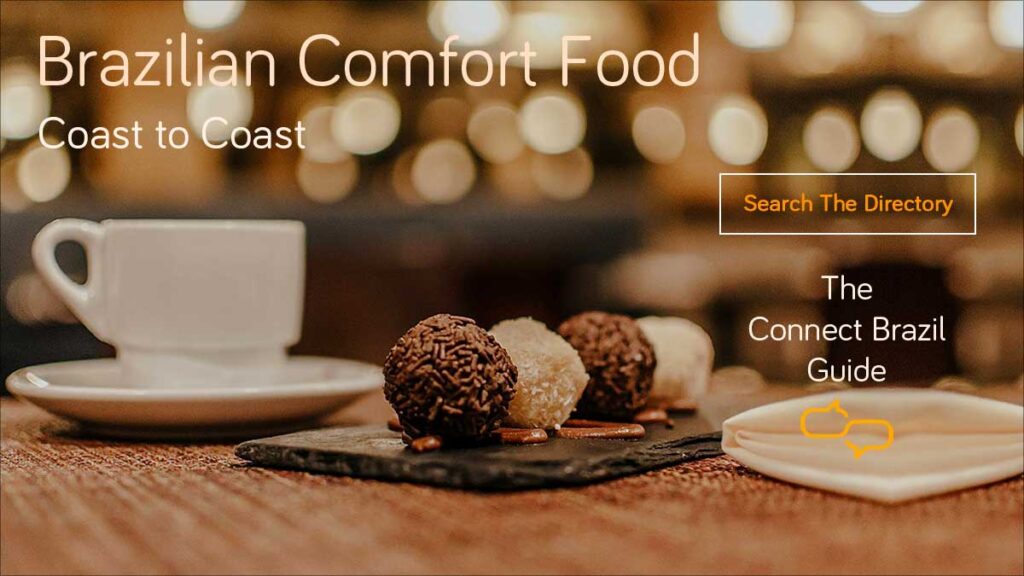 Browse Brazilian eateries, cafes and markets near you, coast to coast
Connect Brazil is on a mission to help hundreds of family-owned Brazilian restaurants, coffee houses and cafes, bakeries, and grocery markets coast-to-coast during these challenging times.
We hope that you will do the same. Your support makes everything taste better.
Stories like this are what we do. Why don't you join us?
Sign up for our emails on music, travel, friends and fun. Listen to our 'always live' streaming station and our 12 streaming music channels, always free. Browse our Lifestyle Directory. Click here to like our Facebook page and here for Brazilian events coast to coast.