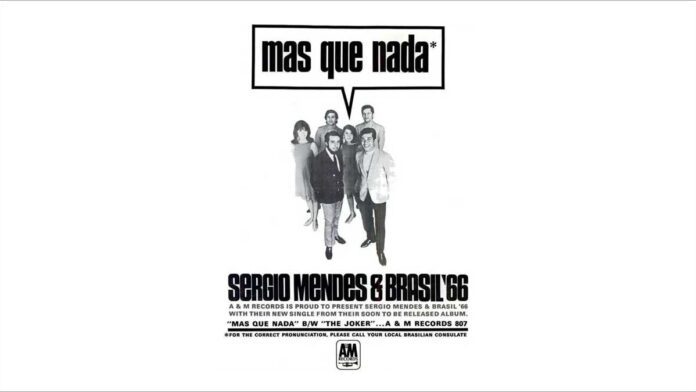 Sergio Mendes has savored many great moments in his career, but no month on the calendar can compare to July.
Why Sergio Mendes absolutely loves July is an unusual question, but the answer reveals itself in the pages of a popular music magazine.
---
Yep, "lucky 7" on the calendar has been the magic number for Sergio Mendes. Especially when it comes to chart success with the music industry's holy grail, the Billboard Top 100.
Over the years, four of his 14 charting songs have come within days of each other.
---
Look back on Bossa Nova's 60th Birthday: Browse our 'Bossa 60' StoryStream
---
The Charts Tell the Story
The first July single to hit Billboard's Hot 100 for Sergio Mendes predictably came on July 1, 1967, with 'Night & Day' from Brasil 66's second album, Equinox. It peaked at #86.
'The Look of Love' was July's next chart-bound single for Sergio Mendes & Brasil 66. It peaked at #4 on the Billboard Hot 100 on July 6th, 1968 with Janis Hansen's lead vocals, from Look Around.
Three days (and 15 years) later, Mendes would duplicate #4 with Joe Pizzulo and Leeza Miller singing 'Never Gonna Let You Go'. That was after Earth Wind & Fire had decided not to record it.
The story goes that Mendes took the song to fill a musical gap in his self-titled 1983 album. He was quoted as saying, "All the other songs on the album were up and festive. I needed a ballad on the album, just to change the pace a bit."
The fourth and final July single for Sergio Mendes takes us to 1969's Hot 100. His version of '(Sittin' On) The Dock Of The Bay' peaked at #66 on July 19, 1969. It was the opening track from Crystal Illusions with Brasil 66.
So, you're probably thinking: "Hey, what about Sergio's most famous song, 'Mas Que Nada'?"
Glad you asked. His signature song with Brasil 66 peaked at #47 on October 29, 1966. Maybe they should have released it a few months earlier.
View Them All
Nine more singles from Sergio Mendes made it to Billboard's Hot 100. You can view them all – including the pop and jazz album charts – on Billboard's website. You'll be surprised at what you'll find.
Yes, the month of July has been a special one for Sergio Mendes on Billboard, and with another new album always around the corner, who knows what the future may hold?
Why Sergio Mendes Absolutely Loves July
Stories like 'Why Sergio Mendes Absolutely Loves July' are what we do. Why don't you join us?