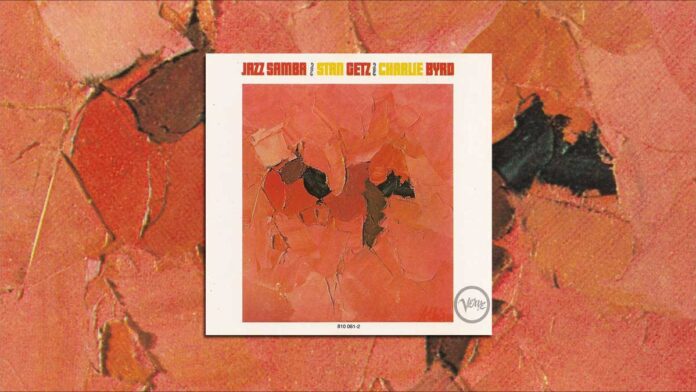 An album birthed from the excitement of a one-in-a-lifetime adventure in Rio de Janeiro reaches a musical milestone.
Stan Getz and Charlie Byrd's Jazz Samba album at 60? You know the album, here's the story behind it.
---
by Scott Adams
It's amazing how musical milestones like this one can sneak up on us.
On February 13, 1962, six American jazz musicians walked through the doors of the All Souls Unitarian Church in Washington, DC. Two hours later, they had unknowingly rewritten the gospel according to Bossa Nova.
2022 celebrates the 60th Anniversary of Jazz Samba, the iconic album that forever changed the way we embraced Bossa Nova and Brazilian jazz.
Rounding out the band were members of Charlie Byrd's trio, bassist Keter Betts and drummer Buddy Deppenschmidt. Byrd's brother Joe (listed as 'Gene') played guitar and bass. Drummer Bill Reichenbach was invited to be the percussionist.
Producer Creed Taylor had picked up Getz at the airport from the morning flight in from New York City, then made the half-hour drive with time to spare. The schedule was simple and there was plenty of time.
Arrangements had been made in advance.
Not your typical venue
Fifty dollars. That's all it took to rent Pierce Hall at the All Souls Unitarian Church at 16th and Harvard streets NW for one day.
Byrd and Taylor had scouted locations, favoring Pierce Hall over Byrd's first choice, the nearby Morris Cafritz Center. Taylor agreed that the acoustics were better but had concerns about traffic noise that might interfere with the recording.
Although the name sounded grand, Pierce Hall was actually a sparse auditorium with a one-step stage. The musicians arrived at around 11 am, ready to play at noon. Buddy Deppenschmidt recalls that two hours later, the drummers were packing up.
Only one of the seven songs required a second take.
Setting the stage for Stan Getz and Charlie Byrd's Jazz Samba Album at 60
If Jazz Samba had a two-word headline, it would have to be 'Stan Getz'. The saxophonist cut his teeth with Woody Herman's big band in the late 40s. He made a name for himself as a soloist in Herman's legendary sax section, 'The Four Brothers'.
Then Getz left the band to start his solo career in the early 50s and he soon became a top-ranked jazz star. But tax problems and serious substance abuse with heroin found him relocating to Copenhagen, Demark in 1958.
Meanwhile, guitarist Charlie Byrd was building an impressive resume of his own. His reputation grew when he began to partner with bass player Keter Betts in Washington DC. This led to an opportunity for them to tour with The US State Department, first in Europe in 1959 and again to Latin America in 1961.
By the time Byrd and Betts returned home, Getz had moved back, too. He was ready to have his US studio work pick up where he had left off.
His 1960 album Cool Velvet was produced for Verve Records by genius jazz producer Creed Taylor. But it left critics unimpressed and his club dates were not drawing well. Not surprisingly, new names were making news while Getz was away. John Coltrane was among them.
Stan Getz needed to revive his career.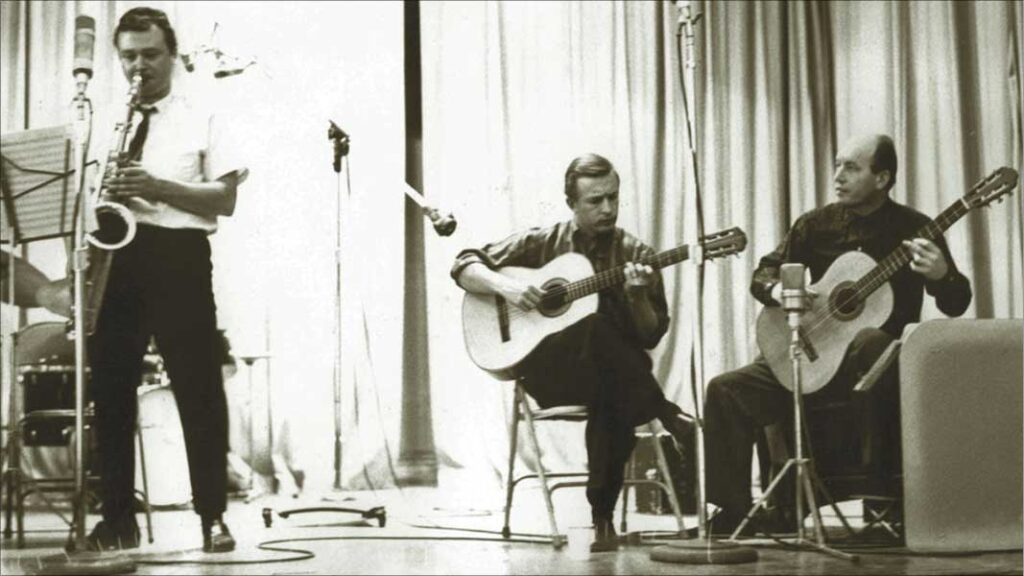 Bossa Nova's birth of Cool
So, what inspired Stan Getz to record Jazz Samba?
Byrd met up with Getz at the Showboat Lounge in Washington DC in early 1962. Byrd invited the saxophonist to listen to the Bossa Nova albums he had discovered on his trip through Brazil.
We know they listened to albums by Antonio Carlos Jobim and João Gilberto. But understanding the music scene in Rio de Janeiro will give you context to how Jazz Samba was conceived.
I've selected a trio of songs that might have been in Charlie Byrd's stack of records that turned Stan Getz onto the Bossa beat.
Listen to them all above, as featured on my weekly program The Sounds of Brazil!
The first is 'Tristeza De Nos Dois' from Dance Moderno, the 1961 debut album by Sergio Mendes. The second song is Maysa's debut recording of Roberto Menescal and Ronaldo Boscolli's 'O Barquinho' (The Little Boat) from the same year.
The final – and most revealing song – is 'Inquietação' from guitarist Laurindo Almeida and Bud Shank's sax. Amazingly this was recorded in 1955, three years before Bossa Nova's birth.
It's difficult to imagine that Getz was not influenced by that song. It is very close to and the same sound he would bring to Jazz Samba in 1962.
Regardless, Stan Getz liked what he heard that day and he soon convinced Creed Taylor to sign the project to Verve Records.
Keep reading for the story about how an inside joke created by Antonio Carlos Jobim about the poor quality of Rio's lounge singers was transformed on Jazz Samba. And it only took 5 minutes and 51 seconds.
More than slightly out of tune
Jazz Samba was released on April 20, 1962, and soon a 'single' debuted on the Billboard Hot 100 chart. It was a samba written by Antonio Carlos Jobim three years earlier.
The story goes that Jobim was inspired by Rio's lounge singers who couldn't carry a tune. In fact, while the lyrics defended them, the song was written to be so complicated and with so many musical traps, it would leave a less-talented singer in complete distress.
But it became Bossa Nova's first big hit for João Gilberto. And no one, not Jobim, Gilberto, or even those 'out of tune' lounge singers could have imaged how a group of American jazz musicians would forever transform 'Desafinado'.
Fun fact. Byrd's version of 'O Pato' with Stan Getz on Jazz Samba was the first recorded version of that song by American musicians. Amazingly, less than six months later, 'O Pato' was heard everywhere.
Among those jazz stars who recorded the song were Coleman Hawkins, Leroy Holmes, John Hendricks, and the Ramsey Lewis Trio.
It's interesting that Jazz Samba stayed on the Billboard charts for 70 consecutive weeks. It sold half a million copies in 18 months.
Jazz Samba is the only jazz album to ever reach #1 on Billboard's pop chart.
One afternoon. Two hours. Six American musicians. Seven songs. Jazz Samba is a history-making album that set the tone for Brazilian jazz and Bossa Nova worldwide.
Stan Getz and Charlie Byrd's Jazz Samba Album at 60: Additions and Editions
The original LP pressing of Jazz Samba was released in both mono and stereo gatefold editions by Verve Records on April 20, 1962. International markets released either in mono or stereo and sometimes both. Sometimes these initial releases did not include a gatefold album cover.
Other initial formats for Jazz Samba included reel-to-reel, cine-reel, and four-track cartridges. Later, 'Club' editions included a variety of contemporary formats including cassette and eight-track.
Remastered editions for both vinyl, CD, and digital have occurred throughout the years.
Thirty-three years after its original release, Jazz Samba was remastered on an all vacuum-tube cutting system on August 21, 22, 1995 with a limited edition, numbered LP release in 180g vinyl.
Perhaps the most usual editions of Jazz Samba are the 12" double 200g vinyl album 45 rpm release in 2013, and the limited edition 180g colored vinyl pressing of Jazz Samba in yellow/gold.
In all, 152 versions of Jazz Samba have been officially released since 1962. No special editions of this album were released for Jazz Samba's 25th, 30th, or 50th anniversary.
Music, Travel, Friends and Fun! 2022 Marks Connect Brazil's 25th Year.
Stories like 'Stan Getz and Charlie Byrd's Jazz Samba Album at 60' are what we do. Why don't you join us?
Sign up for our e-letter. Listen to our 'always live' streaming station and our 12 streaming music channels, always free. Browse our Lifestyle Directory. Click here to like our Facebook page and here for Brazilian events coast to coast.
Jazz Samba
Side One

Desafinado (Antônio Carlos Jobim, Newton Mendonça) — 5:51
Samba Dees Days (Charlie Byrd) — 3:34
O Pato (Jayme Silva, Neuza Teixeira) — 2:31
Samba Triste (Baden Powell, Billy Blanco) — 4:47
Side Two

Samba de Uma Nota Só (Antônio Carlos Jobim, Newton Mendonça) — 6:11
É Luxo Só (Ary Barroso) — 3:40
Bahia (aka 'Baia') (Ary Barroso) — 6:38
Bonus track on CD reissue
Desafinado (Antônio Carlos Jobim, Newton Mendonça) 45 rpm issue — 2:00
Personnel

Stan Getz – tenor saxophone
Charlie Byrd – guitar
Gene Byrd – guitar, bass
Keter Betts – double bass
Buddy Deppenschmidt – drums, percussion
Bill Reichenbach Sr. – drums, percussion
Producer – Creed Taylor