Connect Brazil's weekly digest keeps you informed and up to date with the best of Brazil. What will you discover?
---
Kristen Mather de Andrade loves choro. And samba. Those are indelible, musical facts. Read more about Kristen's passion for Brazil and the exciting collaboration that grew to become her debut album, Clarão.
By the way, there's a week's worth of Brazilian lifestyle stories and more waiting on the homepage at Connect Brazil.
Kristen Mather de Andrade loves choro: COVER STORY
Long before samba's first strains swirled from the open windows of Tia Ciata's salon across from Rio de Janeiro's Praça Onze, an instrumental style of Brazilian pop called Choro was already entertaining urban Cariocas. Its sophisticated sound was jazzy but not jazz, classical but not.
Just like its ragtime cousin to the north, Choro draws on European and African music styles, then filters them through a purely Brazilian prism. Choro is also a perfect partner for Kristen Mather de Andrade's debut album, Clarão.
FROM CONCERT TO CHORO
You see, Kristen Mather de Andrade is Principal Clarinetist with one of America's most respected Concert Bands. Classically trained, it's the latest step on a path she's followed since she was handed her first clarinet at age 10. But while it's an unusual path to take for Choro, it's the right one.
Are you new to Choro? Clarão's masterful musicianship captures Choro's spirit and its soul in a lively, personable way. Well-crafted and exceptionally recorded, these ten tracks make a perfect introduction that becomes more welcoming with every repeated play.
Recently, we sat down with Kristen Mather de Andrade to talk about her career in music, the emotional appeal of Choro and Samba, and how she came to love Brazilian music.
Read the complete story here.
LISTEN LIVE THIS WEDNESDAY
Plan to join me for Brazil Back2Back this Wednesday when I'll play two in a row from Kristen Mather de Andrade on our live streaming station (9/22). Top of the hour, at 11 am, 2 pm, and 5 pm CT for two in a row.
Use the Connect Brazil Listening Lounge: Always free, always live.
Scott Adams, Midday Host
TOP STORIES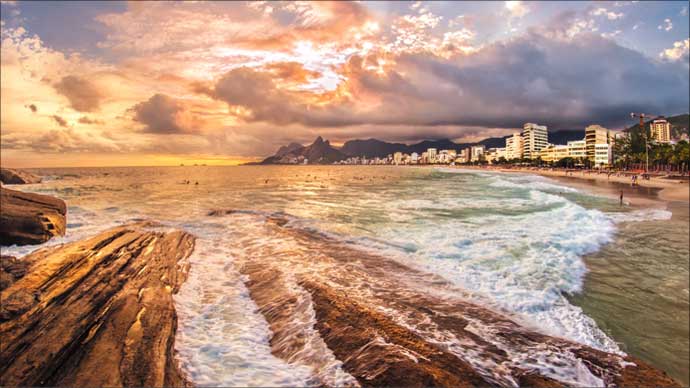 Connect Brazil's Weekender arrives in your inbox next Thursday! Read our current issue and sign up here.
This Week's Spotlight Song: Cesar Camargo Mariano | Comendo Côco
Listen for this song on our streaming channels, including Bossa Nova Love Affair, Brazilian Jazz, XODO!, and The Sunday Brazilian Brunch.
STREAMING MUSIC NEWS
The New Bossa Nova arrived as a generational import 20 years ago, and it's showing no signs of slowing down. Explore even more with us this week. Listen 4 X daily and on-demand through September 26th. The playlist and Producer's Notes are here.
New! Philadelphia's ijazzglobal.com is now streaming The Sounds of Brazil every weekend, Sundays at 10 am. Listen here!
ON OUR STREAMING STATION
For Brazil Nuts like us, Fall is just another day on the calendar, because we chase summer all year long!
That's The Sounds of Brazil's streaming station at Connect Brazil! Spend an hour with our jazzy blend of breezy Bossas and crossover hits from both sides of the equator.
We are America's only 'Always Live' streaming station for Brazilian music and more.
Tune in weekdays for The Midday Show with Scott Adams and relax every evening with our jazzy Quiet Nights program. Saturdays are reserved for Bossa Nova Breeze – all day, all night – and there's always a place at the table waiting for you with The Sunday Brazilian Brunch!
Yep, late-summer sambas can make your spirits soar. Explore our newest video list, Brazilian Day Music Showcase. Then tune in for a trio of tunes that fit the bill. Listen for them on our streaming station this week:
'Leblon' – Adam Dunning
'Setembro Brazilian Wedding Song' – Quincy Jones, Sarah Vaughan, Take Six (Instrumental)
'Nossa Bossa' – Kell Smith
Listen for these songs on our always-live streaming station, and click here for all 10 of our streaming music channels.
Check out Connect Brazil's Listening Lounge.
Brazil Back2Back
Always two-of-a-kind and always two in a row when you listen at the top of the hour, at 11 am, 2 pm and 5 pm (US Central) Monday, Wednesday & Friday.
Here's this week's lineup:
Monday, September 20 – Brazilian keyboard awesomeness
Wednesday, September 22 – New Music: Kristen Mather de Andrade's Clarão
Friday, September 24 –

Gal Costa
Next week on Brazil Back2Back:
Monday, September 27 – L.A. Sambas
Wednesday, September 29 – New Music: Saxophonist Kenny Polson and pianist Antonio Adolfo
Friday, October 01 – vocalist Adriana Calcanhotto's birthday (3rd)
Visit the Listening Lounge to listen live, for real-time playlists, or to request your favorite song, style, or musician.
New Music Spotlight: Bianca Rossini | Return To Brazil
Listen for this song on our New Music: Brazil streaming channel.
EVENTS
Connect Brazil's Events section live club dates to livestream Brazilian jazz concerts, and listening events for our streaming station, including saxophonist Kenney Polson Kristen Mather de Andrade, and Antonio Adolfo.
Check out Chicago's Luciano Antonio, or St. Pete's Nate Najar Trio with Daniela Soledade, or virtual Brazilian cooking and Zumba classes. There's even the return of Brazilian Jazz to San Antonio's Riverwalk.
Plus your pick of full-length, on-demand virtual Brazilian jazz concerts, too.
Click here to browse upcoming events.

THE BRAZILAIN BITES AND BURGERS GUIDE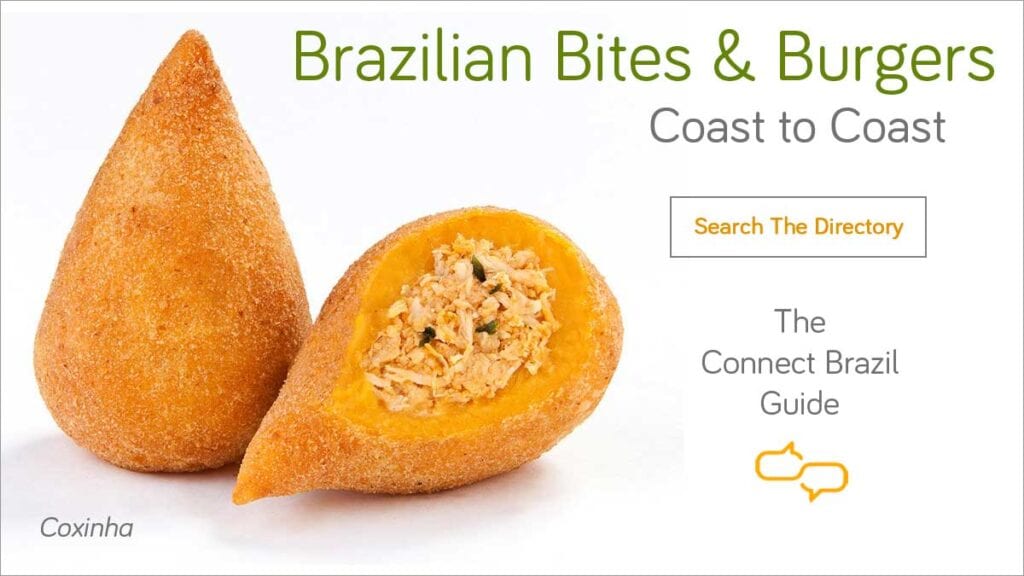 Browse Brazilian Burgers, Bakeries, and markets near you, coast to coast
So, when you are craving a snack or hungry for something more, that's where Connect Brazil's Brazilian Bites and Burgers Guide comes in handy.
You're just a tap or two away from the best of Brazil near you, so plan ahead. Our Lifestyle Directory delivers Brazilian goodness to your table.
Connect Brazil is donating its services to spread the word about the tasty rewards of your support.
We hope that you will do the same by placing an order soon with an eatery near you. Your support makes everything taste better. Even Brazilian appetizers, breads, and cakes!
Kristen Mather de Andrade Loves Choro: Connect Brazil This Week
Stories like 'Kristen Mather de Andrade Loves Choro: Connect Brazil This Week' are what we do. Why don't you join us?
Sign up for our emails on music, travel, friends and fun. Listen to our 'always live' streaming station and our 12 streaming music channels, always free. Browse our Lifestyle Directory. Click here to like our Facebook page and here for Brazilian events coast to coast.