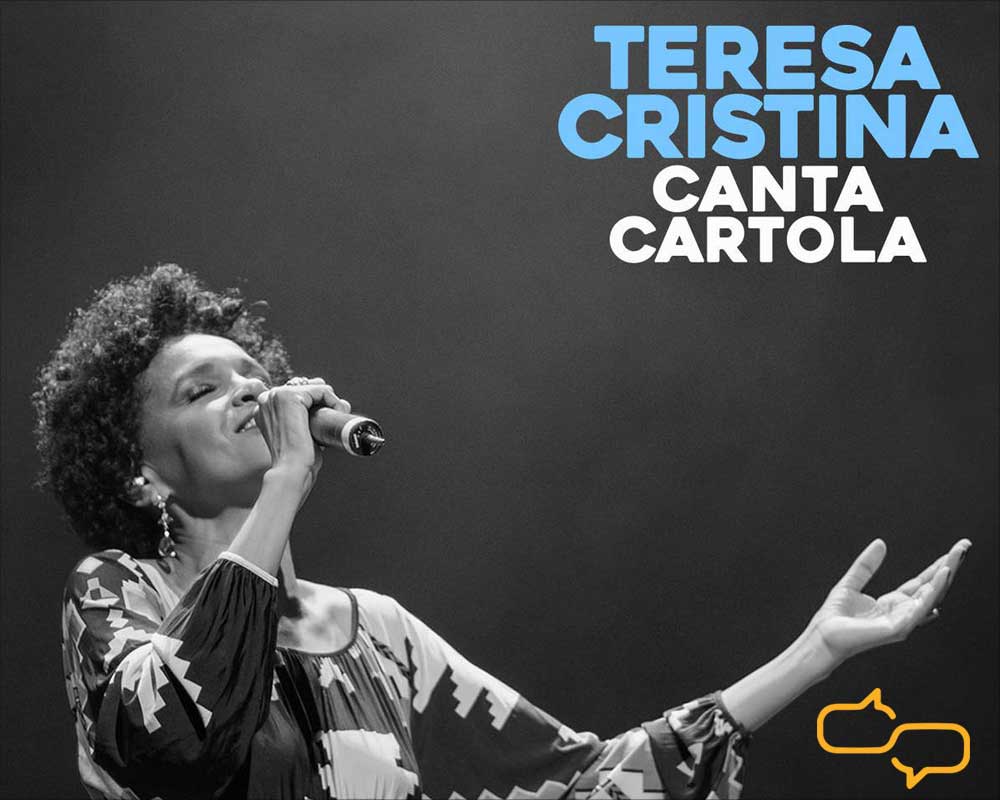 Sometimes you find a perfect pairing of singer and songwriter. Teresa Cristina, who has been singing in Brazil for years, now seems at a breakout moment with her international Nonesuch release surveying the legacy of the country's beloved samba songwriter Angenor de Oliveira, known as Cartola. It's Teresa Cristina's Cartola connection.
That's the take on Rio's risng Samba star, now that she's been introduced to American audiences.
Teresa Cristina Canta Cartola (Teresa Cristina sings Cartola) is a CD/DVD set of a November 2015 live performance in Rio de Janeiro. On it, Cristina turns down the usual exuberance of samba, singing with only the superb seven-string-guitar player Carlinhos Sete Cordas on a bare stage. That's the heart of Samba, reflected in Teresa Cristina's passion.
The result is a quiet, beautiful distillation of samba, not unlike bossa nova, propelled by the always lovely and sometimes playful swing of Sete Cordas (which means "seven strings").
"When people ask me if I would just do a show with one person playing the guitar," Cristina said. "I answer to them that they shouldn't use the word 'just,' since it is Carlinhos we are referring to."
"The way that I sing samba, with many instruments, doesn't provide the same feeling as if I only sing it with one guitar. Sometimes, the instruments are so loud, that you don't pay attention to the lyrics and just dance to the music."
In stripping down samba, Teresa Cristina's Cartola connection brings to the fore the sadness at its celebratory heart. Brazilians call it "saudade," a bittersweetness – as if feeling deep sadness is still a celebration of humanness, of how emotions add richness to life: If life gives you lemons, savor them.
"The samba is always referring to sad [stories]," she said. "If we don't have sadness, we don't have samba."
Cartola, born in 1908, was living in one of Rio's poor favelas when he helped found a street band in 1928 that would become the beloved "escola de samba" named Manguiera. The samba schools are the neighborhood organizations that compete each year in Rio's carnival celebration.
Cartola wrote popular sambas, known for their emotional complexity, in the 1930s then left the public eye, resurfacing again in the 1960s as owner of a restaurant that became a hot musical scene. In the 1970s, he had renewed success when his songs were recorded by Brazilian stars and, in 1973, he even recorded his first album at the age of 65.
"I already admired a lot these songs and always had a big wish to sing them," she said, "but never had the opportunity. I tried to not listen to other musicians singing these songs, I just listened to Cartola to check the melody and the lyrics. I tried to get away from other interpreters because I didn't want to be influenced by them. I just want show my perspective of Cartola's work."
Let's go 'front row, center'. Enjoy the concert with us and tell us what you think of Teresa Cristina's Cartola connection.