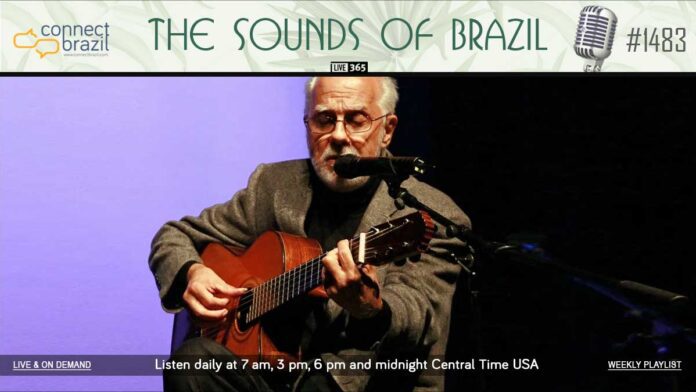 | Air Date: 12-18-22 through 12-22-22
| On-Demand: 12-18-22 through 01-01-23
It's The Best of Oscar Castro-Neves'!This show is produced for your listening pleasure by Connect Brazil. Live365.com is the official streaming radio partner for The Sounds of Brazil!
This two-hour program airs 4X daily on our streaming Station. You are invited to listen, Monday to Friday at 7 am, 3 pm, 6 pm, and midnight Central Time (US). Weekend times, too:
On The Radio: Listen to The Sounds of Brazil every Sunday, 2-4 pm on Chicago's 90.9 FM WDCB and streaming live at wdcb.org.
On-Demand: Click here to listen to this program anytime through January 1, 2023.
Sign up for our emails on music, travel, friends & fun. Click here to like us on Facebook.
Daily Listening Schedule | Time Zone Converter | Connect Brazil This Week
Make A Request | Send a message to Scott
Our Brazilian Comfort Food guide invites you to cozy up to its 'melting pot' palette of European, African, American, and Mediterranean cultures, while supporting Brazilian American family-owned restaurants and small businesses near you. Click here to tempt your taste buds.
~ ~ ~
Love the music? Like our page at Facebook. Click here then share The Sounds of Brazil with your friends. You'll have my thanks!
~ ~ ~
Feed your Inner Bossa by experiencing the life and times of Bossa Nova's birth in Rio de Janeiro. Bossa Nova's most important book makes for a great summer read: it's almost like being there!
~ ~ ~
Sunday's Brazilian Brunch will serve up long sets of autumn sambas – the perfect musical backdrop for whatever you have going on this weekend! Three full hours, only on Sundays at 5 am, 9 am, 2 pm and 11 pm Central time and only on The Sounds of Brazil's streaming station from the player.
~ ~ ~
Requests pay off because you get to hear your name and song on The Sounds of Brazil, and maybe even win a Brazilian CD for yourself and a friend when I play yours. Request a song, artist or style when you visit the Lounge to place a request!
~ ~ ~
Sign up for our Connect Brazil e-letter!
Remembering Oscar
Oscar penned his first hit song 'Chora Tua Tristeza' (Cry Your Sadness) at 16 and when it became a national hit in Brazil – generating more than fifty covers recorded by various artists, it was a sign of things to come.
He came to the US to play at Carnegie Hall in '62 and came back to stay when he signed on with Sergio Mendes as his music director in the early 70s, recording 15 albums with Mendes, several as co-producer.
Oscar became a US citizen and was also the very proud uncle of 'Dancing With The Stars' – Indy 500-winning driver, Helio Castroneves. He was a great musical friend, too.
My first meeting with him was in advance of his 'Tropical Heart' CD in 1993. We sat down for an interview that became the basis for the album's official release.
Oscar and Helio share the Castro-Neves family trait of energized likeability, and that's an excellent introduction to this week's program.
I hope you'll enjoy the show!
Happy Listening,
Scott Adams, Program Host
'The Best of Oscar Castro-Neves'
Hour 1:
Set 1: The Sounds of Brazil Opening Theme
Un Beijo Na Boca<>Latin Vibe/Latin Vibe
Bossa Blue<>Chris Standring/Blue Bolero
One Note Samba<>Nico Gomez/Lambada Dance Music

Welcome to the Lounge   
Never Die Young<>Luciana Souza/The New Bossa Nova

Special Announcement

O Tannenbaum<>Vinne Zumo/Retro Cool Bossa Nova Xmas
Set 2:
Introduce Our Next Set
Sensivel Demais<>Jorge Vercillo/ Como Diria Blavatsky
You Are My Romance<>Oscar Castro-Neves/Tropical Heart

Introduce Next Set                           
Return To Rio<>Oscar Castro-Neves/Brazilian Scandals
Border Line<>Deodato/The Crossing
She Walks This Earth<>Sting/A Love Affair
Set 3:  The Brazilian Minute: Explaining Brazil's Christmas Traditions
This Week's Spotlight Song
Sweetest Somebody I Know<>Stevie Wonder/A Time To Love
Aula de Matematica<>Paul Winter/Brazilian Days
Have Yourself A Merry XMas<>Art Four Sale/Four The Holidays

Hour 2:
Set 1:
O Que é o Amor<>Roberta Campos/O Que é o Amor
Motiff d'Azur<>Slowdown/Retrospectives

Welcome To Our Second Hour
Meu Mundo E Nada Mais<>Joanna/Joanna
Obrigado Donato<>Celia Vaz/Ebb & Flow
Unconditional Love<>Oscar Castro-Neves/Yesterday

Special Announcement

Let Your Love Rise<>Fabiana Passoni/Let Your Love Rise
Set 2:
Introduce Next Set
Green Eyes<>Marcos Ariel/My Only Passion
Happiness<>De Phazz/Dinner Party

Introduce Next Song
On And On<>Stephen Bishop/Saudade
Flying To Bahia<>Caibedo Island/Caibedo Tale
Scandal No. 2<>Oscar Castro Neves/Maracuja

Set 3:
Qualquer Coisa Com O Paraiso<>M. Nascimento/Angelus
Rio<>Marcela Mangabeira/Simples

~ ~ ~
Next Week: We'll celebrate two hours of Brazilian Christmas favorites! Feliz Natal!! Please plan to join me for the Holiday, and a story or two.
I hope you'll enjoy the program this week, too, and please – tell a few friends about us! It's always great to share the music.
Whether it's your radio, your computer at work, or your tablet or smartphone, thanks for tuning in!
And don't forget about our weekly broadcasts in Chicago: Sundays at 2:00 pm Central on 90.9 FM WDCB and wbcb.org.
View our complete daily broadcast schedule here.
'The Best of Oscar Castro-Neves'
~ ~ ~
A Final Encore
Oscar's final recording occurred shortly before his passing but was left incomplete, so the tracks sat untouched for several years.
They resurfaced when 'Legacy & Alchemy Producer Robert Hebert brought them into his new arrangement of Oscar's 'All One' in 2018, featuring vocalist Alexandra Jackson with Al Jarreau.
This single also marked what would become Jarreau's final recording, too.
You'll hear Al Jarreau throughout along with Oscar's voice and guitar towards the end of this song. Enjoy!