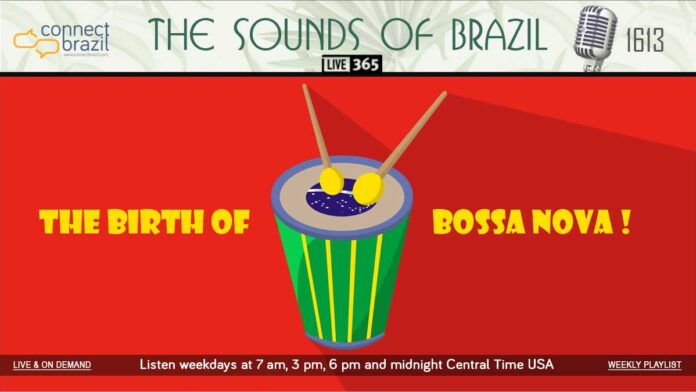 The birth of Bossa Nova takes us back to 1958 for this two-hour radio special.
| Air Date: 04-30-23 through 05-07-23
| On-Demand: 04-30-23 through 05-14-23
Live365.com is the official streaming radio partner for The Sounds of Brazil!
This two-hour program airs 4X daily on our streaming Station. You are invited to listen, Monday to Friday at 7 am, 3 pm, 6 pm, and midnight Central Time (US). Weekend times, too:
On The Radio: Listen to The Sounds of Brazil every Sunday, 2-4 pm on Chicago's 90.9 FM WDCB and streaming live at wdcb.org.
On-Demand: Click here to listen to this program anytime: through May 14, 2023.
Sign up for our emails on music, travel, friends & fun. Click here to like us on Facebook.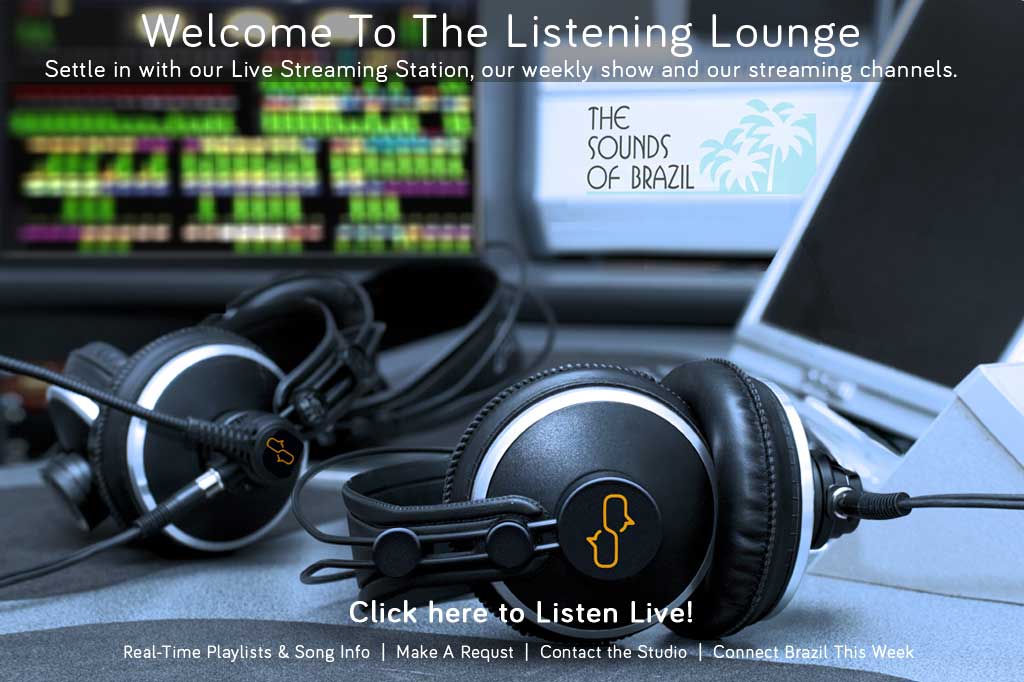 Daily Listening Schedule | Time Zone Converter | Connect Brazil This Week
Make A Request | Send a message to Scott
Welcome!
Six decades seems like a long time, but it turns out that it's exactly what was needed for Bossa Nova to musically morph from African, European, and American roots into the iconic song form that's loved and enjoyed worldwide. So this week it's a look back at the songs that started it all..back in 1958!
Get Connectbrazil's weekly e-letter here.
Happy Listening,
Scott Adams
Back2Back! Our top-of-the-hour two-in-a-row features new music – every Wednesday, plus a surprising two-fer every Monday and Friday, too! Listen Live at 11 am, 2 pm, and 5 pm Central on the PLAY buttons, above!
~ ~ ~
Fall Sundays are made for relaxing, so let The Sunday Brazilian Brunch provide the perfect soundtrack for a potpourri of the softer side of Brazilian song! You're invited to join us every Sunday for three hours at 5 am (for our international listeners) 9 am and again at 2 pm and 8 pm CT. Click the play buttons, above.
~ ~ ~
Make A Request! Have a favorite song, style, or musician? I'd be happy to play it for you! Click here to place a request.
~ ~ ~
Playlist for this week's show
Hour 1: The Birth of Bossa Nova
Set 1: The Sounds of Brazil Opening Theme
Rio<>Lucio Alves/Bossa Nova Sua Historia
So It May Secretly Begin/Pat Metheny/Still Life
Scarborough Fair<>Sergio Mendes &Brasil 66/Greatest Hits
Welcome to the Connect Brazil Listening Lounge – Make A Request!
Quiet Moments/Lonnie Liston Smith
Special Announcement
Set 2:
Introduce Our Next Set
Motiff d'Azur<>Slowdown/Retrospectives
Introduce Next Song
Chega De Saudade<>Joao Gilberto/Legendary
Café Roma<>Brass/Cafe Roma 3
Boa Sorte (Good Luck)<>Vanessa da Mata & Ben Harper/Sim
Introduce Featured Set
Upa Neginho<>Lenny Dale/Bossa Nova Sua Historia Sua Gente
Tristeza De Nos Dois<>Luiz Eca/Bossa Nova-Sua Historia
Voce E Eu<>Sylvia Telles/Bossa Nova, Sua Historia Sua Gente
Set 3:
Introduce This Week's Spotlight Song
Decollage<>Thievery Corporation/Saudade
É Preciso Perdoar<>Emilio Santiago/Nossa Onda É Essa
Blue Bossa<>Torcuato Mariano/Brazilian Nights
________________________________________________________
________________________________________________________
Hour 2: The Birth of Bossa Nova
Set 1:
Estrada Do Sol<>Tom Jobim/The Composer
Welcome To Our Second Hour
Chega De Saudade<>Os Cariocas/O Melhor de Os Cariocas
Like Ours<>Tom & Julie/Bossa Tres Jazz 2
Take Me Back To Rio<>Mike Catalano/Manhattan Affair
Special Announcement
Aquarela<>Lila & Rhythmic Control/ Brazilian Chill Sessions
Set 2:
Introduce Next Song
Batucada<>Boney James/The Beat
Happiness<>De Phazz/Dinner Party
Introduce Next Featured Set
Deve Ser Amor (It Must Be Love)<>Herbie Mann
Desafinado<>Stan Getz & Charlie Byrd/Jazz Samba
This Happy Madness<>Frank Sinatra/Sinatra & Co.
Morning In Rio<>Sergio Mendes/Encanto
Set 3:
Saudade Vem Correndo<>Bebel Gilberto/Tudo
It's Always New<>Richard Sorce/Samba Para A Vida
~ ~ ~
Next Week on The Sounds of Brazil:
We'll enjoy two hours of the best music from the land of Samba and Sun! It's a show I'm sure you'll enjoy.
How to listen to The Sounds of Brazil
Whether it's your radio, your computer at work, or your tablet or smartphone, thanks for tuning in! I really appreciate it, and please tell a friend or two about us.
And don't forget about our weekly broadcasts in Chicago: Sundays at 2:00 pm Central on 90.9 FM WDCB and wbcb.org.
View our complete daily broadcast schedule here.
Video of the Week: The Birth of Bossa Nova