This week's show takes you deep into the Brazilian night. As far as you want to go…
Hot Brazilian Nights:
| Air Date: 07-30-23 through 08-06-23
| On Demand: 07-30-23 through 08-13-23
Live365.com is the official streaming radio partner for The Sounds of Brazil!
This two-hour program airs 4X daily on our streaming Station. You are invited to listen, Monday to Friday at 7 am, 3 pm, 6 pm, and midnight Central Time (US). Weekend times, too:
On The Radio: Listen to The Sounds of Brazil every Sunday, 2-4 pm on Chicago's 90.9 FM WDCB and streaming live at wdcb.org.
On-Demand: Click here to listen to this program anytime: through August 13, 2023.
Sign up for our emails on music, travel, friends & fun. Click here to like us on Facebook.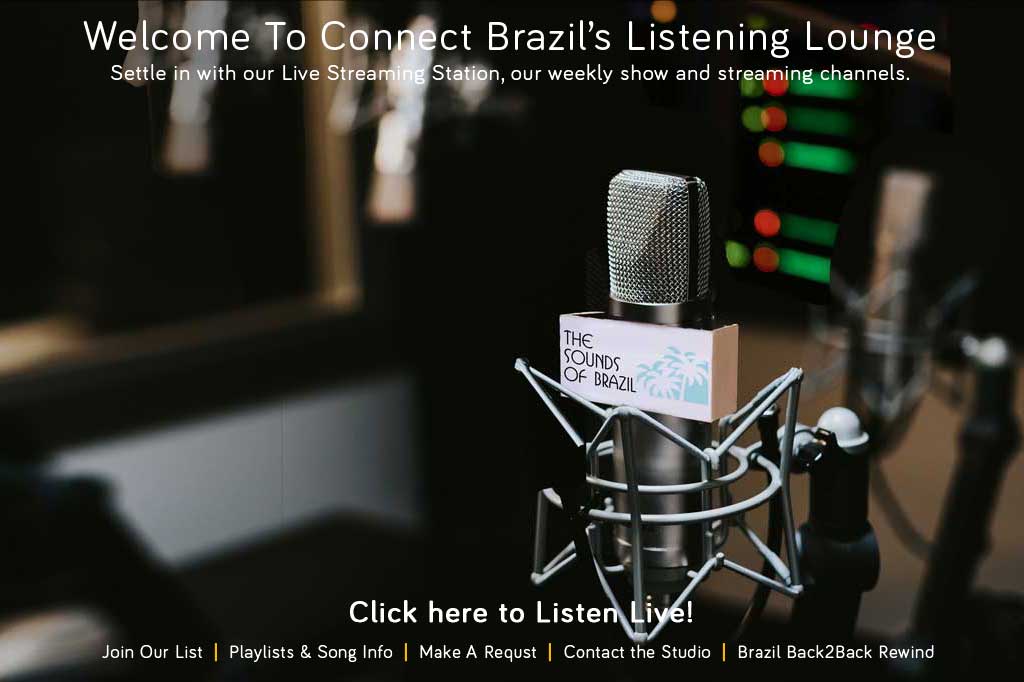 Daily Listening Schedule | Time Zone Converter | Brazil Back2Back
Make A Request | Send a message to Scott
Ahh, summer and hot Brazilian nights! Too hot? How about just right?
When it comes to the seasons and Brazil, everything gets a bit upside down. So as the land of Samba and Sun slips into the tropical chill of winter in the southern hemisphere, memories of a blazing hot summer still linger on the tan lines of the Copacabana faithful.
And here on this side of the equator? We are entering the hottest part of the year.
Yep, America's summertime playgrounds from South Beach to South Padre, and from Venice Beach to Chicago's Oak Street Beach are blazing hot again this year.
Can you recall a summer when it wasn't?
In more ways than one: we're back to living our lives again. This is the summer we've been waiting for. And Hot Brazilian Nights is here to revive you with a special two-hour soundtrack!
Think of those Copacabana memories as a preview of coming attractions because this week, The Sounds of Brazil takes you away for 'Hot Brazilian Nights'.
The mix befits the occasion: rhythmic tunes from Bossacucanova, Bebel Gilberto, and Kaoma. Gilberto Gil throws down a reggae vibe and Marina Elali taps into the spirit of Celine Dion. On the 'wind down and chill' side, there's Claudio Zolli, Tom & Julie, Adrianna Calconhotto (with her acoustic Brazilian guitar), and Deodato at "Sunset".
And I'll even try to include a few new tunes from our Top Brazilian Summer Sounds Music Showcase, too!
~ Scott Adams
~ ~ ~
Love the music? Like our page on Facebook. Click here then share The Sounds of Brazil with your friends. You'll have my thanks!
~ ~ ~
Feed your Inner Bossa by experiencing the life and times of Bossa Nova's birth in Rio de Janeiro. Bossa Nova's most important book makes for a great summer read: it's almost like being there!
~ ~ ~
Make a date with the Events page at Connect Brazil: Live streaming music, patio music with dinner, a new restaurant, an outdoor party, or an art show, chances are you'll find it on our website, or add it yourself… it's always free! And we're adding more every day! Music, Travel, Friends & Fun! From our home page on your computer, tablet, or smartphone.
~ ~ ~
Sunday's Brazilian Brunch will serve up long sets of summery sambas – the perfect musical backdrop for whatever you have going on this weekend! Only on Sundays at 5 am, 9 am, 2 pm, and 11 pm Central time and only on The Sounds of Brazil's streaming station from the player.
~ ~ ~
Requests pay off because you get to hear your name and song on The Sounds of Brazil, and maybe even win a Brazilian CD for yourself and a friend when I play yours. Request a song, artist, or style when you visit the Lounge to place a request!
~ ~ ~
This Week's Show: Hot Brazilian Nights
Hot Brazilian Nights: Hour One
Set 1: The Sounds of Brazil Opening Theme
Like Ours<>Tom & Julie/Bossa Tres Jazz 2
Saudade<>Thievery Corporation/Saudade
Muito Tarde (It's Too Late)<>Guilherme Arantes/Classicos
Azul<>Bebel Gilberto/Momento
Special Announcement
One Night In Rio (Ipanema Chill)<>DJ Maretimo/Nightflight Rio
Set 2: Introduce Next Set
Voce<>Emilio Santiago/Perdido de Amor
Super Ambient<>Bossacucanova/Ipanema Lounge V.1
Introduce Next Song
Bird of Paradise<>Djavan/Bird Of Paradise
San Juan Sunset<>Deodato/Love Island
O Amor e O Poder (Power of Love)<>Marina Elali/Marina
Set 3: Introduce This Week's Spotlight Song
Baby Come To Me<>Eliane Elias/Love Stories
Bari Bossa<>Leo Gandelman/Lounjazz
É Preciso Perdoar<>Emilio Santiago/Our Kind Of Bossa
Hot Brazilian Nights: Hour Two
Set 1: The First Song
Devolva-me<>Adrianna Calconhotto/Publico
Estrada Branca<>Til Bronner/That Summer
Welcome To Our Second Hour
Corcovado<>Astrud Gilberto/Next Stop Wonderland
Don Azimuth<>Marcos Ariel/4 Friends
Lamba Caribe<>Kaoma/Kaoma
Special Announcement
Come with Me to Rio (CB Mix)<>U-Nam/Sunshine of Mine
Set 2: Introduce Next Song
Lamento<>Antonio Carlos Jobim/Wave
O Lugar De Nosso Amor<>Gilberto Gil/Quanta
Mais Feliz<>Marcio Menescal/Bossa Now #6 After Dark
Introduce Next Song
Rio de Janeiro Blue<>Randy Crawford/Secret Combination
Batucada<>Boney James/The Beat
Il Cerchio Rosso/Crimsom Circle<>Nicola Conte/Bossa Per Due
Set 3: This Week's Final Set
So Many Stars<>Sergio Mendes & Brasil 66/Greatest Hits
Pode Ser<>Jorge Vercillo/ Como Diria Blavatsky
~ ~ ~
Next Week on The Sounds of Brazil:
It's a summertime tradition when we press 'play' on The Girls From Ipanema! Please plan to join me here for this special radio show.
I hope you'll enjoy the show and please – tell a few friends about us! It's always great to share the music.
Whether it's your radio, your computer at work, or your tablet or smartphone, thanks for tuning in! I really appreciate it, and please tell a friend or two about us.
And don't forget about our weekly broadcasts in Chicago: Sundays at 2:00 pm Central on 90.9 FM WDCB and wbcb.org.
View our complete daily broadcast schedule here.
The Connect Brazil Video of the Week: