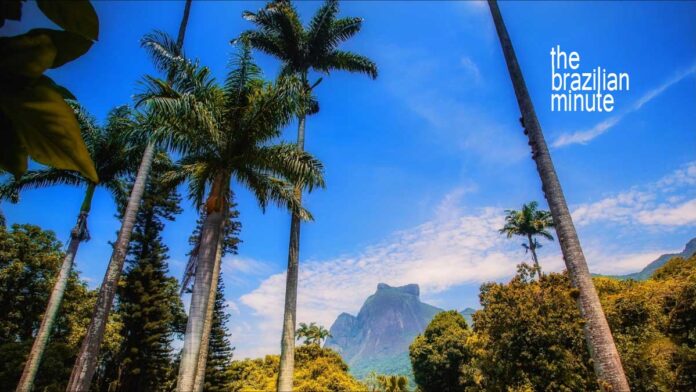 Historic Events Happened Here
Rio de Janeiro's Historic Villa Riso dates to the 17th Century and the stories held within these walls helped to define Brazil's future.
This series was presented by the Consulate-General of Brazil in Chicago and the Brazilian Foreign Ministry's Cultural Department.
In celebration of Brazil's Bicentennial year, 1822 – 2022
This week's Brazilian Minute: Rio de Janeiro's Historic Villa Riso


Script from Audio:
At the base of Rio de Janeiro's Gávea mountain is a hidden treasure camouflaged by the Tijuca National Rain Forest. It's called Villa Riso.
Villa Riso began as a sugarcane plantation in 1700. Today it is a cultural centerpiece: concerts, weddings, and art exhibitions held at Villa Riso always appear on Rio's social calendar.
But Villa Riso has even greater importance. The six tall Imperial palm trees which line the property were personally planted by Don Pedro II, the Emperor of Brazil. And Villa Riso's library is where the law which abolished slavery in Brazil was written.
Today a visit to Villa Riso is like taking a step back in time. The house, its adjoining art gallery, and lush gardens are carefully maintained to their colonial past.
Read and listen to new weekly episodes of The Brazilian Minute.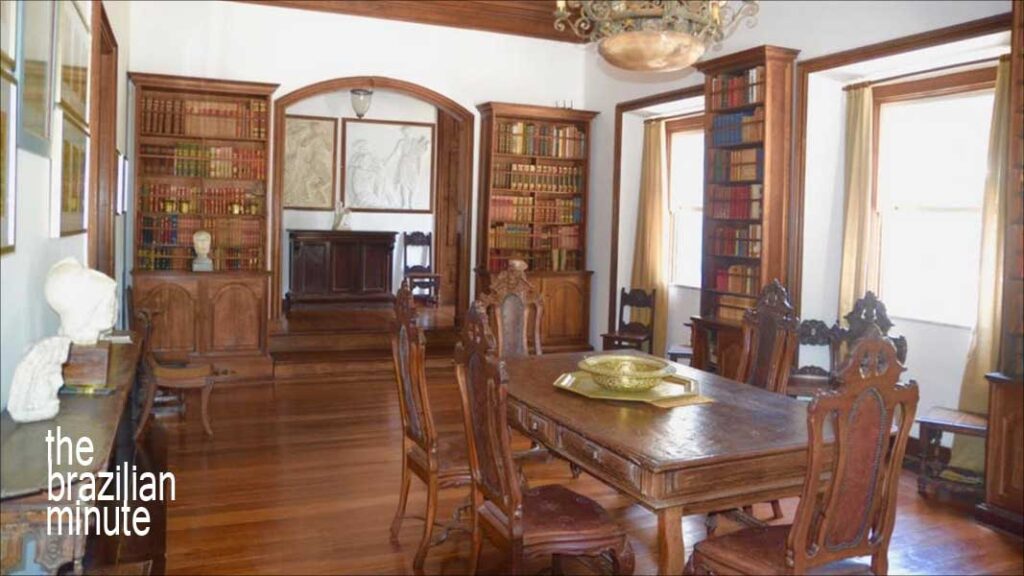 Rio de Janeiro's Historic Villa Riso
Overview
One of Rio de Janeiro's hidden treasures is a half-hour's drive from Ipanema, near the upscale suburb of São Conrado. It's the private compound known as Villa Riso and the treasure that we're speaking of are memories found within its walls.
Camouflaged by the thick natural greenery of the Tijuca National Forest, Villa Riso began as a sugar cane plantation in the mid-1700s. Its original name? The Fazenda São José da Alagoinha da Gávea is one of several large sugar cane and coffee plantations in the area.
Notably, these plantations became the destination for tens of thousands during the African Diaspora. Several favela owners, including São José da Alagoinha da Gávea, were influential supporters of Brazil's Abolitionist movement.
Villa Riso's Colonial Past
Laid along the ocean's border, the Fazenda São José da Alagoinha da Gávea was vast, stretching from Gavea to Tijuca and Jacarepaguá. Today, the Gavea Golf Club occupies a small parcel, with the fazenda's Mill House (Casa Azul) serving as its office.
The Villa dates to 1666 and was the family home and headquarters for farm operations. In the 1800s, the Fazenda São José da Alagoinha da Gávea was divided into smaller farms.
Located near São Conrado beach, this Villa was rented and ultimately purchased in 1880 by Ferreira Viana as a summer retreat from the political pressures of Rio de Janeiro.
As Minister of Justice of Brazil's Second Empire, Viana is a prominent figure in Brazilian history.
He is the author of Brazil's Lei Áurea the 'Golden Law'. Signed by Brazil's Princess Isabel on May 13, 1888, this law abolished slavery in Brazil. The Lei Áurea is simply stated and direct, needing only 18 words to state its purpose.
The Lei Áurea was written in Villa Riso's library.
Villa Riso, A Whale, And Six Palm Trees
Throughout its storied past, Villa Riso's stately presence has attracted a multitude of VIPs, celebrities, and even Heads of State including Emperor Pedro II.
The story goes that, sometime during the mid-1860s, the Emperor traveled to São Conrado to take in a whale sighting from the cliffs of the Gavea Rock. While there, Pedro II was invited to visit the Villa.
He was so impressed that he personally planted the six majestic Royal Palm trees which line the entryway. In 2002, one of the original trees was been replaced and the sense of history they provide when seen is truly an experience.
Villa Riso Gets Its Name
The Villa was purchased and restored in 1931 by Doctor Osvaldo Riso, an investment and business impresario from Italy. Riso valued the favela's history and as a dedicated supporter of the Brazilian arts, sought to preserve its historical importance.
Dr. Riso's dedication carried to his daughter, Cesarina Riso. She grew up to become a celebrated classical pianist of considerable stature in musical, social, and intellectual circles.
According to the Library of Congress, Leonard Bernstein composed and named a short piano piece in her honor. The melody later became the unifying musical theme of his 1956 operetta, Candide.
"At that time, little existed here; among them the little church of São Conrado and the Gávea Golf Clube," said Cesarina of those youthful days. "I remember that the sand reached the gate when I was little, and we could hear the sound of the sea."
Continuing the traditions of her father, Cesarina renovated Villa Riso as a social and cultural center in 1982. Since then, Villa Riso has been open to the public for art showings and weddings, seminars, and photo exhibitions.
For many years, one event held at Villa Riso was private, usually unscheduled, and by invitation only.
The occasion? Cesaria would plan and prepare the most authentic feijoada completa to be found anywhere. The guest list was a small one, usually including members of the artistic community. It was always served in the Big House, where slaves were fed and quartered. This event was an homage to the centuries of Abolitionist progress made by Villa Riso, and for as superb as the feijoada was, the conversations were always better.
Villa Riso Today
Cesaria passed in 2019, but her memory and the family's spirit live on.
Recently, Cesarina's son, Pier Francesco Maestrini talked with Keith Flamer, at Forbes. "Thanks to our grandfather Osvaldo Riso, the house [was] always frequented by outstanding personalities in the fields of arts and politics during the first half of the 20th century.
"Sadly, but realistically, we have reached the conclusion of a cycle and it's time to move on. This place reflects our mother in every corner as if it was an extension of her. This is, for sure, something that touches us deeply and we will never forget.
Rio de Janeiro's Historic Villa Riso
Did you enjoy 'Rio de Janeiro's Historic Villa Riso'? If you did, why not join us at Connect Brazil?
Sign up for our emails on Brazilian music, travel, friends, and fun. Listen to our 'always live' streaming station and streaming music channels, always free. Visit us on Facebook, and Twitter, and browse our Lifestyle Directory for Brazilian events coast to coast.