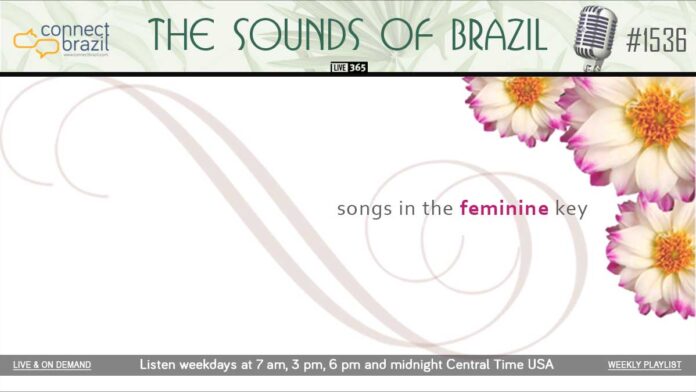 Songs In The Feminine Key. 16 of Brazil's best grace our playlist this week.
Songs In The Feminine Key: Listening Dates
| Streaming and Radio: 11-07-21 through 11-14-21
| On-Demand: 11-07-21 through 11-21-21
Live365.com is the official streaming radio partner for The Sounds of Brazil!
This two-hour program airs 4X daily on our streaming Station. You are invited to listen, Monday to Friday at 7 am, 3 pm, 6 pm, and midnight Central Time (US). Weekend times, too:
On The Radio: Listen to The Sounds of Brazil every Sunday, 2-4 pm on Chicago's 90.9 FM WDCB and streaming live at wdcb.org. 
On-Demand: Click here to listen to this program anytime through November 21, 2021.
Sign up for our emails on music, travel, friends & fun. Click here to like us on Facebook.
Daily Listening Schedule | Time Zone Converter | Connect Brazil This Week
Make A Request | Send a message to Scott
Welcome!
This week, it's 'Songs In The Feminine Key', 16 of Brazil's best grace our playlist this week. It's two-in-a-row from Paulinho Garcia for our Brazil Back2Back feature and our Spotlight song shines on Brazilian American Alexia Bomtempo.
But we're all thinking about the time change, right? Yes, we get an extra hour of sleep tonight, but I'm more liable to binge the extra time watching Star Trek Discovery than I am to turn out the lights…
The seasons are changing and as a good part of the country deals with the latest round of chilly days, waning prospects of a glorious Indian summer, or the final surge of Tropical storms, we're all keeping one eye on the calendar as the end of Daylight Savings Time arrives (don't forget to 'Fall Back').
You can console yourself with the knowledge that soon 'white' will be the new 'black' as winter takes over the calendar.
Radio Remedy
So, why all of these less-than-cheery observations? Well, here's one more: Let Connect Brazil be a refugee from these polar realities. Click the banner above to listen.
Our streaming music channels (now up to 13, including our Brazilian Christmas channel) are always free and always live.
Our stories, articles, videos, and reviews keep you up-to-date and entertained and our Lifestyle Directory and Events calendar mean that you are just a click away from the best Brazil has to offer "near me"!
Music, travel, friends, and fun.
So, let's enjoy this week's show, featuring Songs In The Feminine Key.
Happy Listening,
Scott Adams
~ ~ ~
Sunday – Appointment Listening Made Easy: There's always a place at the table for you, so join me for The Sunday Brazilian Brunch every Sunday beginning at 5 am Central, and then again at 9 am, 2 pm, and 8 pm.
Three full hours  No app is needed when you click The Sounds of Brazil 'play' arrow on the home page at Connectbrazil.com.
~ ~ ~
Our Streaming Station's popular Brazil Back2Back segment has grown to a third play every Monday, Wednesday, and Friday. Listen at 11 am, 2 pm, and 5 pm Central.
Always two of a kind, and always two in a row! Have an idea for an upcoming Brazil Back2Back? Click here to make a request.
~ ~ ~
The Sounds of Brazil is always 'Live!'! We broadcast in CD quality every hour of every day, including The Midday Show with Scott Adams (9 am – 3 pm CT, M-F) and our jazzy 'Quiet Nights' show every weeknight starting at 8 pm CT.  Click here to Listen Live and for the complete schedule.
~ ~ ~
Tuned In: Don't forget that here in Chicago you can listen to The Sounds of Brazil's weekly show every Sunday afternoon at 2:00 pm on 90.9 FM WDCB. The playlist for this week's show is below.
Songs In the Feminine Key
Hour 1:
Set 1: The Sounds of Brazil Opening Theme
The Waters of March<>Basia/Clear Horizon – Best of Basia
Meu Segredo<>Federico Conti/Shades of Brazilelectro
Here We Are (Toda Pra Voce)<>Gloria Estefan/Exitos de Gloria
Welcome to The Connect Brazil Lounge
Desalento<>Anna Ratto/Ao Vivo
Announcement
Morning<>Azymuth/Butterfly
Set 2:
Introduce Next Song
Maria De Verdade<>Marisa Monte/Rose & Charcoal
Callie<>Joyce Cooling
Introduce Next Set
See You In Rio<>Joyce/Music Inside
The Mood Is Modal<>Beat Girls/The Mood Is Modal
Bem Bom<>Gal Costa/Gal Costa
Set 3: Introduce This Week's Spotlight Song
Mais Devagar<>Alexia Bomtempo/Suspiro
Blossom<>Machan/Machan
Para Todos<>Gato Barbieri/Shadow of Cat

Songs In the Feminine Key
Hour 2:
Set 1:
All Around<>Bebel Gilberto/Bebel
Welcome To Our Second Hour
Adriana<>Wanda Sa/Vagamente
Rio<>Café Jam/Moio (Special edit)
O Que Sera<>Vanessa da Mata/Rio
Announcement
My Nichole<>Indigo City/Samba Electrique
Set 2:
Introduce Brazil Back2Back: Paulinho Garcia
Like Someone In Love<>Paulinho Garcia/Beautiful Love
Andança<>Grazyna Auguscik & Paulinho Garcia/Andança
Introduce Next Song                                                                      
How Insensitive<>Liz Story/My Foolish Heart
Azul Da Cor Do Mar<>Ivete Sangalo & Criolo/Viva Tim Maia
In My Life<>Paul Leiberman/Ibeji
Set 3:
Eu Vim da Bahia<>April Aloisio/Footprints
Spring Ain't Here<>Pat Methany/Letter From Home
~ ~ ~
Next week, it's two hours of Marisa Monte fan favorites, including a few rare gems from the Carioca superstar, with some of the best songs from this legendary vocalist. Don't miss it!
Whether it's your radio, your computer at work, or your tablet or smartphone, thanks for tuning in! I really appreciate it, and please tell a friend or two about us.
And don't forget about our weekly broadcasts in Chicago, Sundays at 2 pm on 90.9 FM WDCB.