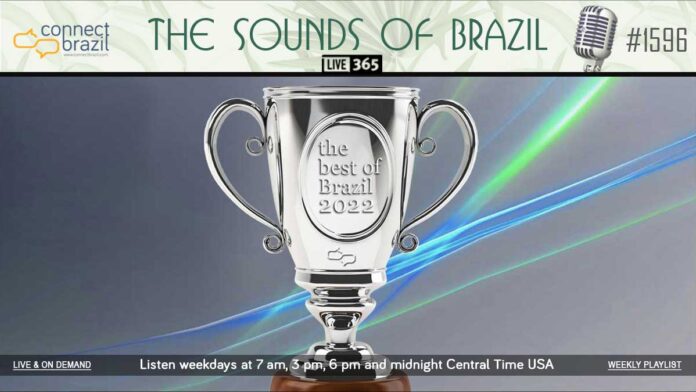 The Best of Brazilian Music Special
| Air Date: 01-01-23 through 01-08-23
| On-Demand: 01-01-23 through 01-15-23
Live365.com is the official streaming radio partner for The Sounds of Brazil!
This two-hour program airs 4X daily on our streaming Station. You are invited to listen, Monday to Friday at 7 am, 3 pm, 6 pm, and midnight Central Time (US). Weekend times, too:
On The Radio: Listen to The Sounds of Brazil every Sunday, 2-4 pm on Chicago's 90.9 FM WDCB and streaming live at wdcb.org.
On-Demand: Click here to listen to this program anytime through January 15, 2023.
Sign up for our emails on music, travel, friends & fun. Click here to like us on Facebook.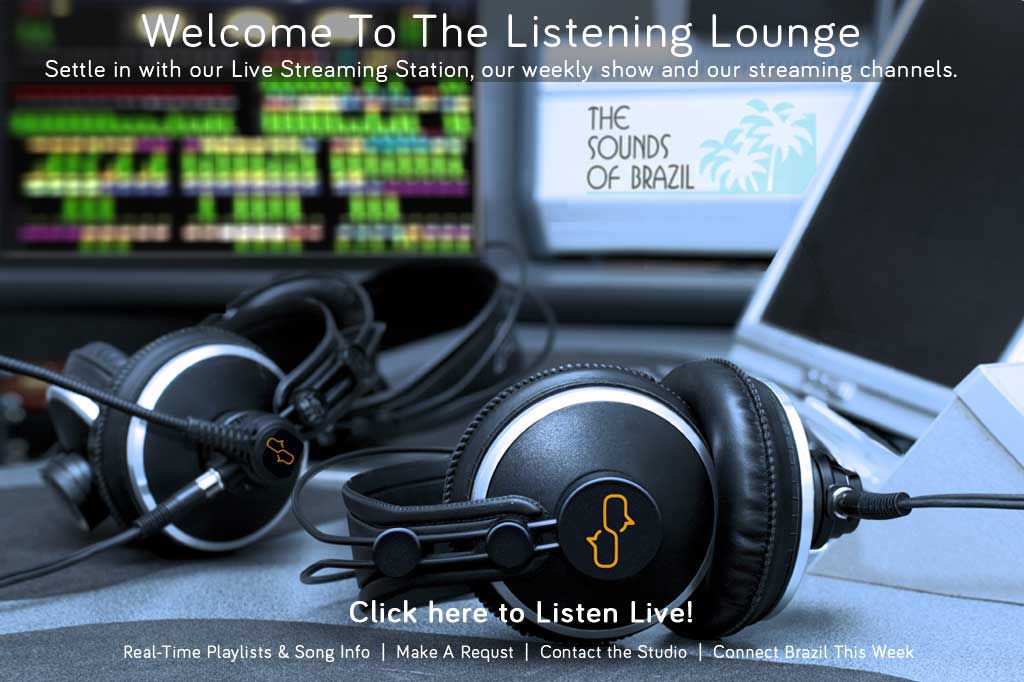 Daily Listening Schedule | Time Zone Converter | Connect Brazil This Week
Make A Request | Send a message to Scott
Many happy returns… and resolutions!
This week, let's look back at the Best of Brazilian Music from the year that was. What will Brazilian music fans remember best? 2022 will be remembered for the incredible number of quality recordings. We" recall the impressive number of historic, milestone musical anniversaries. And we'll remember those special onstage moments with both Milton Nascimento and Gal Costa.
Click here for our 2022 Showcase – top songs and the stories behind them, plus videos for each one, too!
Connect Brazil's Winners for 2022
2022 was a time of musical mastery and exciting new names that gifted us with one of the best years for Brazilian music in recent memory.
Here are 2022's listener-voted winners for the best songs, albums, and musicians of the year:
I hope you'll enjoy the show this week.
Happy Listening,
Scott Adams
Waking to the warmth of a Copacabana morning, enjoying a relaxing brunch at your hotel's balcony table before moving poolside for some quality time with the Brazilian sun… That's the spirit of The Sunday Brazilian Brunch!
Listen for three full hours beginning at 5 am, 9 am, 2 pm, and 8 pm Central time every Sunday. Only on our streaming station right here at Connectbrazil.com.
No app is needed when you click the 'play' buttons on the Sunday Brazilain Brunch page.
The Best of Brazilian Music Special: 2022
Broadcast Hour 1:
Set 1: The Sounds of Brazil Opening Theme
I Will<>Minas/Beatles In Bossa – Top Rated Song of 2022
Fly To Sardinia<>Roberto Tola/Kon Tiki
O Seu Olhar<>Anna Ratto/Contato Imediato – Arnaldo Antunes
Welcome to the Lounge
O Que Você Quer Saber De Verdade<>Marisa Monte/O Que (from 10 years ago, 2012)
Special Announcement
Set 2:
Seu Olhar<>Lee Hutchinson & Matheus Fonseca/Seu Olhar – Most Streamed Song of 2022
Luna<>Boney James/Solid
Introduce Next Set
Feito Pra Voce<>Celso Fonseca & Jussara Silveira/Juventude (from 20 years ago, 2002)
Seresta/Phill Fest/Seresta
Marina<>Eliane Elias/Quietude – Top Vocal Jazz Album of 2022
Special Announcement
Set 3: The Brazilian Minute: Brazil-US Cooperation In Health Sciences
This Week's Spotlight Song
Voltar à Bahia<>Gilsons/Voltar à Bahia.. – Top Vocal Pop Album of 2022
Num Mundo De Paz<>Djavan/D
Zabumbaia<>Antonio Adolfo/Octete And Originals
The Best of Brazilian Music Special: 2022
Broadcast Hour 2:
Set 1:
Laziest Gal In Town<>Gal Costa & Bobby McFerrin/Gal
Welcome Back To Our Second Hour
Four Seasons To Cross<>Michael Ross Four Seasons To Cross Learn more…
Why<>Ella & The Bossa Beat/In The Moment
Lost Words<>Philippe Saisse & Marc Antoine/Lost Words
Special Announcement
Set 2:
Vivo Sinhando<>Shiri Zorn/Into Another Land Top Recording Debut of 2022
Samba Dees Days<>Nate Najar/Jazz Samba Pra Sempre Top Instrumental Jazz Album of 2022
Introduce Next Set
Sao Paulo<>Cecy Santana/Sao Paulo
Quando Voce Voltar<>J. Marino & Friends/My Little Town (from 5 years ago, 2016)
Nos Dois<>Milton Nascimento/A Barca Dos Amantes
Special Announcement
Set 3:
Second Chance<>Marcos Ariel-Lulu Joppert/Bossa Nova III
White Lion<>Sergio Pereira/Finese
Closing Theme
~ ~ ~
Next Week on The Sounds of Brazil:
We'll kick off January's 2023 theme, The Warmth of Brazil with two hours featuring 'The Brazilian Piano'. Whether it's your radio, your computer at work, or your tablet or smartphone, thanks for tuning in! I really appreciate you listening to our weekly show and please tell a friend or two about us.
And don't forget about our weekly broadcasts in Chicago, Sundays at 2 pm on 90.9 FM WDCB.
The Best of Brazilian Music Special: 2022