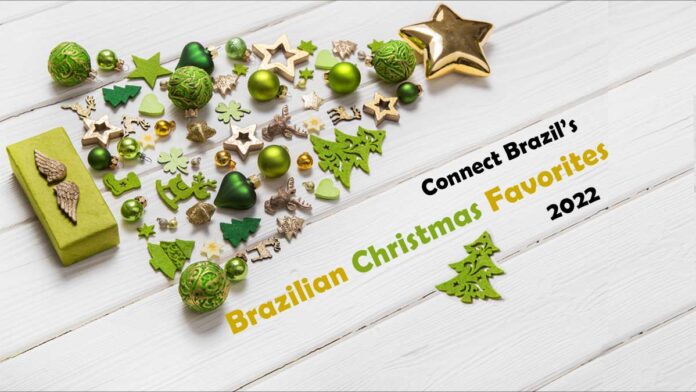 The Holidays Mean Family, Friends, And The Warmth of Brazil.
2022's Brazilian Christmas Favorites! Handpicked evergreens, new tunes, and seasonal sambas for the Holidays!
---
Welcome! It's the most wonderful time of the year!
Traditions. Not so long ago, the phrase "old-fashioned Christmas" conjured up images of horse-drawn sleighs and grandma's fresh-baked gingerbread cookies.
2022 marks our return to the Christmas traditions we cherish most of all. Family, friends, and the sounds of the season.
This year, Connect Brazil is celebrating its 26th year of broadcasting and streaming A Brazilian Christmas, which made its debut on The Sounds of Brazil radio program in December 1996.
Today, our Brazilian Christmas channel is available anytime, worldwide. Listeners like you have helped A Brazilian Christmas become an annual tradition enjoyed by thousands of families, just like yours.
2022's Brazilian Christmas Favorites: Do You Hear What I Hear?
Connect Brazil's live streaming station has already begun to sprinkle our unique blend of holiday magic into our daily playlists where you can also enjoy nonstop Brazilian Christmas favorites all day, every Saturday.
Or let it snow 24/7 with our exclusive Brazilian Christmas channel.
Caroling, Caroling…
Beginning Thursday, December 22nd our streaming station will bring you 96 consecutive hours of Brazilian Christmas favorites, non-stop through Christmas Day.
Let Connect Brazil set the musical mood for the Holidays this year. You are welcome to listen anytime! Always free.
Happy holidays, Feliz Natal, and Merry Christmas from your musical friends at Connect Brazil!
Thank you for 26 years of holiday cheer!
A Toast To 2022's Best Songs!
Watch for our annual Best of Brazilian Music Showcase '22 on December 15th!
Scott Adams, Midday Host
The Sounds of Brazil's streaming station at Connectbrazil.com
2022's Brazilian Christmas Favorites
Brazilian Love Affair | 'Christmas Paradise' from Christmas Paradise
When Stefano Columbo turned his musical attention to Dilene Ferraz in the late 90s he created a fresh niche for the New Bossa sound. The Italian Dance Music producer and the Brazilian singer dubbed themselves Brazilian Love Affair. And they set off on a multi-album run that quickly grew an international audience.
Christmas Paradise came along in November 2014. Nestled in among the 15 tracks is this Brazilian Christmas original penned by Colombo, Elio Baldi Cantù, and Jackie Perkins.
Its contemporary style welcomes you into the story and lyrics come to life over a smooth Samba chorus. Uplifting and festive, 'Christmas Paradise' leads off our playlist of 2022's Brazilian Christmas Favorites.
Buy it here: Amazon Music
Tetel Di Babuya | 'Someone to Watch Over Me' from Meet Tetel
'Jingle Bells'?
Nope. Well, how about 'My Favorite Things' or Joni Mitchell's eloquent 'River'? Truth be told, none of these began as Christmas songs.
Admittedly, it's a stretch to think of 'Someone To Watch Over Me' as Christmassy. However, times of uncertainty remind us that music brings us closer to that seasonal sense of 'comfort and joy' we cherish and long for.
"There's a somebody I'm longin' to see, I hope that he turns out to be, someone who'll watch over me," sings Tetel Di Babuya. As her story unfolds, don't be surprised if you find yourself hoping her dream will come true.
Tetel is a Brazilian singer and songwriter of unusual talent. She's also been an accomplished concert violinist with the Sao Paulo symphony. She included 'Someone To Watch Over Me' in her debut album earlier this year. As we noted in our review, Meet Tetel is jazzy and old-school.
Originally composed as a dance number, George Gershwin discovered that a slower tempo transformer the song. In his book Lyrics on Several Occasions, brother Ira wrote "both of [us] had the same reaction. This was really not a rhythm tune but rather a wistful and warm one." The lyrics took on a sense of vulnerability.
So, no. You won't be hearing carolers sing this one outside your front door. But listening to Brazil's Tetel Di Babuya sing it on a late winter's night while curled up by the fireplace can only enhance your holiday season.
Read our complete review of Tetel Di Babuya's Meet Tetel here.
Backstory: Tetel Di Babuya's Take on Comfort And Joy.
Buy it here: Amazon Music
Steve Barta | 'The Christmas Song' from Twelve Days of Christmas
It's not unusual for longtime listeners of The Sounds of Brazil! to recall pianist Steve Barta with an appreciative smile.
After all, the Colorado-based jazzman won our hearts with his epic Blue River album and the song 'Wish Upon A Canvas'. Barta's affinity for Brazilian music brought relationships with flutist Herbie Mann, and guitarists Ricardo Silveira and Dori Caymmi. And you can hear it in the eloquence of his music.
But Barta has another love. A passion actually, for Christmas music. So, he invited Herbie Mann (who was one of America's earliest influencers of Bossa Nova) back to the studio.
The result is this tune: A heartwarming Bossa Nova read of 'The Christmas Song'. Perfect for your next 'Let It Snow' moment!
Buy it here: Amazon Music
Listen To The Brazilian Minute: Bossa Nova at Carnegie Hall's 60th Anniversary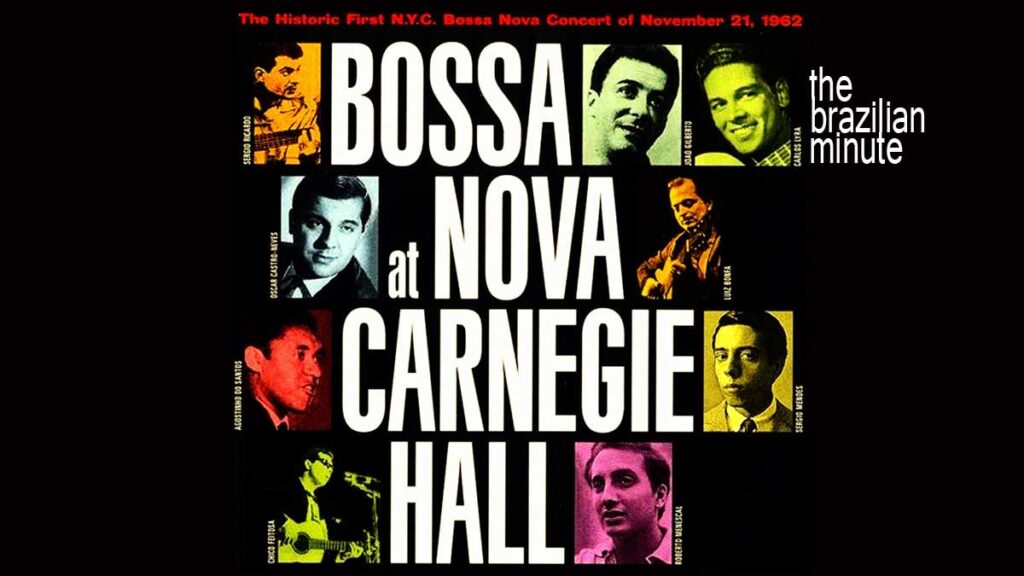 2022's Brazilian Christmas Favorites
Lori Mechem | 'The Christmas Waltz' from Brazilian Christmas
Most of us know and love this song from the Carpenters' Christmas Portrait, but the song has an amazing history.
It was written at the personal request of Frank Sinatra in 1954. Initially, the legendary songwriting team of Sammy Cahn and Jule Styne thought it was an impossible request, given the success of 'White Christmas' months before.
Then Cahn asked Styne, "Has there ever been a Christmas waltz?" A melody was found, the lyrics came together, and soon Frank had his song. 'Christmas Waltz' became the 'B' side to the single of 'Sinatra's version of 'White Christmas'.
Pianist Lori Mechem knows the song well, too. Here, Sinatra's fancy becomes a Bossa Nova evergreen with an arrangement worthy of the idea.
The rest of her album 'Brazilian Christmas' is equally enjoyable, one of our all-time favorites for the Holiday season.
Buy it here: Amazon Music
Daniela Soledade with Nate Najar | 'River'
As we mentioned earlier, sometimes our favorite Holiday tunes aren't really Christmas songs at all.
Take Joni Mitchel's 'River' for example. The Canadian wrote it as a breakup song for her on-again, off-again romance with CSN's Graham Nash. Even for December, that's cold.
But the song's story has grown to become a seasonal favorite. Somehow, 'River's' melancholy has softened into reflection. So much so that it's actually the second-most recorded song that Mitchell's ever written.
Soledade brings Brazilian warmth to the lyrics, while Nate Najar's acoustic guitar accompanies her sensitivity to the moment.
Daniela Soledade's 'River' is new for fans this year, following 2021's 'My Favorite Things'. And don't pass up her 'Winter Samba' from Daniela's new album, Pretty World.
Buy it here: Amazon Music
Listen To The Brazilian Minute: Browse all of our stories
2022's Brazilian Christmas Favorites
Shakatak | 'Christmas In Rio' from The Christmas Album
There's a rumor in Smooth and C-Jazz circles that's been swirling for years.
It's said that whenever Santa's sleigh enters UK airspace, this song begins to play. After all, these seasonal Samba rhythms surely could act as a musical boost on his busiest night of the year.
London's Shakatak has never shied away from a Brazilian vibe with their music. From their excellent cover of George Duke's 'Brazilian Love Affair' to 'Brazilian Dawn', 'Rio Nights' and others, this jazz-funk unit always comes up big.
As the title suggests, 'Christmas In Rio' is about getting away. And doesn't a Holiday getaway sound good? It's been far too long.
Maybe that's what gets into Santa's noggin as he's moving from chimney to chimney. After all, the secret to spreading any wild rumor is a certain amount of truth, right?
Buy it here: Amazon Music
Nando Lauria | 'Gloria' from The Best of Narada Christmas
Brazil's Christmas music traditions are different than ours.
As the largest Catholic nation on earth, the hymns of the season have carried the day, slowly joined by secular favorites from the US and England. And every once in a while, a Brazilian original.
When it comes to Brazilian Christmas masterpieces, go ahead and put this one at the top of your list.
'Gloria' was penned by Edu Lobo for his self-titled album of 1973. It was hidden away on the 'B' side until rediscovered by Recife's Nando Lauria 25 years later.
Like other top Brazilian jazzers, Lauria is a Berklee School of Music grad, who was recruited into the Pat Metheny Group soon after. Narada Records signed him to the label and 'Gloria' was selected for The Best of Narada Christmas album in 1998.
At first blush, you'd be forgiven for thinking that 'Gloria' has a centuries-old story to tell. But it's Nando Lauria's contemporary vision that brings this song to full-bodied life in Latin, not Portuguese.
Here, layers of rich harmony tell 'Gloria's' story. Nando Lauria's creativity elevates this song to unexpected heights. His experience with Metheny is evident, too. Another 'personal playlist' addition for 2022's list of Brazilian Christmas Favorites.
Buy it here: Amazon Music
Music, Travel, Friends, And Fun! 2022 Marks Connect Brazil's 25th Year
2022's Brazilian Christmas Favorites
Stories like '2022's Brazilian Christmas Favorites' are what we do. Why don't you join us?
Sign Up for our e-letter. Listen to our 'always live' streaming station and our 12 streaming music channels, always free. Browse our Lifestyle Directory. Click here to like our Facebook page and here for Brazilian events coast to coast.