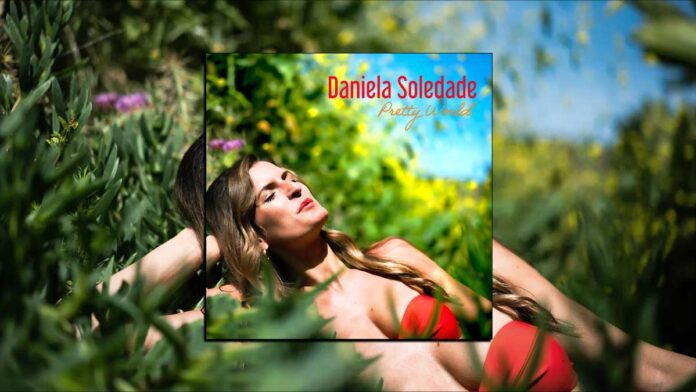 Exploring all of the love that life has to offer.
Daniela Soledade's Pretty World is the Brazilian American vocalist's follow-up album to her 2019 debut, A Moment of You.
---
by Scott Adams
Here's something to think about.
We build our traditions from the things that matter most. Family and old friendships. A favorite restaurant or destination to return to. Special memories.
Tradition can also be a safe place that allows us to explore endless possibilities. That's the idea behind Daniela Soledade's sophomore album, Pretty World.
Intimate, comfortable, and honestly charming, Soledade (pronounced "so-leh-DAH-gee") delivers one of the most anticipated Brazilian jazz releases of the summer. This week marks exactly three event-filled years since the Rio born-and-raised vocalist released her debut album, A Moment of You.
Beginnings
Back then, I noted a synergy of tradition for Soledade's version of 'Eu Sambo Mesmo', the song popularized by João Gilberto in 1991. The Father of Bossa Nova passed away in July 2019, while A Moment of You was still in production.
For Brazilian jazz fans, Soledade's version became a timely and lasting tribute. Life can be like that.
Since then, Daniela Soledade has moved from strength to strength, releasing a series of singles that would qualify for their own 'Best of' album.
These include 'Rio' (with Roberto Menescal), 'Zum Zum', and 'Você'. She sings on 'O Pato' and 'É Luxo Só' for Nate Najar's Jazz Samba Pra Sempre. There's 'River' and 'My Favorite Things'. She's recorded 'The Look of Love' and Charlie Chaplin's 'Smile'.
Importantly, Soledade's body of work – her songwriting, choice of cover songs, and featured artists – has grown to define her place in Brazilian jazz.
Could you imagine a better way to launch a second album?
Creating A Pretty World
Recorded in Rio, the album's title invites us to stop whatever we're doing… to enjoy it. Pretty World opens with the Brasil 66 hit. However, it begins well into the song with Soledade turning the lyrics into a personal invitation:
We can gather rain enough for the stream, to hold our happy faces. When you want a breeze, I'll blow you a kiss or two. Take me in your arms and our little world will be the place of places. Nothing else to make but breakfast and love.
That's Daniela's way of interpreting a story that was written to suspend reality, if only for a while. Possibilities…
Who's at the piano? Respectfully, it's the song's composer, Antonio Adolfo. Part of tradition is to honor that which came before us.
An Invitation from Roberto Menescal
Soledade turns to Portuguese on 'Como É Gostoso Sonhar' (It's So Good To Dream). This lovely original song was co-written with Roberto Menescal. The collaboration began last year.
"One day, my manager received an email from Menescal's assistant asking to put him in touch with me," recalls Daniela. "He had heard my recording of his song 'Você' and wanted to share some kind words about it. Then, he suggested that we record something together and he chose his composition, 'Rio'!"
"Afterwards, Roberto Menescal said, "We should write a song together" and to my surprise, he sent it to me the very next day! A new song for me to write lyrics to. I couldn't have been more excited!
Daniela Soledade's Pretty World: The Album
These nine songs build on Pretty World's theme of exploring all of the love that life has to offer. Subsequently, there's plenty for us to discover throughout.
'Nothing Compares' is a Soledade composition with guitarist Nate Najar. The same goes for 'Beijo No Arpoador' (A Kiss on Arpoador) which features Randy Brecker's flugelhorn.
Born into one of Rio de Janeiro's most musical families, Daniela turns to her father Paulinho for 'Winter Samba'. She also includes a handpicked pair of songs written by her grandfather, Paulo Soledade. The never-before-recorded 'Circo da Vida' (Circus of Life), and 'Estão Voltando as Flores' (The Flowers Are Returning) which was penned by Paulo in 1961 as an anthem of recovery.
Year of Years
Tradition? 2022 marks the 60th anniversary of the famed Bossa Nova at Carnegie Hall concert. It is also a milestone 60th year for Charlie Byrd's and Stan Getz's Jazz Samba album.
Most importantly, 2022 is Brazil's bicentennial, celebrating its first 200 years as a nation. A Melting Pot nation whose culture has influenced the world in so many wonderful ways. Ultimately, this includes Brazil's unique history of music, including Bossa Nova.
These songs help us appreciate Pretty World as an evolution of tradition, ready to take its musical place in a historic year.
New songs or evergreens, Daniela Soledade understands their importance. "If we stopped playing these songs, we could lose them forever."
Music, Travel, Friends, and Fun! 2022 marks Connect Brazil's 25th year.
Daniela Soledade's Pretty World
Did you enjoy 'Daniela Soledade's Pretty World'? If you did, why not join us at Connect Brazil?
Sign up for our emails on Brazilian music, travel, friends, and fun. Listen to our 'always live' streaming station and streaming music channels, always free. Visit us on Facebook, and Twitter, and browse our Lifestyle Directory for Brazilian events coast to coast.
Daniela Soledade's Pretty World
Follow Daniela Soledade
Website | Facebook | YouTube | Instagram | Twitter
Order Here | Amazon | Apple Music | Spotify
Listen To Daniela Soledade's Pretty World Album On:
Also On These Channels @ AccuRadio
Pretty World Track List
Pretty World
Como É Gostoso Sonhar
Down in Brazil
Beijo No Arpoador
Nothing Compares
Estão Voltando As Flores
Winter Samba
Circo da Vida
Eu Sei Que Vou Te Amar
Personnel
Daniela Soledade (vocals); Nate Najar (acoustic guitar); Randy Brecker (trumpet); Joe Boga (trumpet); Josh Holcomb (trombone); Harry Allen (saxophone); Adrian Cunningham (clarinet); Patrick Bettison (harmonica); Antonio Adolfo (piano); Paulinho Soledade (bass); Claudio Infante (drums); Duduka Da Fonseca (drums); Paul Wells (drums); Gumbi Ortiz (percussion).