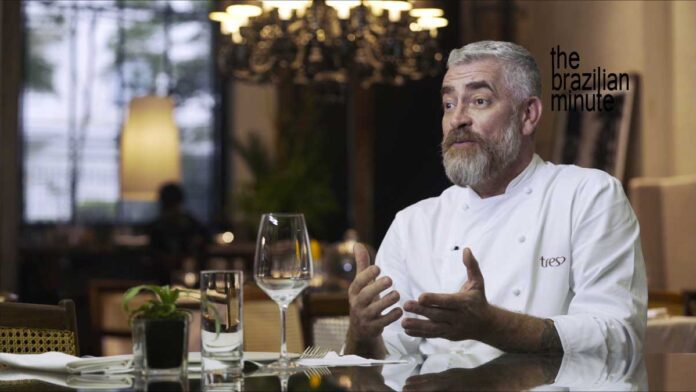 Brazil's haute cuisine with an indigenous twist
Alex Atala's indigenous cuisine comes from the edible diversity of Brazil's flora and fauna.
This series was presented by the Consulate-General of Brazil in Chicago and the Brazilian Foreign Ministry's Cultural Department.
In celebration of Brazil's Bicentennial year, 1822 – 2022
This week's Brazilian Minute: Milton Nascimento's Milestone Year
(Audio not available)


Script from Audio:
One of the world's best restaurants is nestled in São Paulo's upscale Jardins neighborhood. It's called D.O.M., the creation of Master Chef Alex Atala. It's haute cuisine with an indigenous twist.
D.O.M.'s menu creations come from the edible diversity of Brazil's flora and fauna. Tasty Brazilian sea snails. Priprioca, is an aromatic root that tastes like vanilla and… soil. Or Jambú, an Amazon herb that's like an electric shock to the tongue.
While these may sound strange, D.O.M. features herbs, spices, and proteins that are part of daily life in various regions of Brazil.
Alex Atala wants to illuminate the culture of Brazilian cuisine, not sensationalize it. He says, "I'm proud of our cuisine like Villa-Lobos was proud of our music."
Read and listen to new weekly episodes of The Brazilian Minute. It's brought to you by the Consulate General of Brazil, in Chicago, and the Brazilian Foreign Ministry's Cultural Department.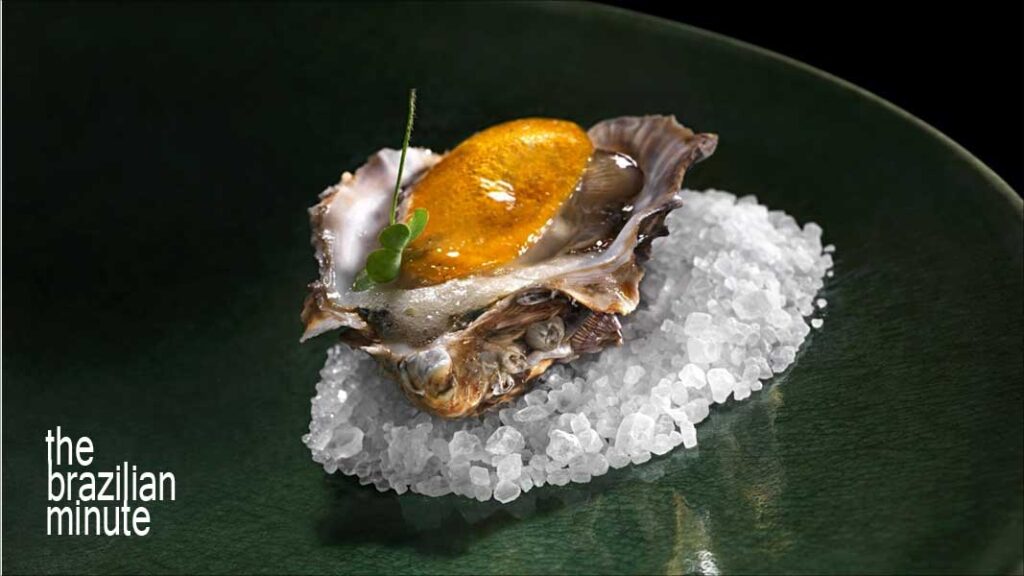 Alex Atala's Indigenous Cuisine
Overview:
When the culture of a nation becomes a topic of conversation, it is only natural to include its cuisine. And while Brazil's contributions are internationally inclusive, one area left unexplored is its indigenous roots.
For master chef Alex Atalla, those roots may be part of the menu.
Year after year, Atalla's Michelin-rated flagship Sao Paulo eatery, D.O.M. appears on the world's top ten lists for dedicated foodies. It's been that way for more than a decade, and for good reason.
Much like the rainforest that inspires many of D.O.M.'s creations, the ever-evolving menu defies expectations on a daily basis to boldly take Brazilians on a culinary adventure through their own country.
For Alex Attala, it's a well-traveled path. He was 19 when he began his culinary career, studying at the Hotel Management School in Namur, Belgium. From there, it was on to France for an internship at the highly respected Hotel de la Cote D'Or.
Then he was off to make his mark in kitchens across Europe.
The experience brought him home to Sao Paulo in 1994 and five years later he opened not one, but a pair of upscale eateries, Namesa and the aforementioned D.O.M. And that's with his tastebud-driven exploration of Brazil's indigenous foods began.
Alex Atala's Indigenous Cuisine: Prepared With Purpose
In truth, the Amazon was never that far away from Attala. And as experience grew, so did his interest in flora and fauna.
A visit to the far northern state of Amazonas in 2003 resulted in the purchase of a small farm and he began to experiment with local harvests to enhance D.O.M.'s prestigious palette.
Managing the farm from a distance helped Attal appreciate an important lesson. If he wanted to understand how these exotic regional spices, herbs, plants, and roots fit into the daily diets of locals, he needed to change his thinking of food overall.
This led to his creation of the ATÁ Institute, to help Brazil find new ways of thinking about food. In musical terms, it was like discovering the progression of chords and scales.
For Attala, it was a revelation.
His indigenous education became more meaningful and productive. Natural wonders such as bodó, an ancient boneless fish with armored skin? Sure.
Edible Maniwara ants which Attala uses as herbs? Why not? The juice from manioc flour, called tucupi, fresh-water sea snails, and Priprioca which tastes like vanilla mixed with dirt? More, please.
Unusual, yes. But startling experiences can lead to interesting revelations, and perhaps it is no surprise that this simple fact is part of Attala's culinary curiosity, too.
"I want to get people to get out of their comfort zone. I want to send them a message," he says.
The message is for the future but can be introduced now. "Just like Brazilian music, People should know our food. Because of what we're doing, Brazil is now on the radar of many chefs in other countries."
Music, Travel, Friends, and Fun! 2022 marks Connect Brazil's 25th year.
Alex Atala's Indigenous Cuisine
Did you enjoy 'Alex Atala's Indigenous Cuisine'? If you did, why not join us at Connect Brazil?
Sign up for our emails on Brazilian music, travel, friends, and fun. Listen to our 'always live' streaming station and streaming music channels, always free. Visit us on Facebook, and Twitter, and browse our Lifestyle Directory for Brazilian events coast to coast.