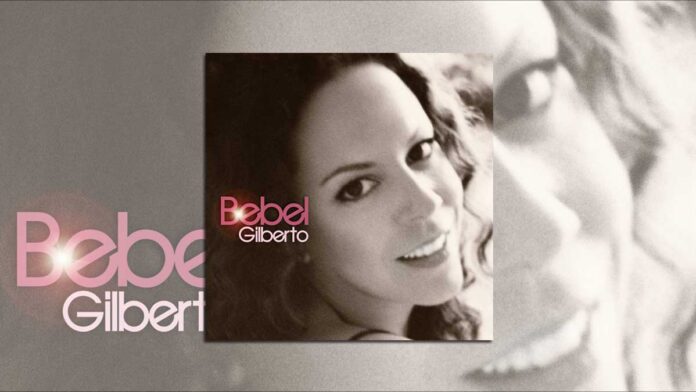 Four years after her groundbreaking Tanto Tempo album, Bebel Gilberto returned to repeat the feat.
Bebel Gilberto (2004). Read our original review of her self-titled recording.
---
Originally published by Connect Brazil on May 12, 2004
Bebel tapped Madonna's producer for her second CD and the result is a masterful New Bossa collection with a warmly natural style in the long Gilberto tradition. Even her mom Miucha makes a guest appearance. No distractions here, just great music!
And nice to be able to review this album on her birthday, too!
For her sophomore CD, Bebel Gilberto tapped Madonna's producer, Marius De Vries to explore new sounds while keeping much of the essential elements that made her debut 'Tanto Tempo' one of the best-selling Brazilian pop albums of all time. But there's no doubt that this self-titled recording shows us a different side to the daughter of the Father of Bossa Nova, Joao Gilberto.
Where 'Tanto Tempo's' calling card was re-invention, this time around the word is re-connection – and there's a deeper, substantial sensibility in play here: nine of these dozen tunes are originals, and Bebel also tries her hand as both co-producer and arranger.
The result is a New Bossa classic, but the electronic beats and techno re-mixes have been largely set aside in favor of a more natural, throwback style – where the singer and the song are equals in the studio. No distractions here, just great music – in the long Gilberto tradition.
The best moments? Caetano Veloso's 'Baby' (a Tropicália classic!), 'All Around', 'Next To You', 'Every Day You've Been Away' – co-written by Paulo Jobim – and 'Cada Beijo'. Special guests include the legendary Brazilian pianist João Donato, Carlinhos Brown, and Bebel's mom, Miucha, as a guest vocalist.
Bebel Gilberto (2004)
Baby
Simplesmente
Aganjú
All Around
River Song
Every Day You've Been Away
Cada Beijo
O Caminho
Winter
Céu Distante
Jabuticaba
Next To You
Personnel
Personnel: Bebel Gilberto (vocals), Miucha (guest vocal), Pascal Gabriel (various instruments, programming), Dirceu Leite (clarinet, flute), Paulo Levi (flute), Pedro Baby, Masa Shimizu (acoustic guitar), Gregoire Maret (harmonica), Carlinhos Brown (harmonica, piano, vibraphone, bongos), João Donato (piano), Didi Gutman (piano, keyboards, programming), Marius De Vries (piano, bells, programming), Tito Duarte (vocals, bass), Jorge Helder (acoustic, electric bass), Guy Sigsworth, Magrus Borges (drums), Marcos Suzano, Mauro Refosco, Boghan Costa (percussion), Alexis Smith (programming), The London Session Orchestra.


Production
Produced by Marius De Vries. Co-Produced by Bebel Gilberto, Carlinhos Brown, Didi Gutman, Ale Sequeira, Guy Sigsworth, Pascal Gabriel. Arranged by Bebel Gilberto, Chris Elliot, Marius De Vries.
Recorded 2004 at Looking Glass Studio, New York, New York; Ilhas Dos Sapos, Salvador De Bahia, Strongroom and Frou Frou Studios, London, England, AR Studios, Rio de Janeiro, Brazil.
Music, Travel, Friends and Fun! 2022 marks Connect Brazil's 25th year.
Bebel Gilberto (2004)
Did you enjoy our review of 'Bebel Gilberto (2004)'? If you did, why not join us at Connect Brazil?
Sign up for our emails on Brazilian music, travel, friends, and fun. Listen to our 'always live' streaming station and streaming music channels, always free. Visit us on Facebook, and Twitter, and browse our Lifestyle Directory for Brazilian events coast to coast.