No other nation has won the world's most famous race more often than Brazil.
Brazil And The Indy 500: Four-time winner Helio Castroneves can make history as the only driver to win five times. Drivers, start your engines!
This series was presented by the Consulate-General of Brazil in Chicago and the Brazilian Foreign Ministry's Cultural Department.
In celebration of Brazil's Bicentennial year, 1822 – 2022
This week's Brazilian Minute: Brazil And The Indy 500
Script from Audio:
Memorial Day weekend means the Indy 500. And Brazil is a big part of its history.
Emerson Fittipaldi won in 1989 and 1993. Dozens followed: Nelson Piquet, Rubens Barrichello, 2003 winner Gil de Ferran, and 2013 winner Tony Kanaan.
But the top Brazilian at Indy is Helio Castroneves, who won as a rookie in 2001, 2002, and 2009 and then for a fourth time in 2021, making him the only active driver with a chance for five Indy 500 victories. That would be an all-time record.
The Indy 500 is always exciting, so be sure to watch and remember: Brazilians have won the Indy 500 more times than any other foreign country, making them very popular ambassadors of speed here in America!
Read and listen to new weekly episodes of The Brazilian Minute.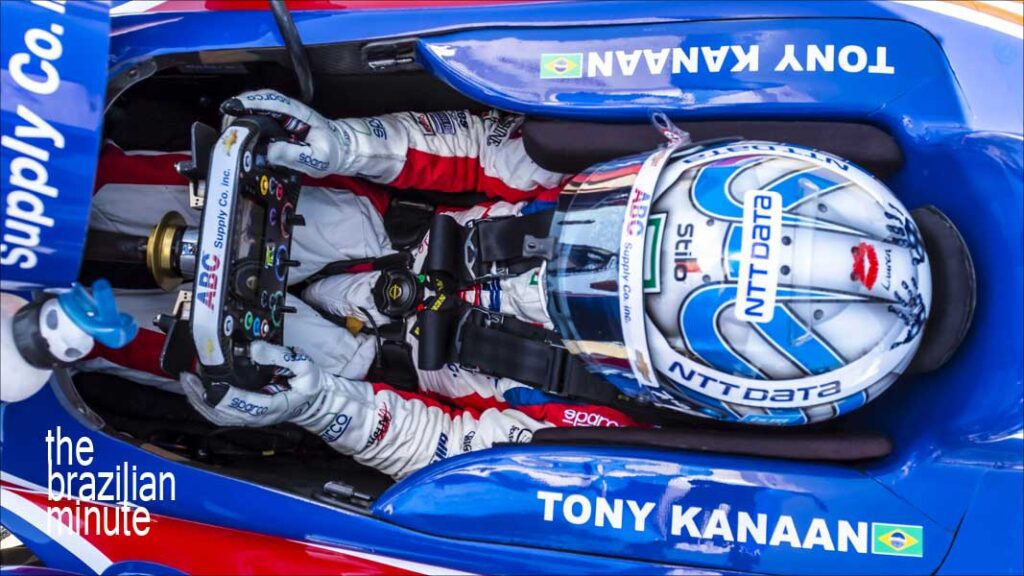 More on: Brazil And The Indy 500
Overview: Helio Castroneves and The Drive For Five
Helio Castroneves's historic 2021 Indy 500 win came at 230 mph on the last lap after a perfectly executed race. It made him a four-time winner of the most famous race in the world.
Only three drivers had won the Indy 500 four times: A.J. Foyt, Al Unser, and Rick Mears. Mario Andretti won the Indy 500 once, falling into victory lane with a backup car.
Winning Indy three times is rare air, but Helio Castroneves had been stuck on that number for 12 long years. Bad luck. Poor strategy, accidents.
A Unique Challenge Awaits
Uniquely, Castroneves is the only active driver with a shot at more than four wins. And when he was released from Penske Racing, many thought that Helio's time had passed him by. "If he couldn't win with Penske…"
Consequently, Castroneves took an offer for a handful of races in 2021 (including the Indy 500) with a bootstrap team. He joined Meyer Shank Racing. Primarily, Helio started well, stayed out of trouble, and took the lead into the last lap to win.
"The other drivers were playing checkers while Helio was playing chess," observed two-time winner Paul Tracy, who had his own Indy 500 history with Helio Castroneves.
What To Expect
This Memorial Day weekend, Helio Castroneves will compete for win #5 in the Indianapolis 500. If he can accomplish this feat, there is no doubt that Castroneves will be known as the race's most successful driver in Indy 500 history. Forte! Boa Sorte!
Qualifying Update
Qualifying speeds for 2022's field of 33 cars averaged 232 mph. Fastest pole run, fastest front row. But luck has a lot to do with success at the Indianapolis 500.
For Brazil's two drivers, luck smiled on only one.
Tony Kanaan starts his 21st Indy 500 on the outside of row 2, while Helio Castroneves grids down in 27th place after weather conditions kept his car from reaching its potential.
After qualifying, Helio said, "I've been in this position before, so I think we'll be okay. I started way down in the field in 2017 and I ended up contending for the win at the end. So, I think I know what to do."
Helio Castroneves has been a great friend to Connect Brazil. Impressively, he has even co-hosted our weekly syndicated show, The Sounds of Brazil!
Tap or click here to learn more about Helio Castroneves.
How To Watch The Indy 500
Qualifying for the fastest 33 IndyCars happens this weekend, at 11 am ET on Saturday, May 21, and 4 pm ET Sunday on May 22 for Pole Day qualifying. Catch the action on NBC and Peacock.
The 106th running of the Indianapolis 500 takes place on Sunday, May 29th. Coverage begins at 11 am ET on NBC.
Tap or click here to learn more about the Indy 500's official website:
Brazil's Indy 500 Racer Drivers
Here's a list of Brazilian race car drivers who have competed in the Indianapolis 500.
Tap or click here to learn more about these drivers, including their bios:
Airton Dare
Gil de Ferran
Felipe Giaffone
Helio Castroneves
Roberto Guerrero
Ana Beatriz
Rubens Barrichello
Tony Kanaan
Roberto Moreno
Raul Boesel
Christian Fittipaldi
Emerson Fittipaldi
Pietro Fittipaldi
Luiz Garcia Jr.
Affonso Giaffone
Marco Greco
Bruno Junqueira
Raphael Matos
Vítor Meira
Felipe Nasr
Nelson Piquet
Gualter Salles
Pedro Diniz
Maurício Gugelmin
Matheus Leist
André Ribeiro
Gualter Salles
Music, Travel, Friends and Fun! 2022 marks Connect Brazil's 25th year.
Brazil And The Indy 500
Did you enjoy 'Brazil And The Indy 500′? If you did, why not join us at Connect Brazil?
Sign up for our emails on Brazilian music, travel, friends, and fun. Listen to our 'always live' streaming station and streaming music channels, always free. Visit us on Facebook, and Twitter, and browse our Lifestyle Directory for Brazilian events coast to coast.