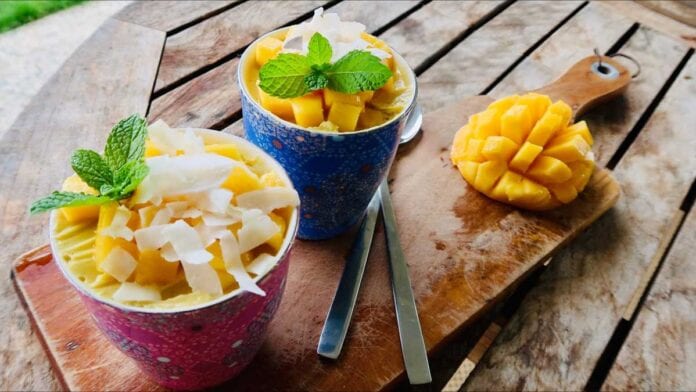 Running on Brazilian time? Here's a nutritious and tasty way to start your day.
Brazilian Coconut Mango Bowl: Five minutes is all it takes.
---
Breakfast the Brazilian way?
Maybe it's the whole thing about running on Brazilian time, or maybe it's that Brazilian lunch choices are bountiful. Whatever the reason, Brazil's morning nosh is usually the least formal and most rushed meal of the day.
This is especially true in cities like Rio de Janeiro and Sao Paulo, where school, professional and social activities start early and go late.
The whole approach is different.
Forget about the Kellogg's Chocolate Frosted Flakes or Lucky Charms. Ditto for waffles, egg scrambles, or your favorite breakfast sandwich (but McDonald's can set you up with a Brazilian ham and cheese croissant with OJ).
Instead, Café de Manha can as quick and simple as sweetened coffee with milk and maybe a slice of Brazilian coffee cake.
Better yet, think Bakery-fresh Brazilian rolls with prosciutto and cheeses, tropical fruits with honeyed açai, an aromatic cafe preto, plus your favorite Brazilian tunes.
Or you can go tasty and nutritious with this easy recipe for our Brazilian Coconut Mango Bowl. All it takes is five minutes to give yourself a delicious and healthy start to the day.
Brazilian Coconut Mango Bowl
Here's what you'll need:
1 ripe mango
6 Tsp of probiotic plain yogurt
2 Brazil nuts
4 Walnuts
6 Almonds
½ tsp Orange zest
Shaved Coconut
Splash of Coconut milk
A sprig of mint
Here's what to do:
Skin and pit the Mango, then cut it into cubes and add to your bowl.
Spoon the yogurt over the cubed mangos. Add the coconut milk.
Give the nuts a coarse chop and add them, along with the orange zest and the shaved coconut to the bowl.
Lightly crush the mint leaves for an aromatic garnish.
That's it! Take a few minutes to relax with Connect Brazil's streaming station and enjoy!
Visit Connect Brazil's 'recipes' page.
Brazilian Coconut Mango Bowl
Stories like 'Brazilian Coconut Mango Bowl' are what we do. Why don't you join us?
Sign up for our emails on music, travel, friends and fun. Listen to our 'always live' streaming station and our 12 streaming music channels, always free. Browse our Lifestyle Directory. Click here to like our Facebook page and here for Brazilian events coast to coast.